Concord, CA – Factory Entertainment, Inc., has revealed its limited edition San Diego Comic-Con exclusive offerings for 2019, and it's the company's most ambitious with a total of 20 different collectibles from a wide range of pop-culture movies and TV shows.
Each limited edition convention exclusive is available to pre-order on Factory Entertainment's website (http://www.factoryent.com) now through Tuesday, July 9th, to either pick up at the company's booth (#2743) or to ship directly to a collector's address after San Diego Comic-Con.
The 2019 exclusives will also be available to purchase directly at the company's booth (#2743) during regular show hours. However, Factory Entertainment highly encourages collectors to place their pre-orders as soon as possible as it's the only way to guarantee securing exclusives which sell out every year during the convention.
"Every year we're amazed at the massive scale of San Diego Comic-Con, and this year we've not only increased the size of our booth, but also the amount of convention exclusives, show specials, photo opportunities and more!" said Factory Entertainment Director Tom Vargas.
"There's just so much to do and see, and we, not only as veteran exhibitors, but fans first and foremost, understand the challenge in trying to accomplish as much as possible during the show, which is why we offer unique services that enables not just attendees, but everyone to experience a bit more of SDCC."
Vargas continued, "For instance, our pre-order pickup service allows attendees to choose a time to collect their exclusives, without having to wait in a massive line. We really strive to be considerate of everyone's time. We know there's always a panel to get to, a signing that you need to line up for and so on. We also know that scheduling can become so overwhelming that it's logistically impossible to make it to certain booths at the show, or worse, to secure a badge to enter the exhibit hall at all, which is why we also offer to ship exclusives directly to Comic-Con fans after the convention. We want everyone to have a great time, and we're here to help make that happen!"
Further details regarding Factory Entertainment's pre-order service is available at http://www.factoryent.com
Here's a list of Factory Entertainment's 2019 San Diego Comic-Con Exclusives, followed by a video detailing activities and showcasing exclusives available at booth #2743.
Convention Exclusive #1
The Joker
Nerd Vault


Edition Size: 1,000 Pieces
Convention Exclusive #2
Harley Quinn
Nerd Vault


Edition Size: 1,000 Pieces
Convention Exclusive #3
Shazam!
Nerd Vault


Edition Size: 1,000 Pieces
Convention Exclusive #4
Wonder Woman
Metal Miniature


Edition Size: 250 Pieces
Convention Exclusive #5
Mystery Box
Edition Size: 150 Pieces
Convention Exclusive #6
Premium Mystery Box
Online Only Exclusive
Edition Size: 50 Pieces
Convention Exclusive #7
The Creature From The Black Lagoon
Bottle Opener
Edition Size: 1,000 Pieces
Convention Exclusive #8
Creature & Frankenstein
Wine Stopper Box Set
Edition Size: 1,000 Pieces
Convention Exclusive #9
Gotham G.C.P.D.
Police Credentials & ID Holder
Edition Size: 1,000 Pieces
Convention Exclusive #10
Aquaman
Translucent Ocean Blue REVO


Edition Size: 1,000 Pieces
Convention Exclusive #11
Child's Play
Knife Wielding Chucky REVO


Edition Size: 1,000 Pieces
Convention Exclusive #12
Monty Python
Killer Rabbit Plush
Edition Size: 1,500 Pieces
Convention Exclusive #13
Aquaman
Ocean Silver Hero Trident Prop Replica
Online Only Exclusive
Edition Size: 50 Pieces
Convention Exclusive #14
Back To The Future
Pit Bull Hover Board Bottle Opener
Edition Size: 1,500 Pieces
Convention Exclusive #15
JAWS
Lithograph
Edition Size: 500 Pieces
Convention Exclusive #16
Game Of Thrones
Iron Throne Gold Variant KUZO

Edition Size: 2,500 Pieces
Convention Exclusive #17
Star Trek Discovery
Starfleet Hand Phaser
Gold Variant KUZO

Edition Size: 2,500 Pieces
Convention Exclusive #18
Wonder Woman
Tiara KUZO

Edition Size: 2,500 Pieces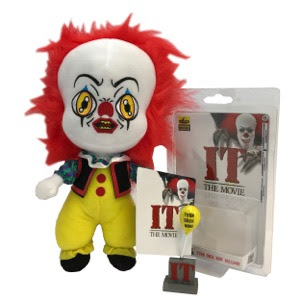 Convention Exclusive #19
IT: The Movie
Turn Back Now Balloon KUZO


& Pennywise Plush
Edition Size: 1,000 Pieces
Convention Exclusive #20
Stan Lee's God Woke
Special Collector Set
Edition Size: 50 Pieces
ALL ARE AVAILABLE TO PRE-ORDER HERE