Just when you thought the Spider-Man Far From Home toys were over, one more springs into solicitations: the Mezco ONE:12 Collective Exclusive Stealth Suit Spider-Man is now up for order! Now that fans have had six months to let Spidey FFH percolate in the back of their minds, is there still a market for launching more high-end figures from the movie? And more importantly, how good is this Exclusive ONE:12 Collective Night Monkey Spider-Man? Let's have a look…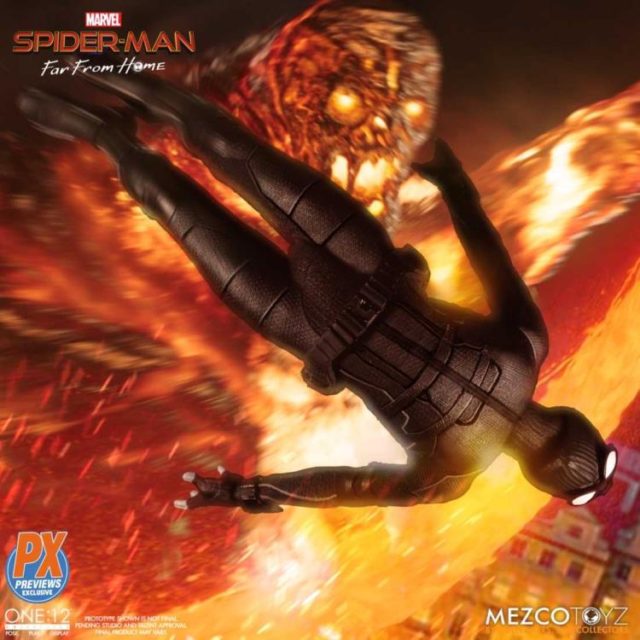 Spider-Man Far From Home wasn't exactly my favorite film of the year (everything was far too predictable besides that end credits scene), and it's one of the rare Marvel movies I haven't watched since I saw it the first time in the theater. So it would probably be fair to say that I wasn't exactly clamoring for any company to solicit a new FFH toy.
But if anybody was going to do one more action figure from the movie that isn't Mysterio? I would want it to be this Mezco Night Monkey figure.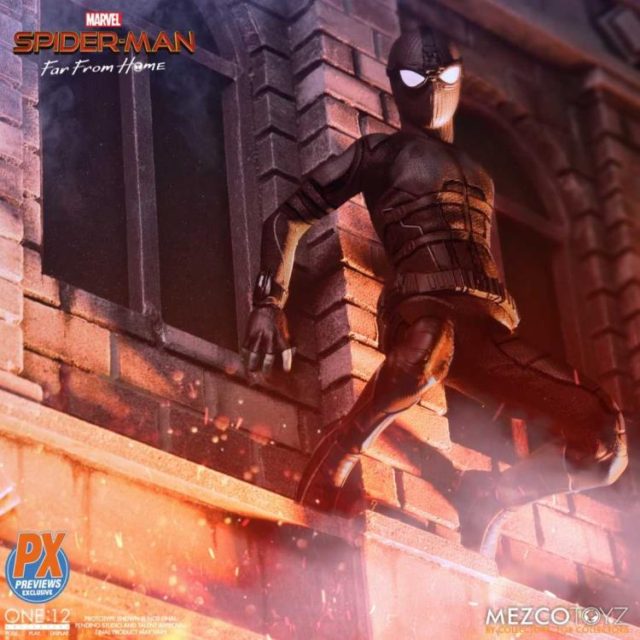 I thought that the Hasbro Marvel Legends 6" version of this figure was decent, but definitely had some room for improvement and more accessories. And while high-end sixth scale collectors will be getting that with the Hot Toys Spider-Man Stealth Suit figure, six inch collectors will be getting treatment almost as good from Mezco with this release.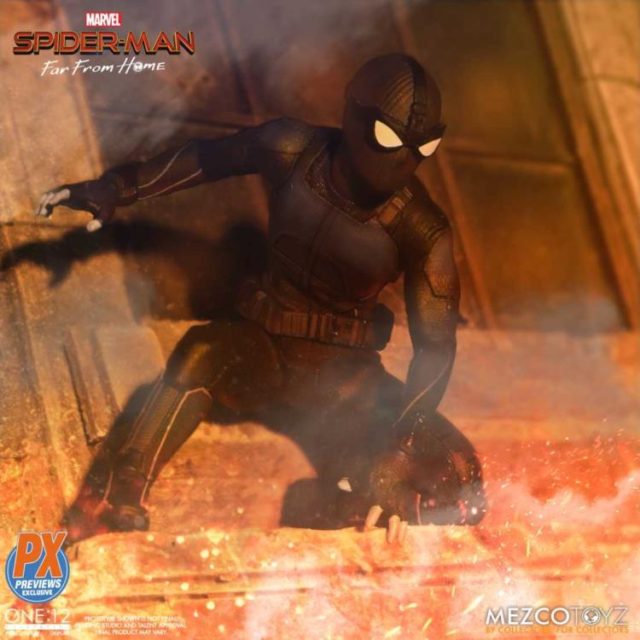 The sculpting and detail work on the Spider-Man Noir-like Stealth Suit costume is stellar, with just about as much detail packed into this outfit as the Hot Toys 1/6 that's twice the size. I liked Hasbro's all-plastic version of this suit enough, but mixed media fabric really suits the Stealth Costume well.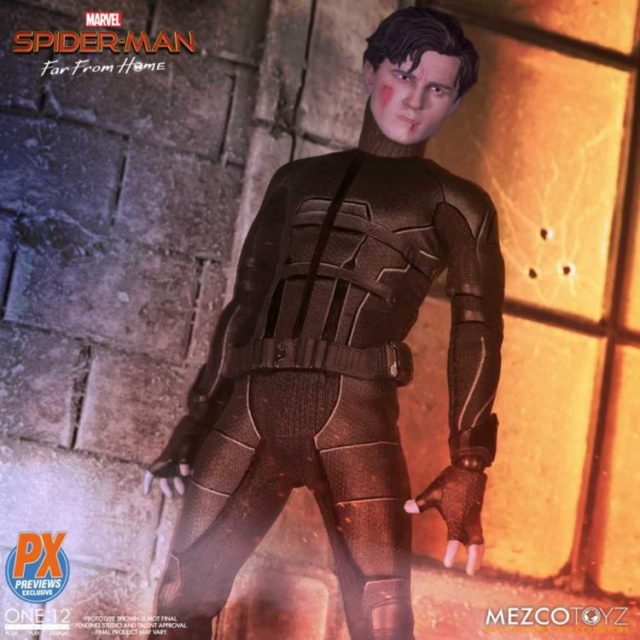 Actor likenesses are not even close to being Mezco's strongest point, so while I am glad to see an unmasked (and battle-damaged) Peter Parker head here, I think the Tom Holland portrait resemblance is merely 'okay'. This is a figure I think looks much better with the mask on (especially with the neat effect of the mask eyes being raised to show off Peter's eyes through the mask).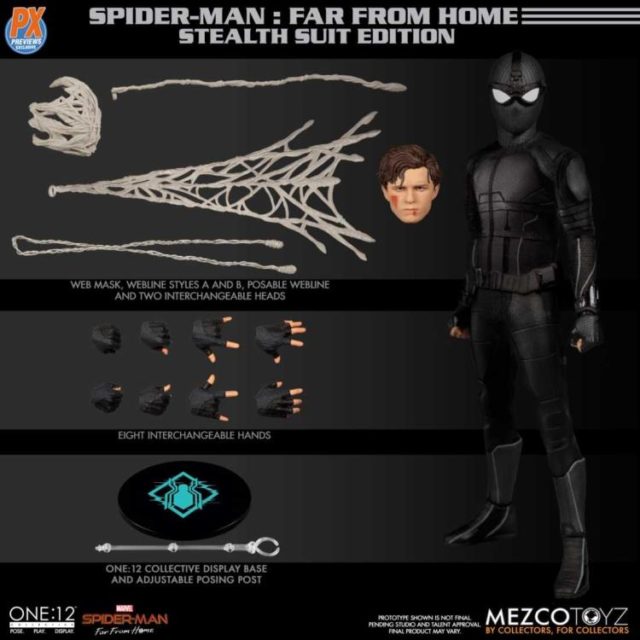 On the accessories front, we get the posing pole and display stand, eight interchangeable hands, the alternate battle-damaged unmasked head, two static weblines, a poseable webline and a web mask (there's an accessory you don't see every day!).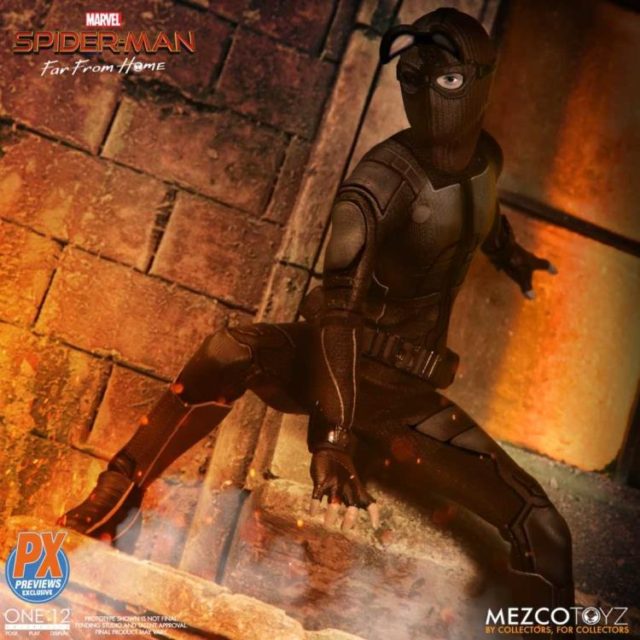 This is a really solid loadout of accessories, with the only thing missing that I might have wanted being some swap-out eyes for the mask (okay, and also a ONE:12 Collective Mysterio as an accessory). This web mask is an especially cool idea—one that even Hot Toys didn't think of doing!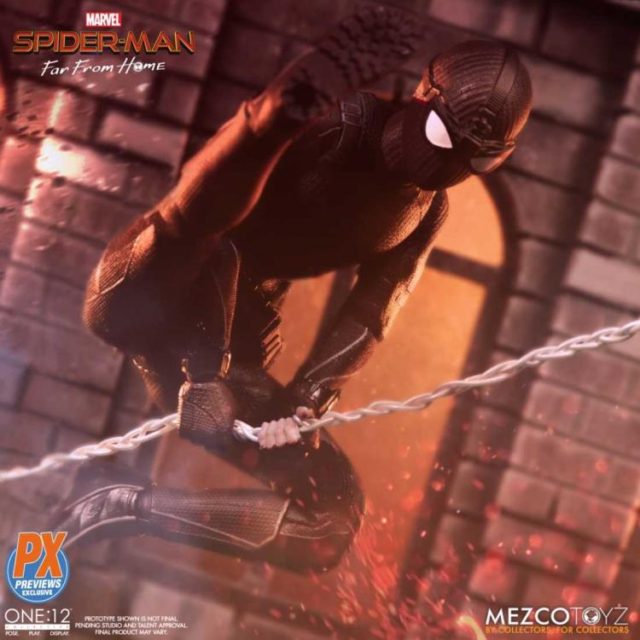 Overall, I think Mezco would have been better-served sales-wise if they'd been able to open pre-orders for this action figure last year, but given the perpetual popularity of Spidey and the fact that this is a PX (Previews Exclusive) release that's aimed at comic book and specialty stores where the most hardcore of fans reside, I think this Night Monkey is gonna do A-OK.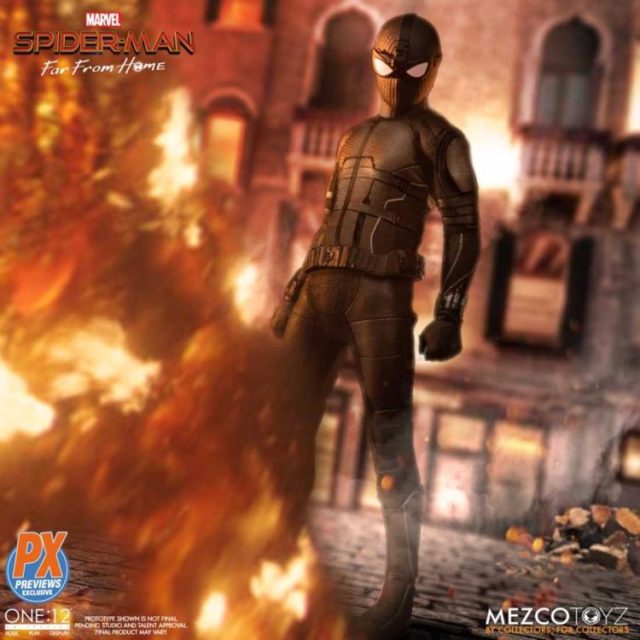 The Mezco Toyz Stealth Suit Spider-Man ONE:12 Collective figure is now up for pre-order, and is scheduled to ship out in July/August 2019. That's a pretty swift turnaround for a ONE 12 Collective action figure, but I imagine Night Monkey has been in development for quite some time already and should make it out around his intended launch date—especially considering this is a Previews Exclusive, so they want have to wait for massive quantities to be produced.
Any excitement out there for the Mezco Stealth Suit Spidey? Do you still dig Far From Home half a year after seeing it, and do you think there's still a sizable market to launch more toys from the movie?
The post Exclusive Mezco ONE:12 Collective Stealth Suit Spider-Man PX Up for Order! appeared first on Marvel Toy News.