For Hot Toys Marvel collectors, New York Comic Con 2018 was a pretty forgettable—if not disappointing—show. While the die-cast Neon Tech Iron Man (AKA Tron Iron Man) was available first to NYCC attendees, there were a whopping zero never-before-seen Movie Masterpiece Series 1/6 figures unveiled at the event. But one previously shown figure we weren't entirely sure was going to get released did make a reappearance in New York City, and now he's officially on the way: the Hot Toys Concept Art Iron Man Mark XLVI figure is now up for order!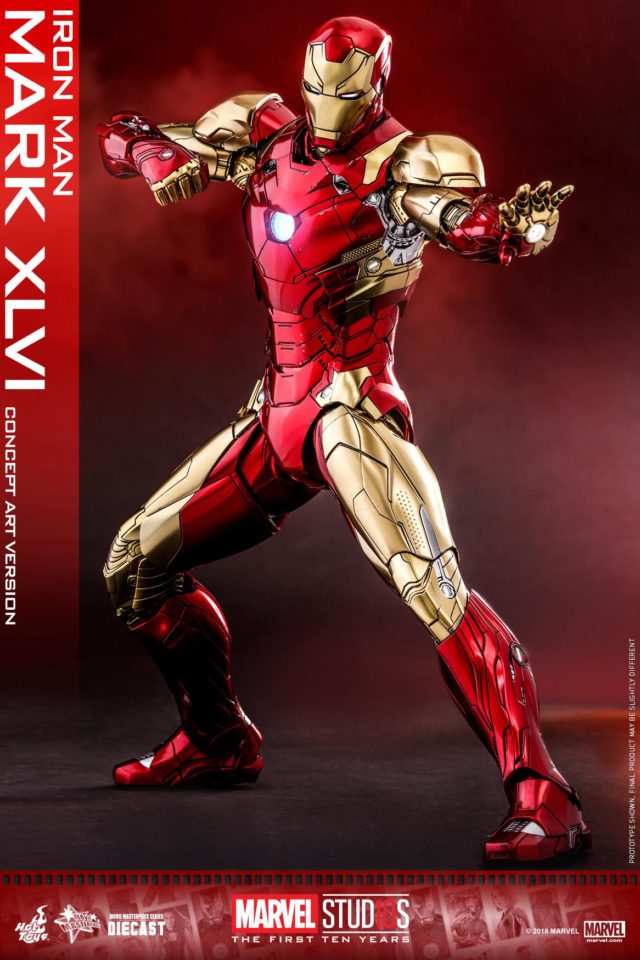 Remember that Marvel Studios: The First 10 Years Captain America Concept Art figure that Hot Toys put up for order way back in July…? Well, it's taken a few months, but the 10 Year Anniversary series is officially continuing and giving Cap a (sometimes) friend to hang out with: Iron Man!
Based on concept art by Ryan Meinderding, the Marvel Studios' Head of Visual Development, it's the MMS Die-Cast Iron Man Mark XLVI Concept Art Version (based on concept art for Captain America Civil War)!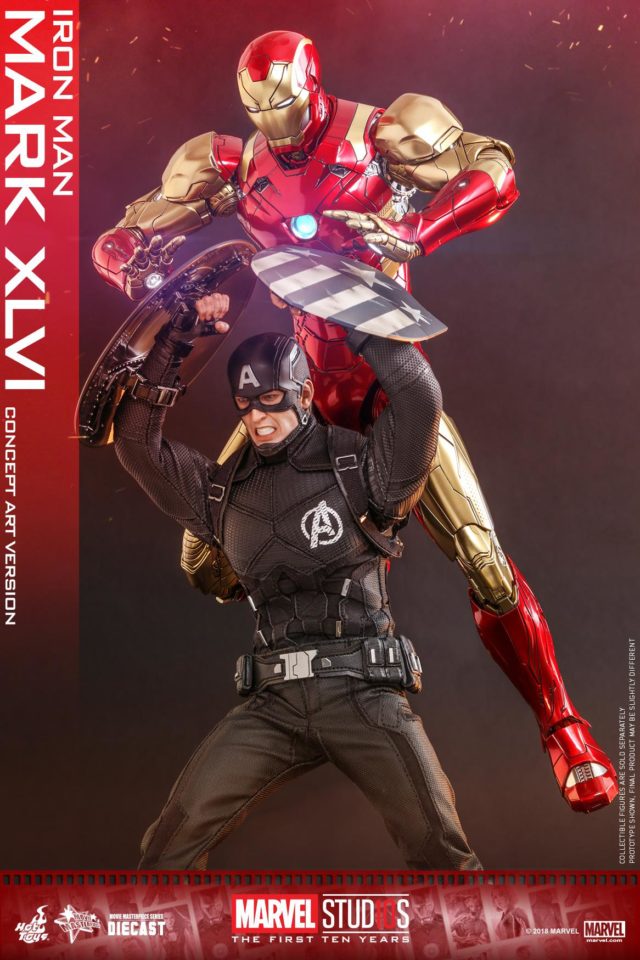 If this armor looks familiar to you, it's because this is a palette-swapped version of the Mark XLVI and Mark XLVII armors that appear in the Captain America Civil War and Spider-Man Homecoming movies.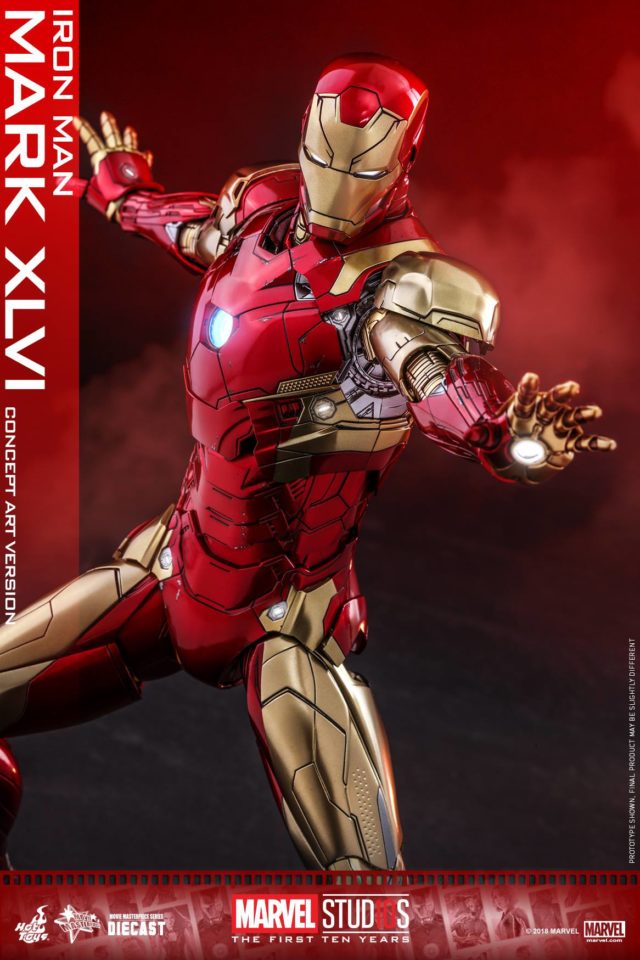 Both those famous armor permutations have been done previously by Hot Toys, but both of them also sold out quickly and are ungodly expensive on the aftermarket, selling for $700+ each. So while some collectors may balk at another repaint of this mold, at least it's a well-warranted one to give collectors without crazy amounts of money to burn a crack at this armor permutation.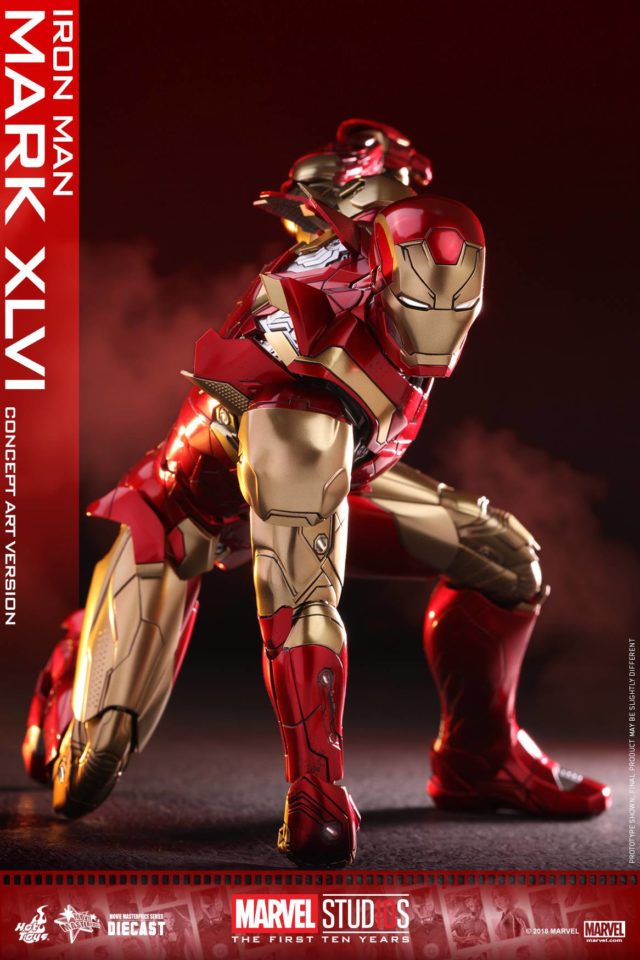 There's not a whole lot to say about this particular sixth scale figure, as it's a repaint of a mold we've already seen twice before. The base figure itself here is a proven winner—the appeal of this figure is really going to come down to individual preference for aesthetics and canonical relevance.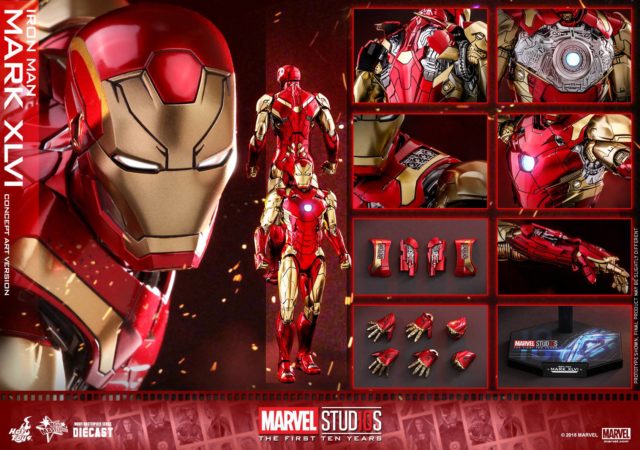 Because this figure is a 100% repaint (with the same LED light-up features and accessories–minus the RDJ head–as the first Mark XLVI), Hot Toys has a rare fast turnaround time for this release. Believe it or not, the target is to have this Concept Art Iron Man Mark 46 figure shipping out in Q4 2018 (you know, the quarter we're already in) or Q1 2019. For a die-cast Iron Man, that's basically like lightning!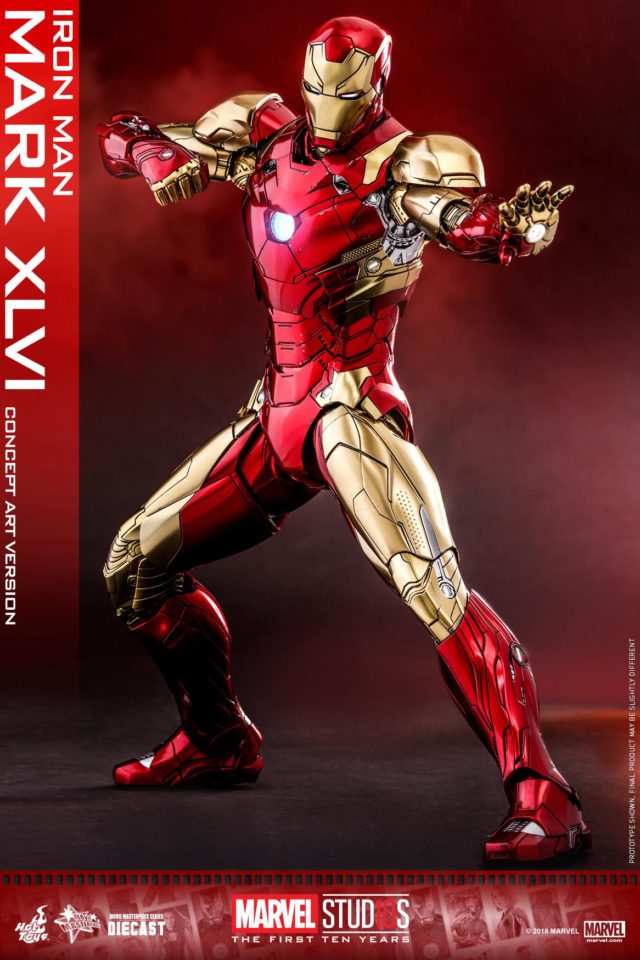 I've seen some people say this color scheme is their favorite to-date on this armor permutation, and some (like me) say that they hate it. The lack of Robert Downey Jr. Tony Stark head puts me off, and I just don't like all the additional gold on this design (even if it does evoke the classic Silver Age comic book look).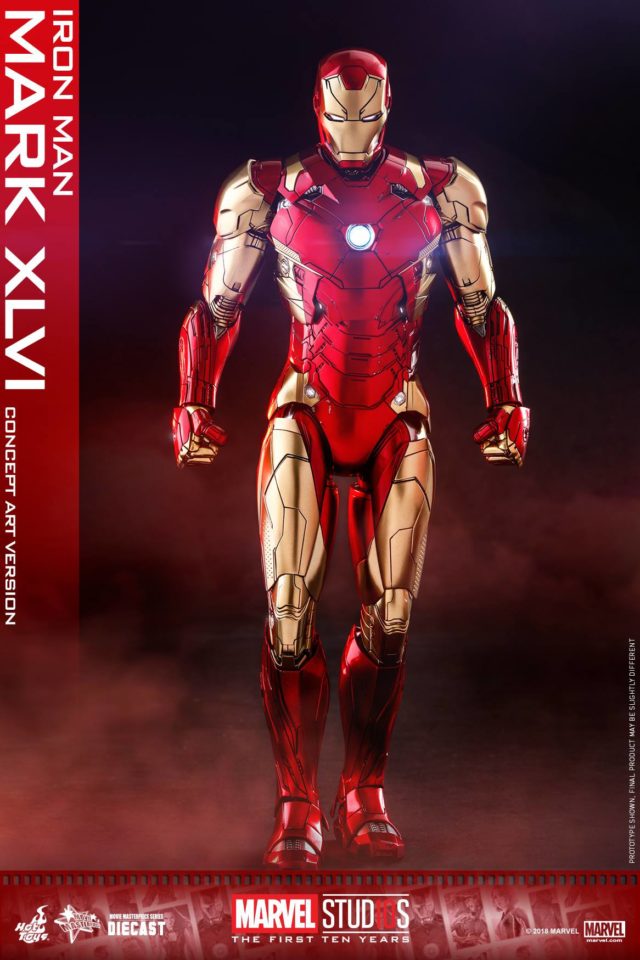 The Hot Toys Iron Man Mark 46 Concept Art Version MMS is now up for order exclusively on the Sideshow Collectibles website. He's priced at $377 with payment plans available. A bit higher than the first two releases of this figure, but since this repaint of the die-cast Civil War/Homecoming Iron Man is a limited exclusive, I think the price-point on it is reasonable enough.
Hands up, Hot Toys collectors! I was shocked by the large number of folks who ordered the 10 Years of Captain America 1/6 figure, but does that love carry over to a Concept Iron Man armor permutation as well? Is this die-cast armor on your buying radar, or does the price, aesthetic or lack of relevance of this armor knock it off your wish list?
The post EXCLUSIVE Hot Toys Concept Art Iron Man Mark 46 Die-Cast Up for Order! appeared first on Marvel Toy News.