Chicken Fried Toys – Dime Novel Legends "Hold yer' Horses… Here comes the Cavalry" Kickstarter is LIVE now! This Kickstarter will run until December 6th at 9PM Central and is already over halfway funded. Giddy up!
Like the proverbial bad penny, Chicken Fried Toys is back again, with more spicy authentic Western sauce, as you like it! This time around, they are presenting their first Army-builder centric lineup: The Cavalry, a new set of 1:18th scale Western action figures, as well as horses, gear, and even a stagecoach!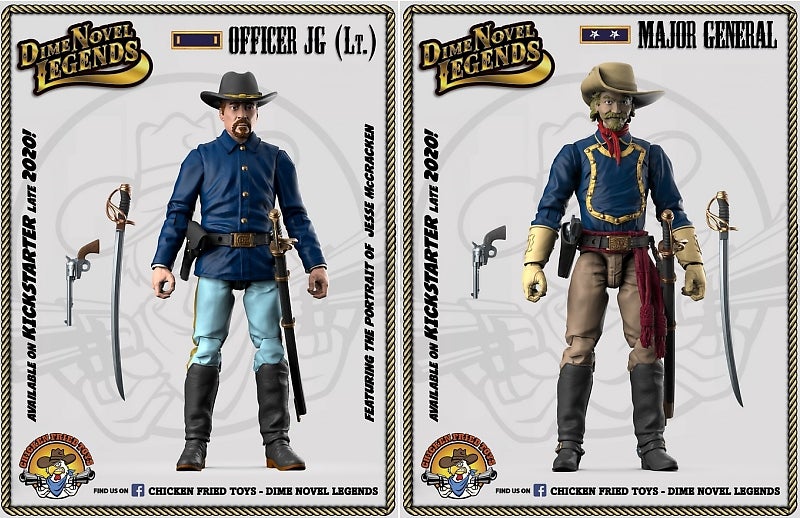 The initial funding goal will offer the "First Four" figures in this lineup: Trooper Private, Buffalo Soldier NCO, Officer JG (Lt.), and Major General.
The Kickstarter Exclusive is a great step for CFT as it is the first named character as well as a direct Eagle Force crossover with Fresh Monkey Fiction, AND the first Native American figure offering.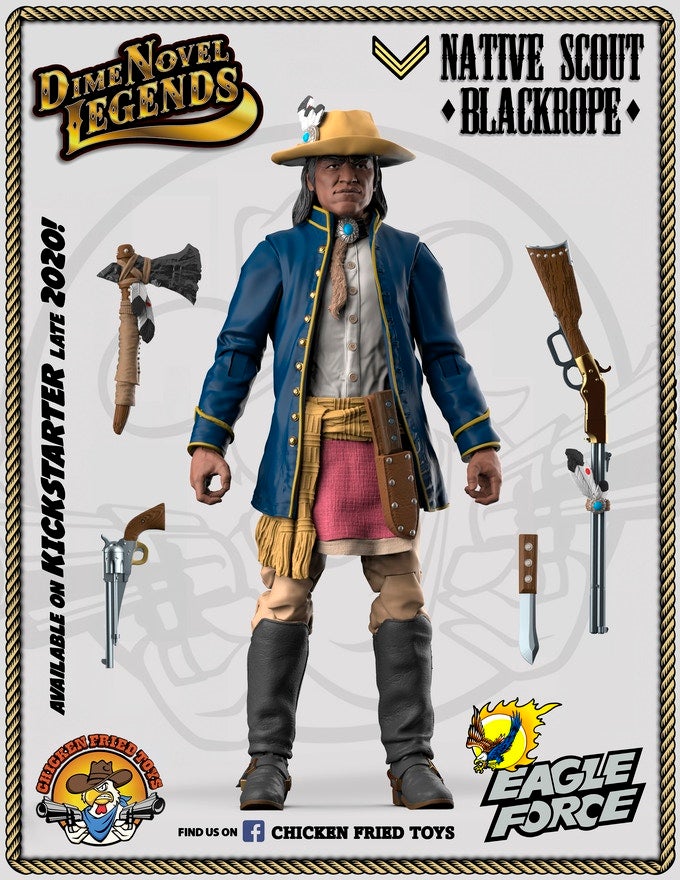 Figure stretch goals include a Bugler, Buffalo Soldier Trooper, Veteran NCO, Mestre de Camp, and more.
Additional stretch goals unlock a variety of accessory sets intended to combine with figures in this campaign and allow more flexibility to backers. These include a set of bladed weapons and gear, a set of new firearms, optional gear for belts and sashes, and a 10-pack of hats in colors not offered on the carded figures.
A recurring "Bonus Head Pack In" stretch goal unlocks a second 100% brand new, never before seen original sculpt portrait to an already unlocked figure. You get 2 for 1 with each tier of this type that is reached.
Further stretch goals unlock a stable of mustang ponies to get your army to the battlefield and back. Take a ride on Butterscotch the palomino, Blueberry the appaloosa, Chips the paint horse, and Cinnamon the red roan horse. Each comes with a removable bedroll and saddlebags, as well as a canteen, lariat, and rifle sheathe.
A new addition to the campaign is the ability to simply add any single unlocked item to your pre-existing pledge level. This feature allows backers to add the KS Exclusive, other premium items, and many more offerings through a pull down menu to custom tailor their reward without the need for a Backerkit.
Reward packages include:
"My Personal Trooper" – choice of 1 single unlocked figure
"First Four" – 1 set of each of the first four figures available
"Full Charge!" – a nontraditional all in style package
"I'm the STAR of this SHOW!" – a high tier supporter package that includes a sculpt of YOU added to a figure in THIS campaign as well as other reward items
"Johnny's Personal Army" – a troop builders dream! Pick 100 basic troopers of your choice (groups of 25, non officers only) from all the enlisted men unlocked in the KS
---