Yesterday I covered the figures and statues in the Diamond Select Toys October 2020 solicitations, and now it's time to finish the job by looking at the two new Marvel busts that they'll be adding to their lineups in early 2021: the 1/2 scale Legends in 3D Carnage Bust and X-Men Animated Rogue Bust are now up for order! These are two headliner characters being captured in value-priced bust lines for the first time in over a decade—are they must-haves?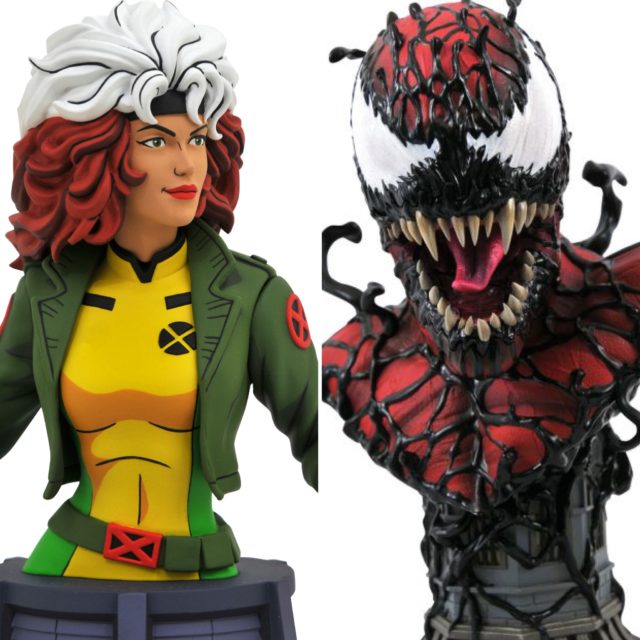 While I still hope every year that rolls around that it will be the year that Randy Bowen returns with a new Bowen Designs-like line of Marvel busts, my hopes for that are definitely flickering dimmer and dimmer a bit each year.
As a whole, the bust industry seems to be dying—but even so, Diamond Select Toys keeps chugging along, bringing us low-priced busts in limited edition runs and keeping tradition alive (at least for now). This month they bring us two new busts that would have been instant sellouts a decade ago—but how do they fare today?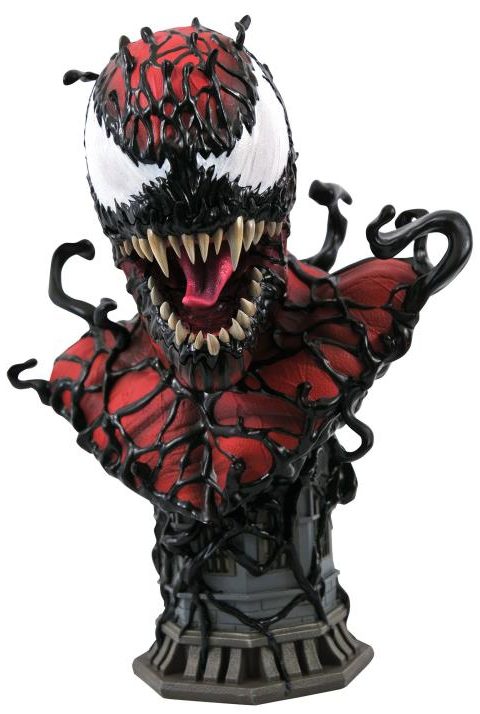 DST has always had my attention and admiration for the ways that they find to bring a humongous range of product types to fans at every price-level, and they've definitely earned my respect with their low-run, large-size line of resin Marvel Legends in 3-D (Dimensions) bust series. The second bust released in the line—Venom—is one of my favorites DST has done to-date, but finally another bust even more gnarly has arrived: the Legends in 3D Carnage bust!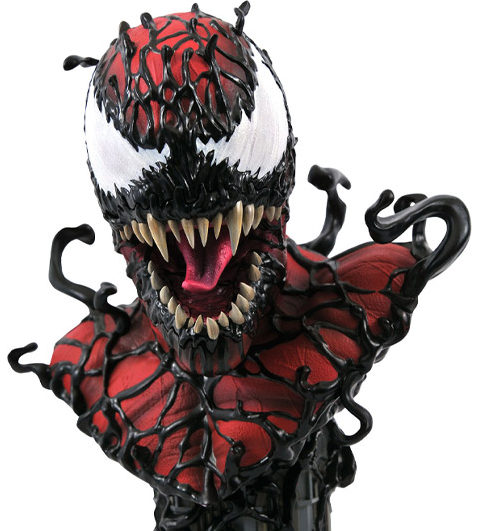 To me, this is the best-detailed and most exciting Marvel bust Diamond Select has ever done. The open mouth with razor-sharp teeth and gross tongue; the black symbiotic tendrils surrounding the bust; the alien textures on the eyes and skin… this is a win all-around, in my opinion. And at under 175 bucks for a sculpture over 25 cm tall, it should be a quick sales winner for DST as well.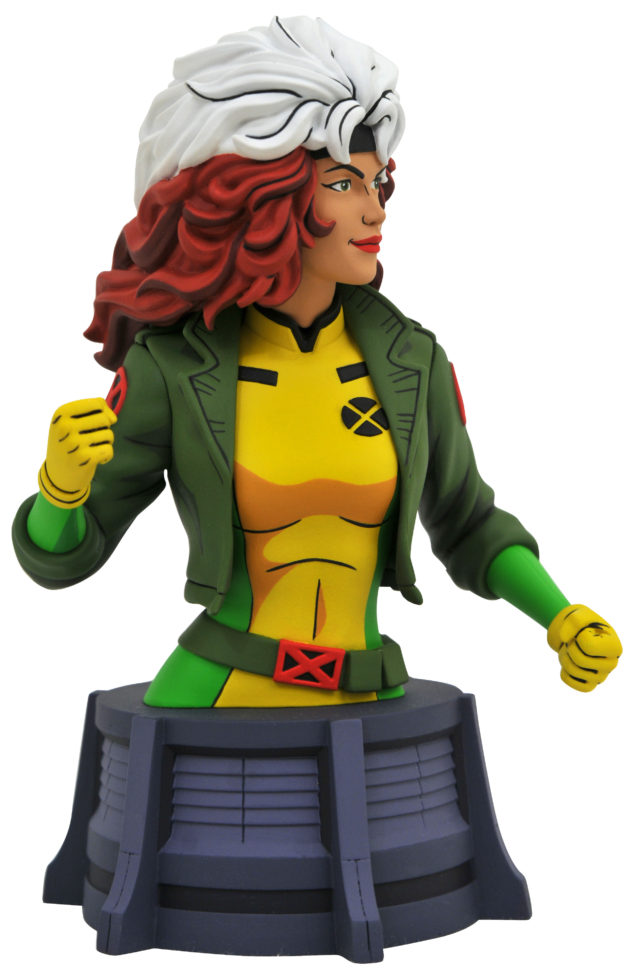 Meanwhile, the other newly-solicited item is the 1992 X-Men Animated Series Rogue bust that was last shown at New York Toy Fair 2020. Rogue has shockingly only been captured in bust form twice in the past (by Bowen Designs and Dynamic Forces), so it's nice to see the Southern Belle getting some much-deserved spotlight in this form.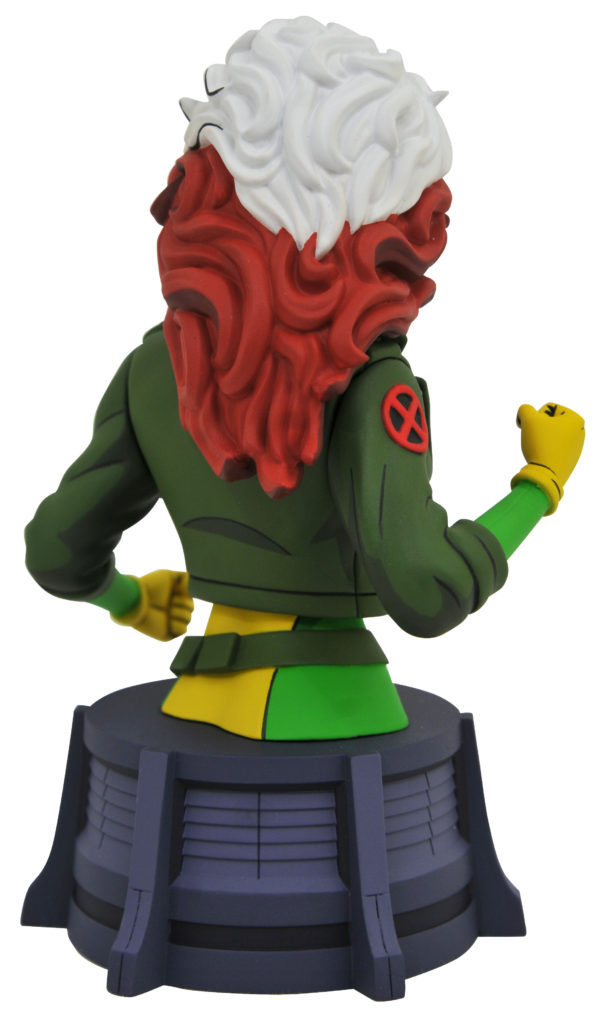 I think LE 3000 may be a bit high for this type of item these days, but at under 60 bucks for a resin bust, the price is definitely right. This is a great representation of Jim Lee Rogue as she looked in the 90s X-Men cartoon, and the cel-shaded paint deco really works here. I think this is the best thing in the DST Marvel Animated busts line so far, frankly. Thumbs up.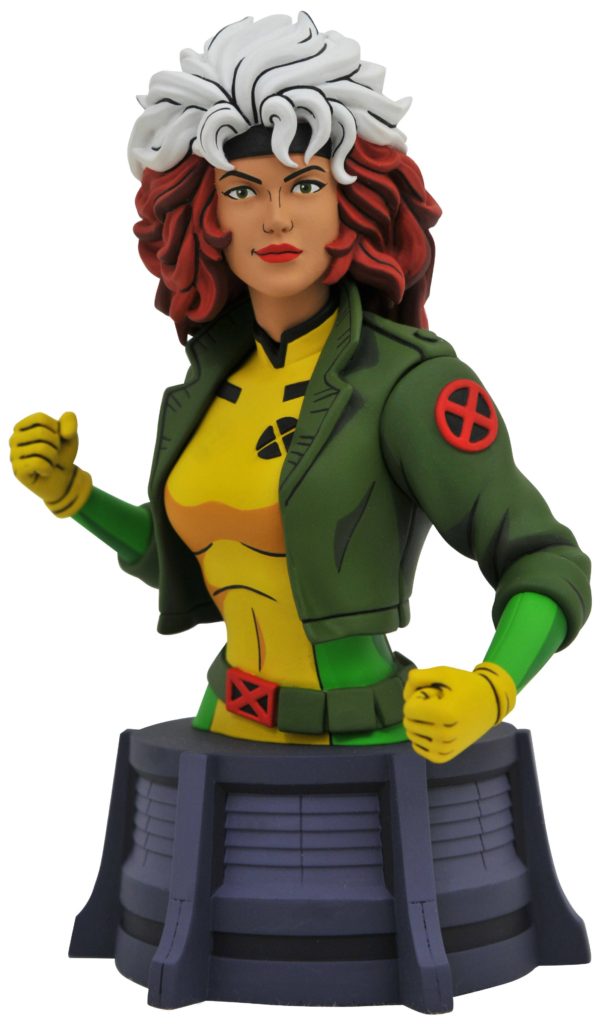 The Diamond Select Carnage and Rogue Busts are now up for order, and are scheduled to be released in March/April 2021. Both are limited edition items, but at only LE 1000, I think it's reasonably likely that a top-tier character like Carnage may actually sell out before these even start shipping. If you think you might definitely want a half-scale Carnage bust, keep this is mind and think about reserving one now.
What do you think of these new entries in Diamond Select Toys' continuing lines of busts, Marvel collectors? Who has been collecting either the X-Men Animated or Legends in 3D lines, and what do you think of the quality of them? Are either of these on your potential list of pickups?
The post Diamond Select Carnage 1:2 Scale Bust & Animated X-Men Rogue Bust Up for Order! appeared first on Marvel Toy News.