A new company called EXO-6 has opened pre-orders for Data, their first Star Trek: First Contact 1/6th scale action figure. The three character Star Trek: First Contact collection will also include a one-sixth scale articulated Captain Picard figure and one-sixth scale statue of the Borg Queen.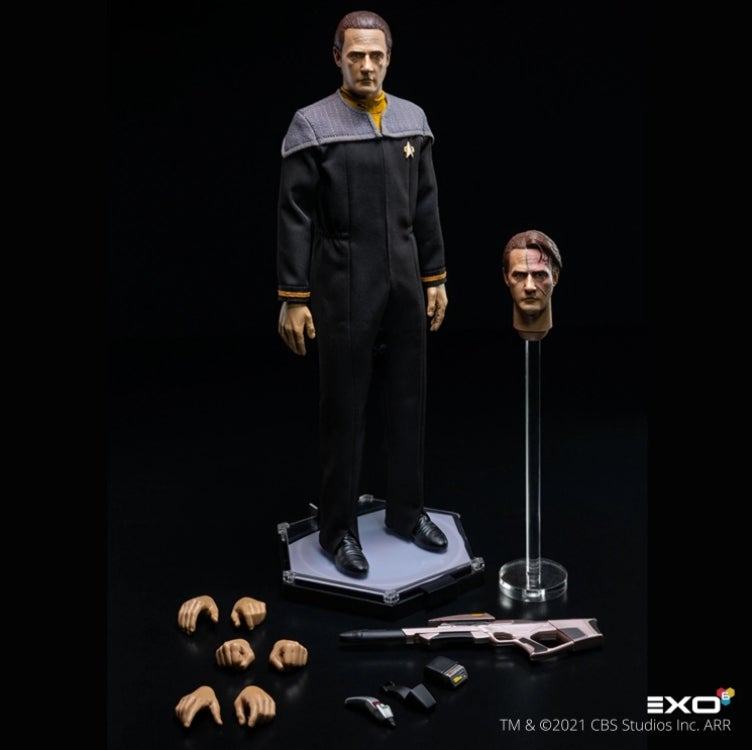 THE EXO-6 DATA 1:6 SCALE ARTICULATED FIGURE INCLUDES:
Fully Articulated Body: More than 30 points of articulation allow the figure to be displayed in multiple dynamic poses, approximately 30 cm tall.
Two Realistic Portraits: Data comes with two heads, his regular portrait, and also his look after the Borg Queen gifts him with grafted skin. Lovingly rendered by a top artist, these are excellent likenesses of Brent Spiner in his role as Data. Each head sculpt is specially hand-painted.
Starfleet Duty Uniform Jumpsuit: Meticulously researched, this duty uniform matches the pattern, and color of the original costume recreated in 1:6 scale. Magnets are sewn into the uniform so the holsters for the tricorder and phaser can be attached. An authentically scaled communicator badge is permanently affixed to the tunic.
Boots: Soft plastic boots sculpted to match the cut and style of the original movie footwear.
Display Base: A hexagonal display base featuring the transporter pad will provide additional support for the figure. Two different inserts for the floor of the base can represent the transporter pad or the center of the transporter array.
Type II hand phaser. The phaser can be worn in a black holster that magnetically attaches to the jumpsuit.
TR-590 Tricorder X: This standard tricorder can be opened or worn in a holster.
Phaser rifle: Type 3B Phaser rifle used by the Enterprise crew to battle the invading Borg.
The 1/6 Star Trek: First Contact Data action figure is priced at $189.95+ $25 (Flat Rate International Shipping).
[See image gallery at www.figures.com]
---