Way, way back in September 2018, Amazon shocked the Marvel collecting world when they put up super-early pre-orders for half of the Captain Marvel Legends figures series, including Carol Danvers herself, Starforce Commander (Yon-Rogg), young Nick Fury, and Talos the Skrull Commander. I put my POs in for all those figures four months ago and then put them on the back-burner in my mind, knowing they'd show up in early 2019. And lo and behold–they have arrived! I'll post full reviews of them in the coming days, but here's my unboxing photos and first impressions…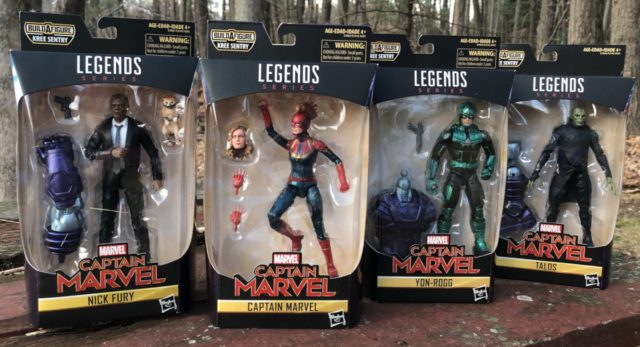 To kick off the new year on Tuesday, the Captain Marvel Legends Kree Sentry Series officially began being sighted and sold in some brick and mortar stores such as Target and Walmart. I hit a few stores myself just to see if any were easily obtainable near me (they weren't), but I wasn't too fussed since I knew my own figures I ordered online would be securely arriving this week.
And this afternoon, my first four new Hasbro ML of 2019 were waiting for me on top of my mailbox! I'll go in-depth with reviews of all these figures this weekend and next week, but here's some quick unboxing photos and first impressions…
CAPTAIN MARVEL CAROL DANVERS
The glossy metallic pain on the 6" Captain Marvel movie figure looks outright awesome. Having not seen the figure in person before, I was really surprised how impressive she is when I took her out of the package. Frankly, I think the Brie Larson head sculpt is a winner.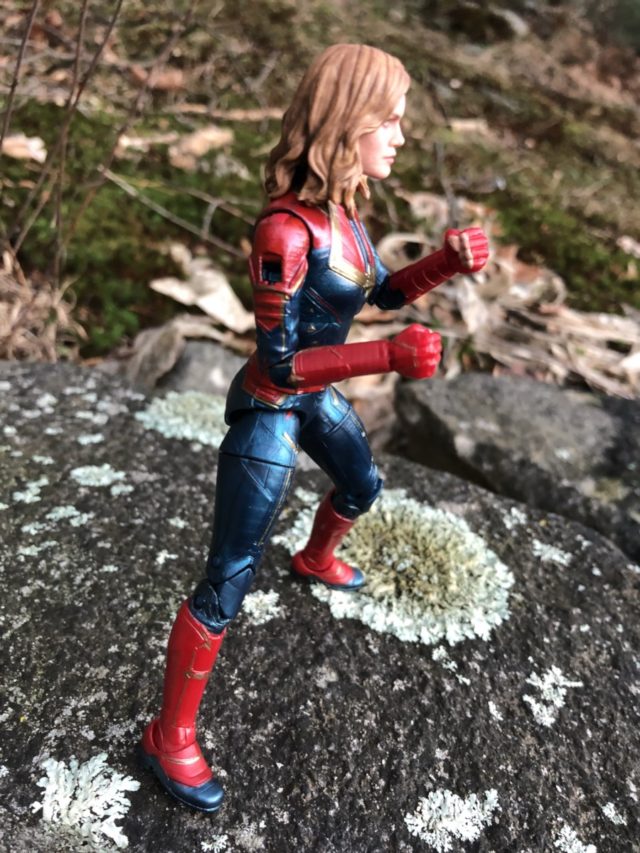 The bad news is that my Carol Danvers figure came with her right shoulder pad missing straight out of the box. Bummer.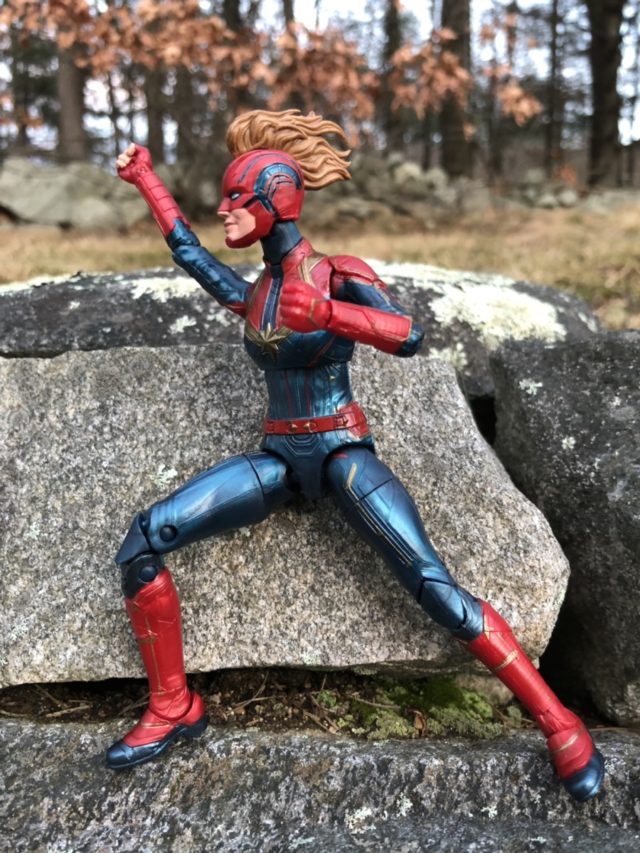 The good news is that this is the double-packed figure in the case, and I've already ordered a replacement from Amazon and initiated the return on this one (as it's missing a necessary piece).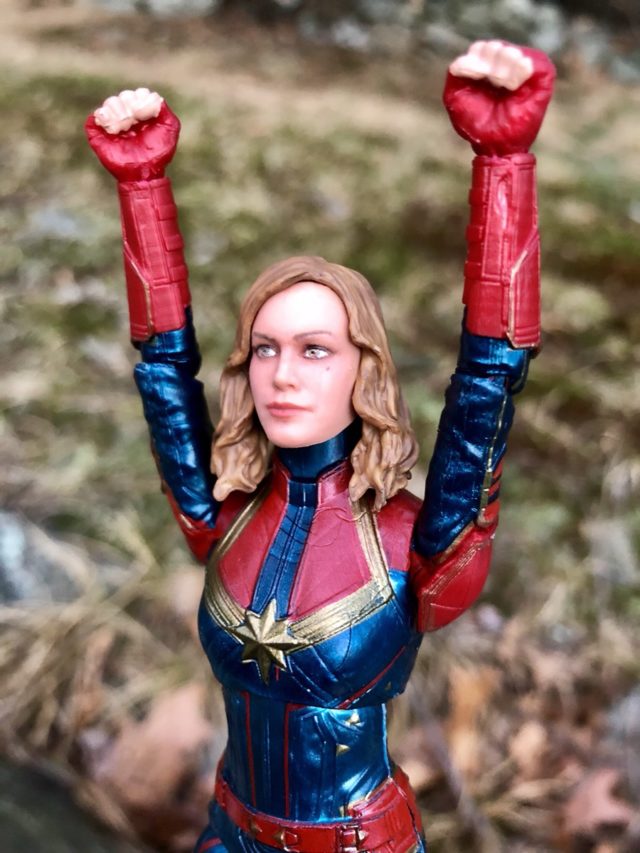 Changing the heads on this Carol figure was extremely difficult, as the large neck peg really doesn't seem to like going in and out of the two heads.
NICK FURY & "GOOSE"
The movie figure I was most looking forward to in this wave: Goose the Cat in manacles! I was surprised that Goose can't stand up at all because of how the tail is sculpted—he has to be held up by his scruff by young Nick Fury (and the holding feature does work tremendously).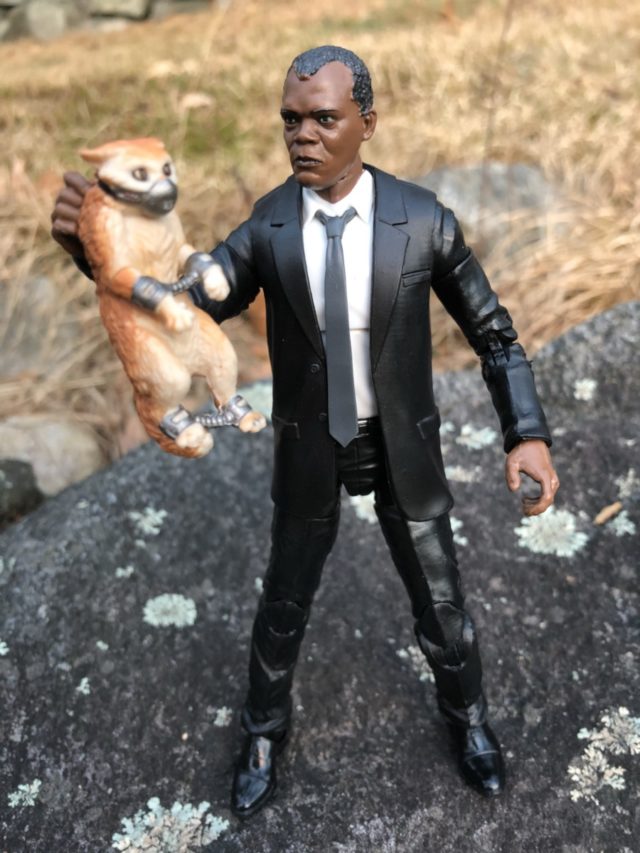 I'm not used to seeing Samuel Jackson 1) Young; 2) With Hair and 3) Without an eyepatch; so the portrait on the new Nick Fury figure caught me off-guard a bit. That said, I think it's a very solid likeness for a six inch figure.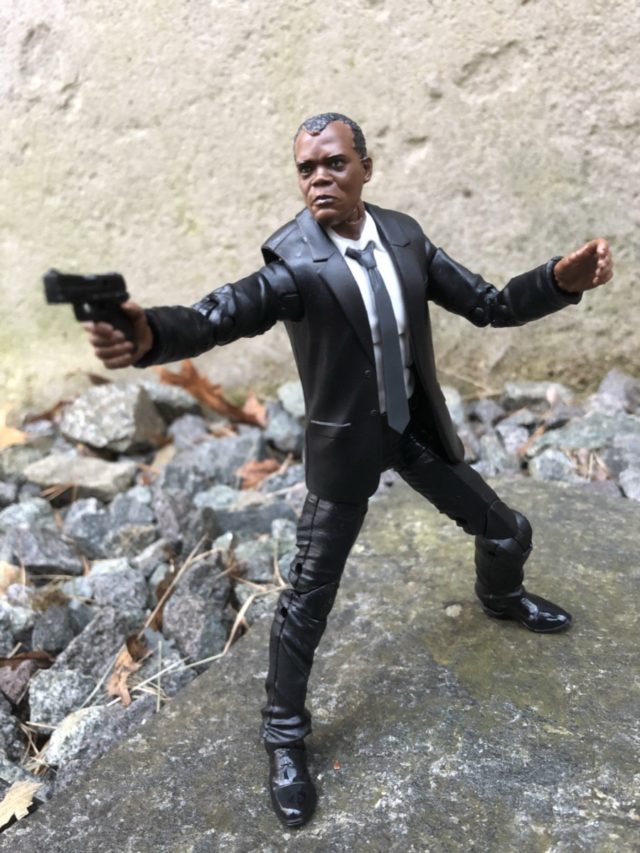 I was very let down instantly by how poor the paint apps were on Fury's hair, as the factory failed to paint it fully in several places. I'll have to break out my paintbrush and finish the fight myself.
SKRULL COMMANDER TALOS
Poor Talos may have "pegwarmer" all over him. With no weapons or accessories, no interchangeable hands and a costume that looks more like a politician's than a soldier's, this is a rather boring figure right out of the package.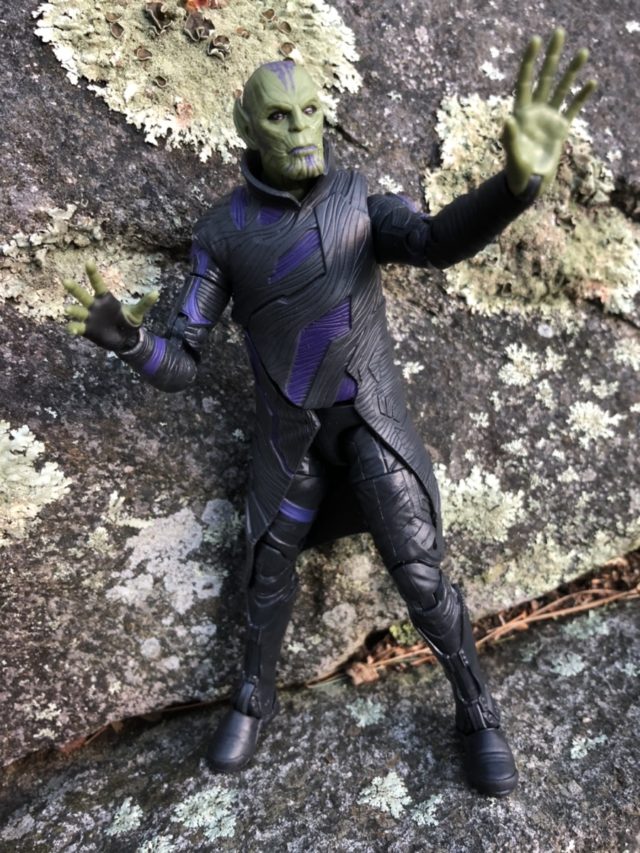 I didn't have any QC issues or paint defects on mine, which is a plus, but I feel like there just isn't all that much to do with this toy. If we see a lot of Skrulls costumed like this in the movie, maybe he'll be popular as an army-builder?
STARFORCE COMMANDER YON-ROG
I've got zero connection to Yon-Rogg right now, so I wasn't expecting to care about his figure all that much. But in-hand, he really jives with me. The glossy black and metallic green pair together beautifully, and I like his space gun, even if it is lacking paint deco.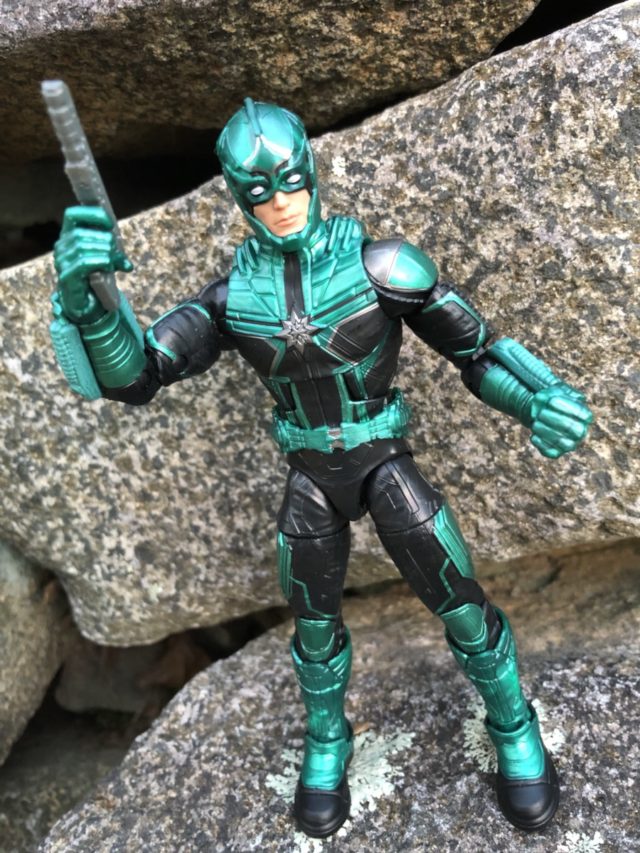 One of his legs has a loose joint at the hip, but paint-wise and articulation-wise I'm having loads of fun posing this figure—more so than any of the other three Marvel Legends Captain Marvel figures that have arrived thus far.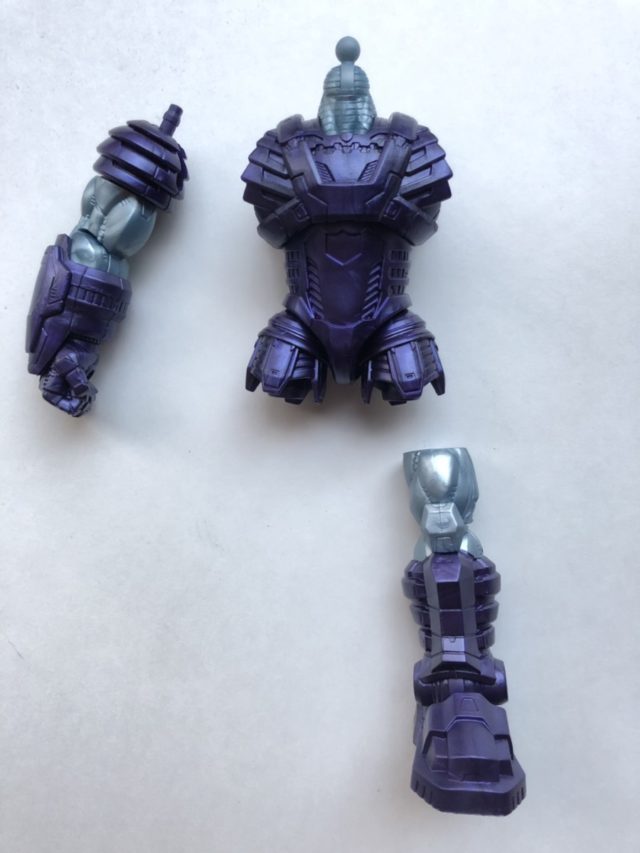 I also got half the pieces of the Kree Sentry Build-A-Figure with Yon-Rogg, which I'm going to leave unassembled until the rest of the wave (Genis Vell, Grey Gargoyle and Bomber Jacket Carol Danvers) arrive tomorrow with the rest of the parts. The Kree Sentry BAF looks okay so far, but could definitely use some paint wash or deco on it somewhere.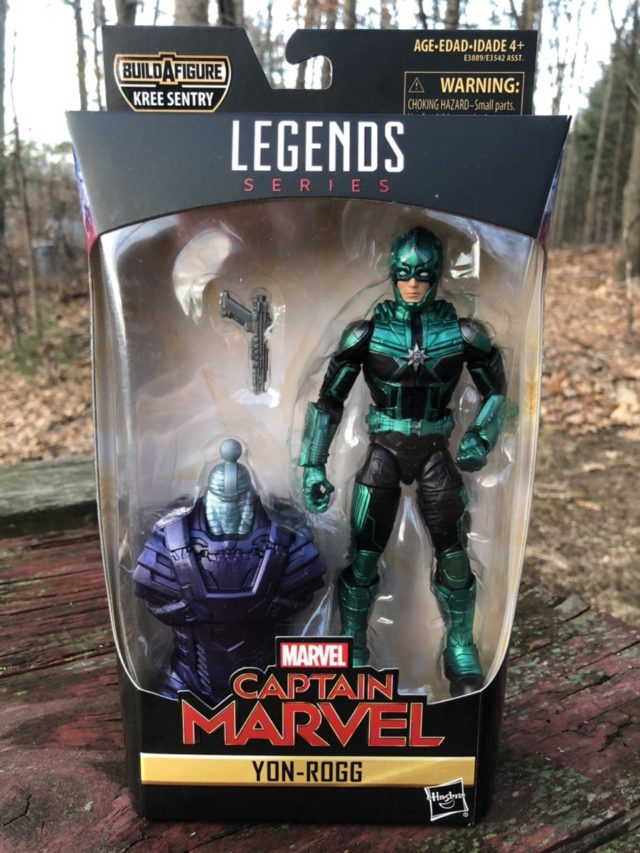 All seven Marvel Legends Captain Marvel figures are available as of writing on Amazon, and are also starting to slowly appear in stores around the country. Nick Fury may be the hot figure in this wave, as he already sold out online and was selling for $40+ on Amazon for a few days before they restocked him.
I'll post full reviews of the figures in this wave in the coming days, but based off what you've seen here (and in-person if you've found the series yourself), what do you think, Marvel collectors? Are you hyped for this new Marvel franchise player's first-ever themed wave, or is the Kree Sentry series leaving you cold (and with money in your wallet to spent on other figures)?
The post Captain Marvel Legends 6″ Figures Series Unboxing & Impressions! appeared first on Marvel Toy News.