-By Andy Jones
Creepy gross puppet and/or 80's retro aficionados rejoice, because the Boglins are back! Defying the long-held Toy Industry commandment that boys don't play with puppets, Tim Clarke has launched a Kickstarter to return the beady eyed imps to your hands next year.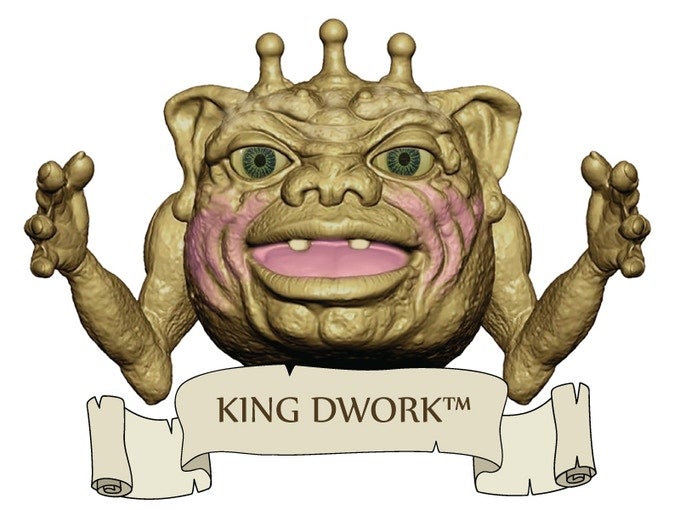 Clarke, teamed up with Chris Cofoni at TriAction Toys to secure the original license, recreate the look, feel and packaging of the original large Boglins from 1987. Dwork, Drool, and Vlobb are back, but now as King Boglins, (with horns on their heads). But everything else you remember from the '80s returns, including an expressive face, moveable eyes that glow-in-the-dark, and even the crate packaging with the lift-up crate.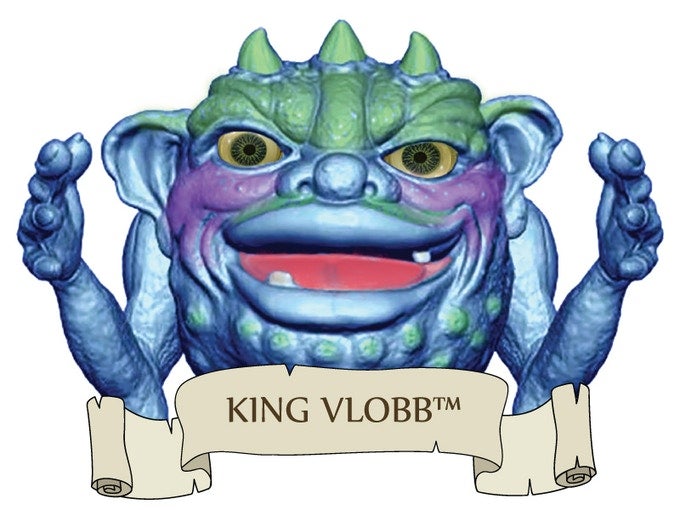 The Boglins Kickstarter, which was fully funded in the first few hours of announcement, is going on right now and closes December 27th. Now's your chance to dig in, and with 787 people already having pledged $110,000 (and counting), you don't want to be on the outside wishing you did.
In fact, now that the goal was so quickly passed, Stretch Goals are getting announced. There will be additional Boglins offered, and for the first time in 30 years, a wholly new design, King Topor has been revealed and there's more to come. We're excited to see what other surprises are in store as the pledges keep coming.
I loved the original Boglins back in the '80s. My friends and I even made a multi-room Boglin fort out of a large appliance box, with access holes so we could operate them from behind. I still have my original Halloween Bog-O-Bones (pictured above), and he's been a fixture near my desk for decades.
A few years ago I was excited to learn that Tim was hand-pulling small Boglins from newly sculpted molds, and selling them on his website, Totims.com. I picked up Kneep (purple, pictured above) and then had to get Grumph (greyish green, pictured top) which is inspired by the original Boglin prototype that Clarke pitched to Mattel with co-creator Maureen Trotto.
The Kickstarter ensures that the Boglins get made, and will eventually hit retail, but the also gets the Boglins in your home to eat your peas and kiss your aunt quicker and at the lowest price. Here is the list so far. In fact, this campaign was so successful, three stretch goals have been unlocked!
See below for the seven kings coming your way. Why are there seven kings? What is going on? Clarke has an entire story to be revealed as the campaign goes on, so be sure to join in to be informed with his updates.
King Drool
King Vlobb
King Dwork
King Wort – Unlocked!
King Swogg -Unlocked!
King Topor -Unlocked!
King Sponk will unlock at $150,000
Pre-orders for Kings Nos. 4-7 will not be accepted at this time, but TriAction Toys says that it is committed to releasing those characters within one year from the Boglins launch at retail next April. The success of this Kickstarter guarantees they can get their molds created.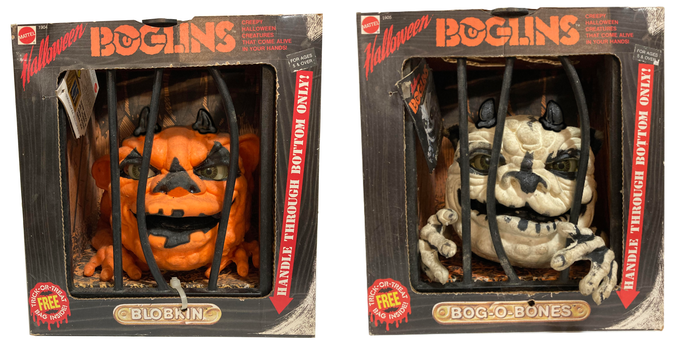 The Boglins World Domination Kickstarter campaign includes pre-order options for the King Drool, King Vlobb, and King Dwork, plus Golden Editions of each and the Halloween 2021 versions of Bag-O-Bones and Blobkin (eight Boglins in all).
Swing by the Kickstarter to get in on it now, and follow
https://www.instagram.com/timclarketoys/ for more updates and Boglin goodness. Check out the first episode of the series of videos Tim created for this Kickstarter below!
-By Andy Jones
---