The biggest shopping week of the year has arrived! While Black Friday and Cyber Monday have become more and more about huge purchases like TVs and video game consoles over the years as far as local store sales go, there's plenty to love for toy collectors via online stores (and I'll be adding more deals to this post as they go live)–including 20% Off Everything at Hasbro Toy Shop, a $10 discount code for anything in-stock at EE, the usual sales of Sideshow Collectibles and Hot Toys, and more!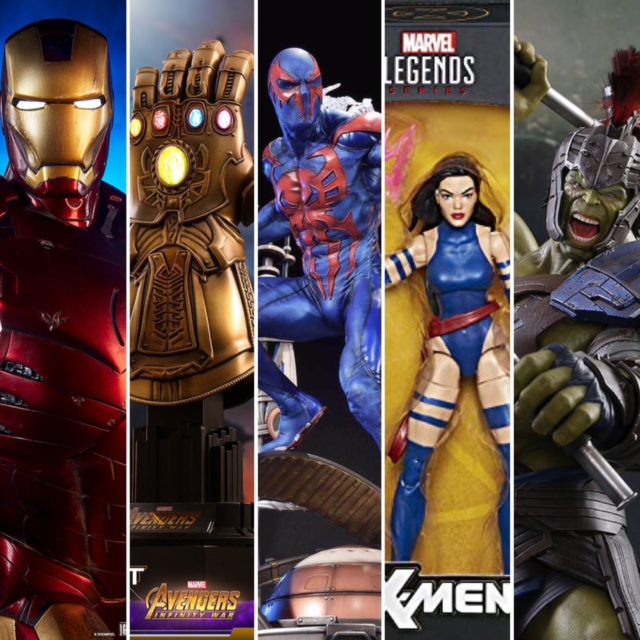 As a matter of protocol, I try to only post news here on Marvel Toy News because, well… it's in the name. But–! As happens most years, I'm getting bombarded on social media by other collectors asking me where the best deals are going to be this Black Friday and Cyber Monday.
And so, I've created this catch-all post that will direct people to the best deals around on Marvel collectibles throughout the next week. There's about a million different retailers out there, so if you see any great sales, please leave a reply or shoot me a social media message and I'll add yours to the main post…
HASBRO TOY SHOP
Need to fill some gaps in your 2018 Marvel Legends figure collection? HTS has started their holiday sale, and is giving a straight-up 20% off everything with code "FF20"! Some harder 6″ ML to find are available including Wolverine & Motorcycle, Cable, Daredevil, Doc Ock, Omega Red, Psylocke, Tiger Stripe Wolverine, Storm and more!
It's not the most exciting sale around, but for those playing patching-up on the bajillion Legends figures Hasbro released this year, it's worth a look.
---
ENTERTAINMENT EARTH
Entertainment Earth doesn't offer blanket discounts on items on their site very often anymore, but for the holiday shopping season, they do have one! You can use code "SAVE10MTN" (the 'MTN' stands for 'Marvel Toy News', of course!) to take $10 off any in-stock order of $100 or more. That 10 bucks may not seem like a whole lot, but when you couple it with free shipping and the various discounted Black Friday deals, Marvel Premier Collection statues, Hasbro Legends 6″ figures, etc, it's a nice little slice off the top of your order's cost.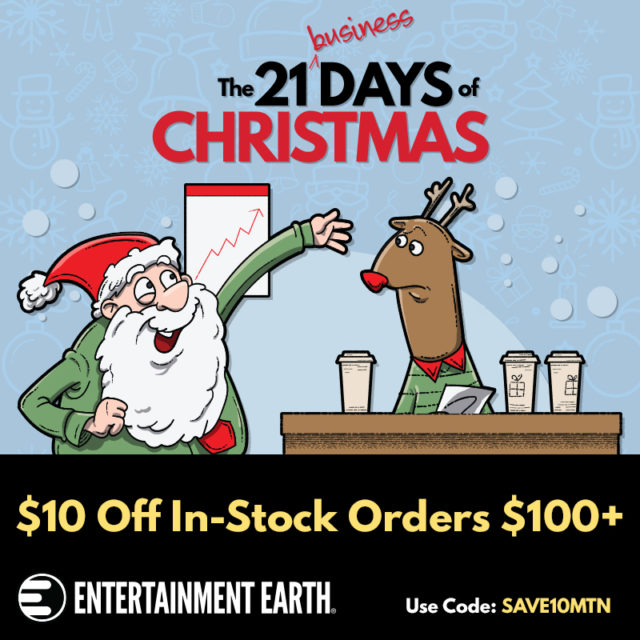 And for those who want an easy webpage to send their family to for gift ideas, EE made up this custom landing page based off of my personal recommendations for the holiday gift guide (thanks, EE!). Make sure your family knows to use code "SAVE10MTN" to get that 10 bucks off at checkout!
---
HOT TOYS
Remember those items that Sideshow had on sale for Hot Toys during Spooktacular last month…? Well–they're all back as part of the new Sideshow Hot Toys Holiday Sale! I like seeing the Infinity War Black Widow and 1:4 Infinity Gauntlet replica added to the deals, but otherwise there's not really much to see here.
Hot Toys Thor Ragnarok Gladiator Hulk 10% Off & Free Shipping
Hot Toys Infinity War Rocket Raccoon & Groot $30 Off & Free Shipping
Hot Toys Avengers Infinity War Black Widow $20 Off & Free Shipping
Hot Toys Quarter-Scale Infinity Gauntlet Replica 10% Off & Free Shipping
Hot Toys Life-Size Baby Groot 10% Off & Free Shipping
Hot Toys Infinity War Groot Figure 10% Off & Free Shipping
---
SIDESHOW COLLECTIBLES
There's few big surprises as far as Sideshow's own Holiday Week sales go, although I wasn't expecting to see the low-run Spider-Gwen EX statue reduced just yet! Looks like quite a few of these are almost sold out, so this may be the last sale for Spider-Man 2099, Rocket Raccoon, Daredevil 1/6 and a few others.
Prime 1 Studio Spider-Man 2099 Statue $50 Off & Free Shipping
Sideshow Spider-Gwen Exclusive Statue $40 Off & Free Shipping
Sideshow Iron Man Mark III Maquette $50 Off & Free Shipping
Sideshow Avengers Assemble Thor Statue $50 Off & Free Shipping
Sideshow Dark Phoenix Premium Format Figure $50 Off & Free Global Shipping
Sideshow Rocket Raccoon Premium Format Figure $35 Off & Free Shipping
Sideshow Groot Premium Format Figure $100 Off & Free Shipping
Sideshow Daredevil Sixth Scale Figure $35 Off & Free Shipping
Sideshow Deadpool Sixth Scale Figure $35 Off & Free Shipping
The post Black Friday 2018: Marvel Toys & Collectibles Sales and Deals! appeared first on Marvel Toy News.