The Avengers Endgame spoilers embargo came to an end a few days back, and as such, we're seeing a decent-sized rollout of spoiler-filled movie collectibles goodness! But nothing—and I mean nothing—that we've seen so far has amazed me as much as Hot Toys' big reveal of this morning: the Hot Toys Avengers Endgame Life-Size Iron Man Nano-Gauntlet replica goes up for order today! And for the space and money-conscious collectors out there…? There's 1:4 scale version Nano-Gauntlets on the way as well!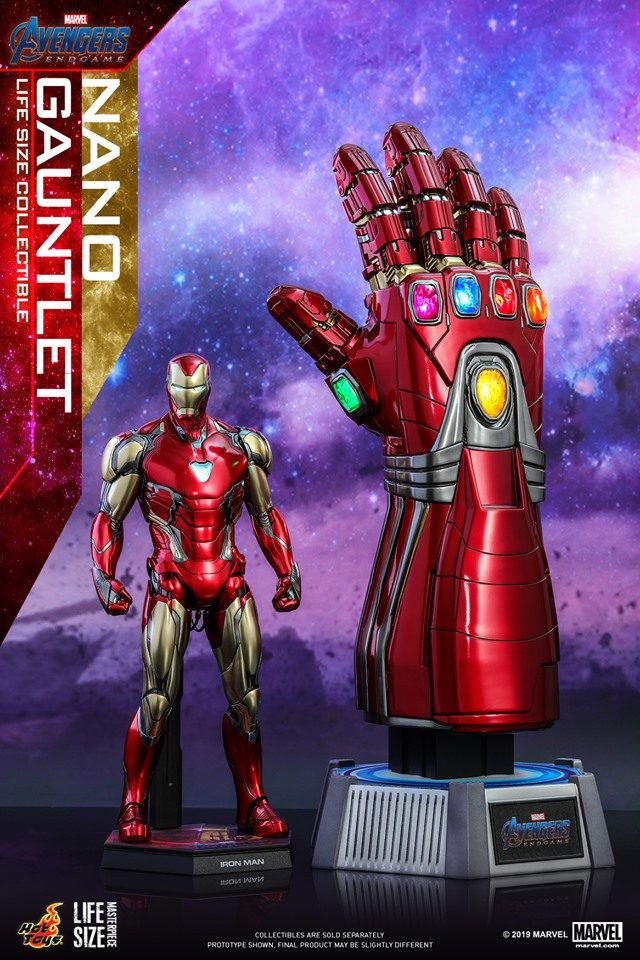 Thanks in large part to the excellent Marvel Legends Infinity Gauntlet replica that Hasbro released last year to the cool tune of 100 bucks, I somehow resisted the siren song of the Life-Size Hot Toys Infinity Gauntlet.
Unfortunately, it doesn't appear that Hasbro will be riding in to the rescue with a life-size Iron Man version of the Infinity Gauntlet, so I think Hot Toys has my number with this one… and maybe some quarter-scale versions as well…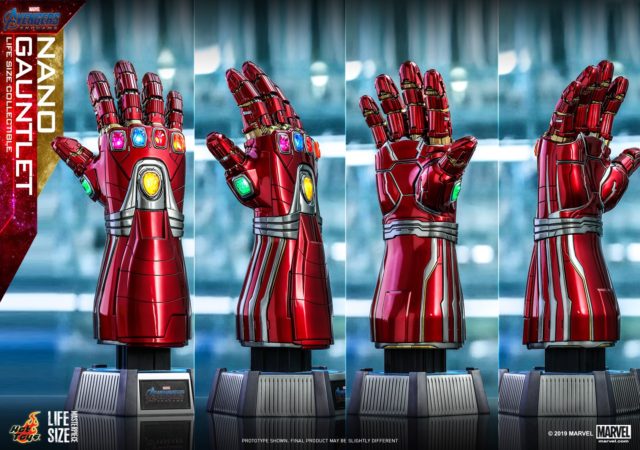 Okay, let's start with the main event: the Life-Size Avengers Endgame Nano-Gauntlet. The existence of an Iron Man Gauntlet in the movie was something unfortunately spoiled for me via a toy leak on Facebook last month, but if the one I saw leaked had looked like this…? I probably wouldn't have minded all that much!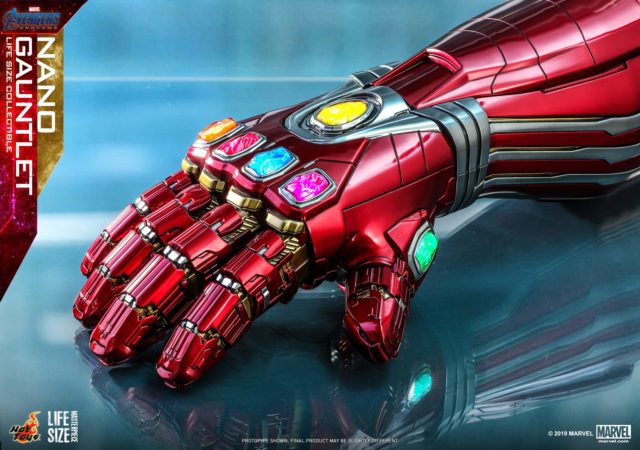 No one does red and gold Iron Man paint like Hot Toys does, and on this life-size Nano Gauntlet, the paints are drop-dead gorgeous. I thought the standard Infinity Gauntlet looked really nice, but it didn't make my heart do the palpitations that this version does, that's for sure!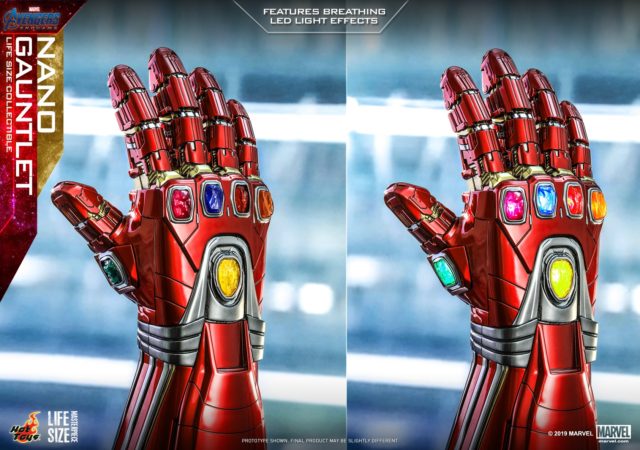 Hot Toys hasn't announced the estimated pricing on this Life-Size Iron Man Gauntlet just yet, but based off the cost of the Thanos iteration, I would expect this to be in the $800-$900 range.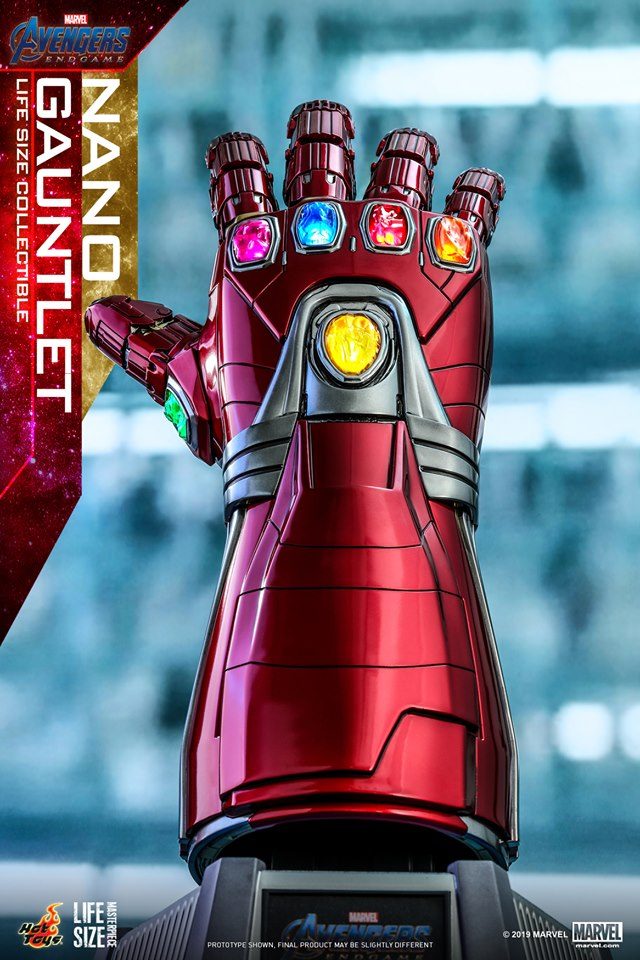 That's a hefty sum for a 20" prop replica (even one with LED light-up Infinity Stones and different lighting modes), but this is going to be the ultimate version of a prop that's going to become iconic in the years to come: for a lot of collectors, this is an item that is not to be missed.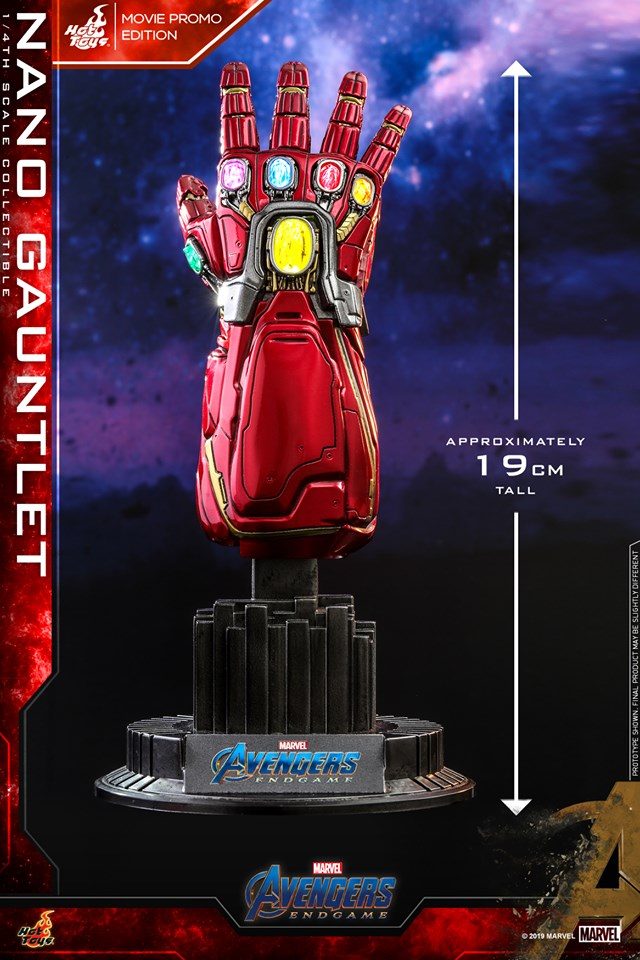 But for those who don't have an enormous amount of display space and a huge wad of cash to blow on a life-size prop replica…? Hot Toys has got you covered too—twice over, in fact!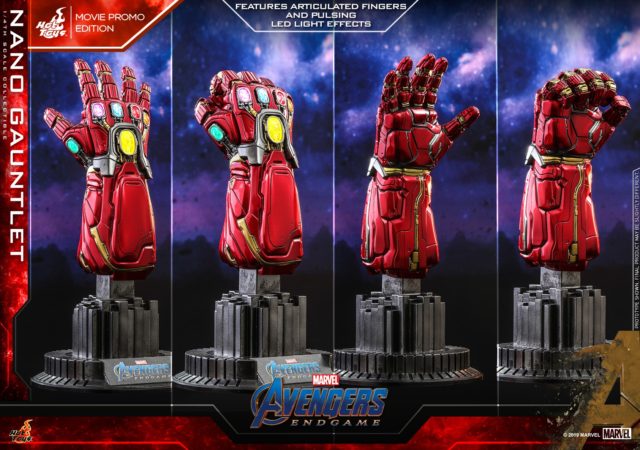 For those who just want a smaller—and affordable—version of the Tony Stark Infinity Gauntlet, there's a 1:4 scale version of that available. This version is only about 7.5" tall overall (including the themed base), but it's also likely to be about $100 instead of in the neighborhood of $900.
Just like the 1:1 replica, the 1:4 Nano-Gauntlet features pulsing LED lights on all the Infinity Stones—but it's also got the cool bonus of articulated fingers (for real fisting action!). This has been marked as a "Movie Promo" item, but it wasn't clarified in the description exactly what that means. Stay tuned–this may end up being limited.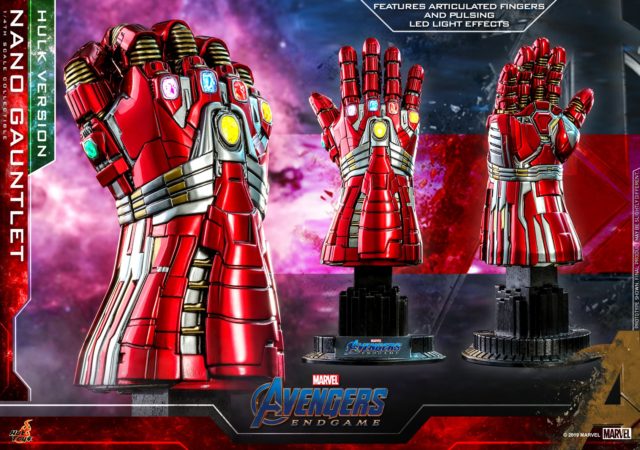 But wait—there's more! If you prefer your Infinity Gauntlets to be a bit more "Hulk-like", Hot Toys has a little treat for you as well—in the form of the Hulk Nano-Gauntlet. Yes, Tony Stark's Gauntlet is actually a little different from the one that Hulk wears—and you now own a 1/4th scale prop replica of Hulk's version too!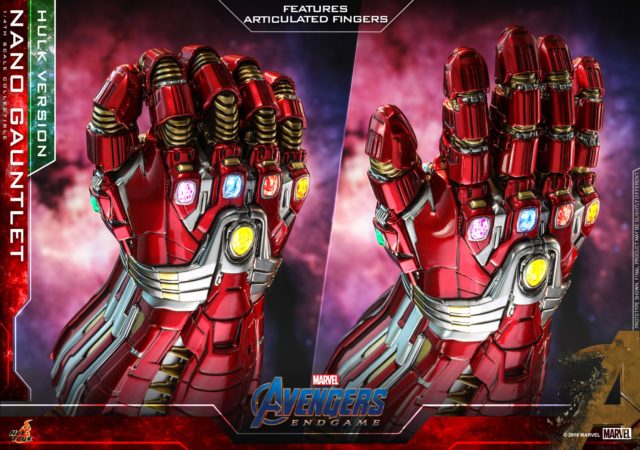 The Hulk Version Nano Gauntlet has a bulkier look to it and a lot more silver in the design. Frankly, I think I might like this version even more than the flashy Iron Man iteration. It's a shame we're not getting a Life-Size version of this one too, but I'm certainly willing and able to drop about 100 bucks for a 1/4th replica.
Just like Tony's, the 8.6" Hulk Gauntlet has pulsing LED light-up gems and articulated fingers. I quite like the look of this one in "fist mode". This is an absolute buy for me with its small footprint and price-point.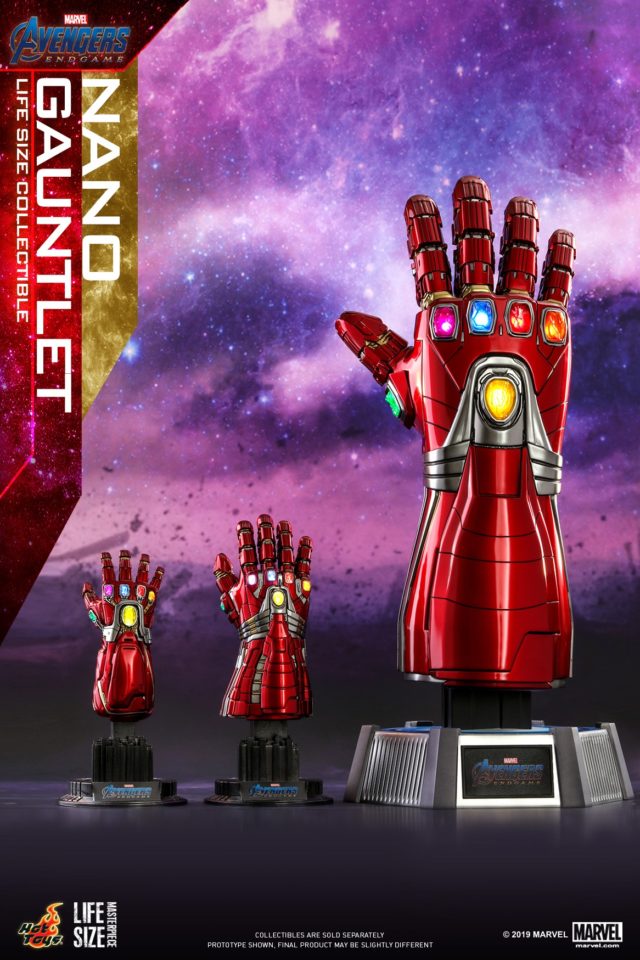 The Hot Toys Life-Size and 1/4 Nano-Gauntlets are expected to go up for order this afternoon, and are expected to ship out in late 2019/early 2020. Pricing hasn't been announced yet for any of these officially, but I'll update the article once we have those specs. I would imagine it'll take some time for these to fully sell out, but with Avengers Mania running wild right now, it's entirely possible that these could pre-sell out.
Has Hot Toys blown your mind with their assortment of Avengers Endgame Nano-Gauntlets, Marvel collectors? Who's interested in one (or both!) small-scale 1:4 replicas, and is anyone besides me planning on taking the plunge with the insane life-size version?
The post Avengers Endgame Hot Toys Life-Size & 1:4 Nano-Gauntlet Replicas! appeared first on Marvel Toy News.