-Review and photos by Scott Rubin
I've been a Trekkie for just about my whole life thanks to a dad who was way into science-fiction. Like so many, though, I'm too young to have experienced the original series when it was on, and thus my first experience watching Trek on TV regularly was The Next Generation. Now two of my loves combine in the awesome Star Trek HeroClix Away Team: The Next Generation – Resistance Is Futile expansion from WizKids Games! HeroClix is great as a superhero game but it's even more fun when you can add in other licenses, like Star Trek. This new set comes out THIS WEEK, and we've got a last minute preview for you coming hot off the heels of SDCC this past weekend. Read on to see what we pulled from a Resistance Is Futile countertop display box and check out the accompanying Fast Forces pack!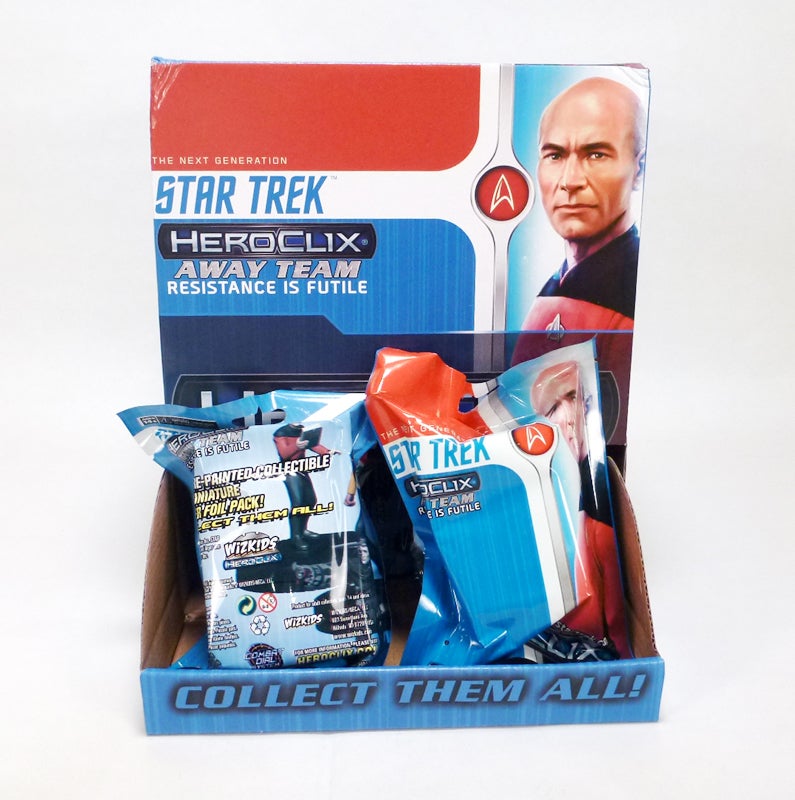 As always, WizKids has done a great job with the packaging so you'll be able to spot it as soon as you walk into your local comic book or game store. The Resistance Is Futile products utilize the recently updated Star Trek product visual style which is very clean and bright. There's a general blue background with lots of panels in red, blue, and white, and of course the iconic logo front and center. Being Next Generation themed these also include a portrait of Captain Jean-Luc Picard. One new addition to the countertop display box is that instead of just showing off a few of the characters you can find inside the sides of the package have a complete set list with numbers and thumbnail images of all the figures! This is a great addition that will make collectors happy, and for those who want to be surprised… well, just don't look at those sides.
Here's the full breakdown of the figures we pulled in this display (your results will vary of course):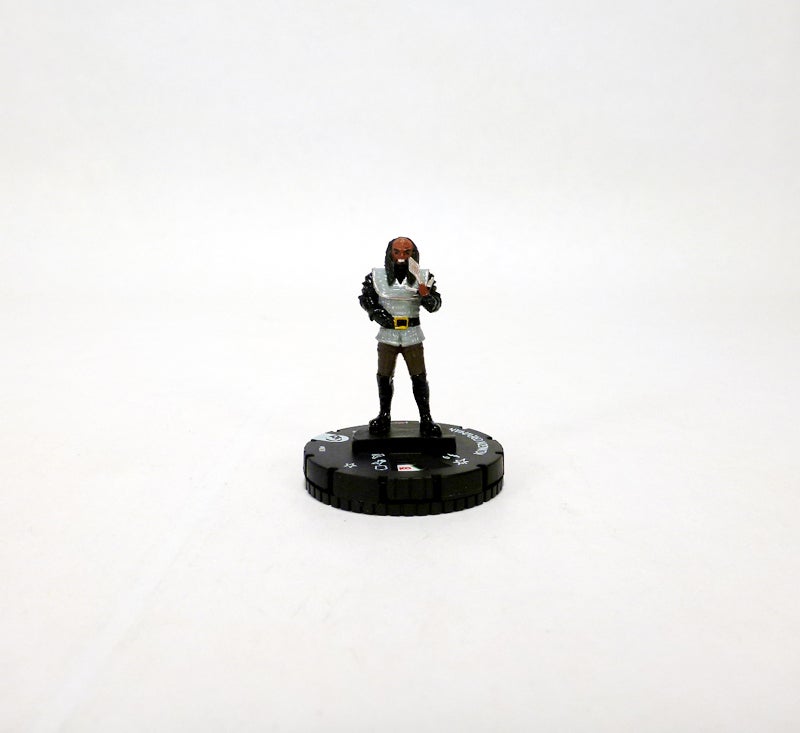 Commons (including duplicates):
001 Klingon Crewman
002a Borg Drone
003 Captain Jean-Luc Picard
004 Starfleet Ensign
005 Lt. Commander Data
006 Lt. Worf
007 Dr. Beverly Crusher
008 Counselor Troi
009 Klingon Warrior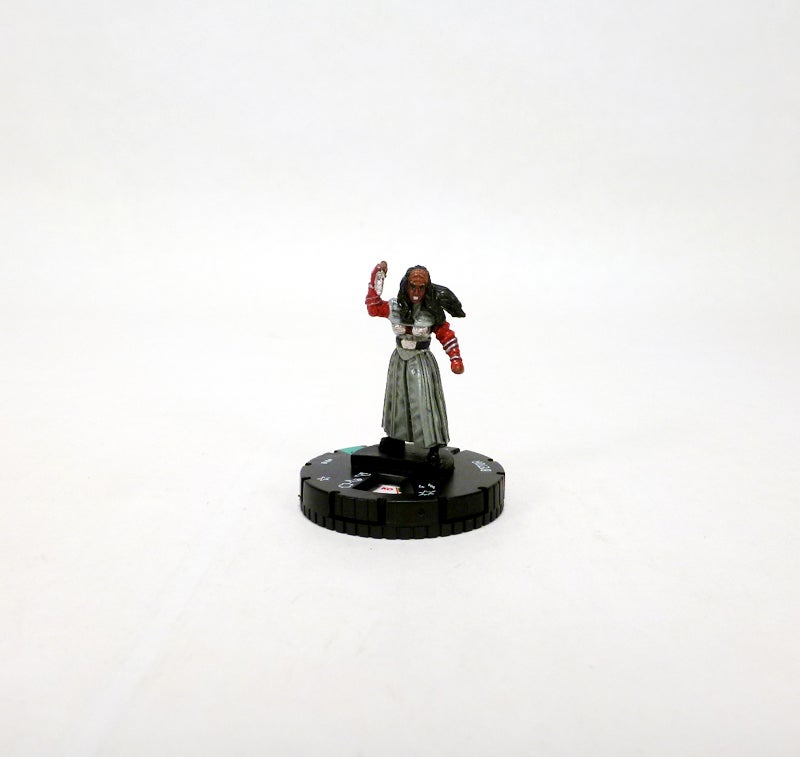 Uncommons:
010 Gowron
011 Borg Search Party
014 Ensign Crusher
015 Lt. Worf
016 Nurse Ogawa
018 B'Etor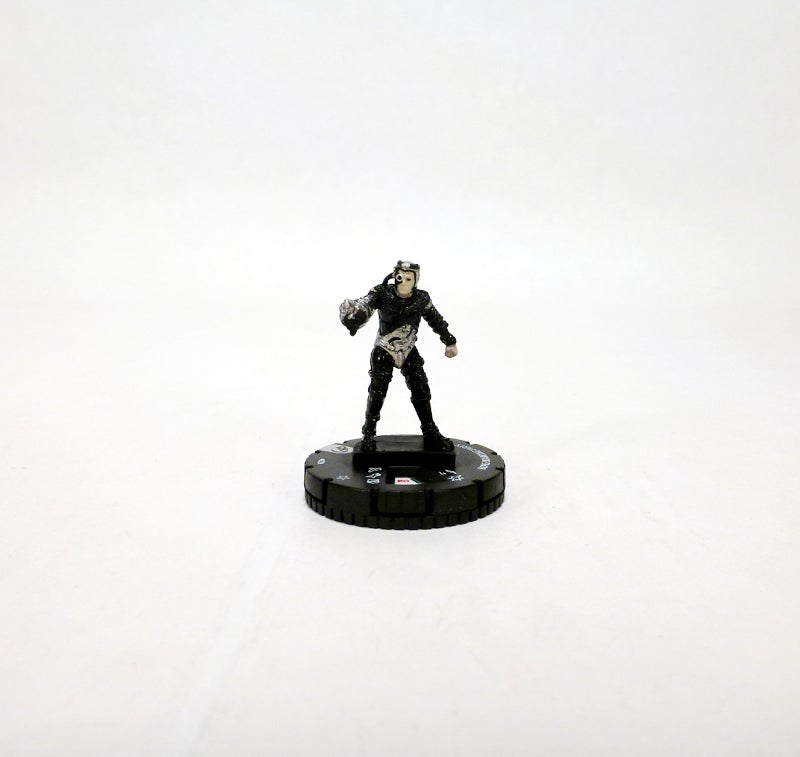 Rares:
020 Borg Boarding Party
022 Commander William T. Riker
025 Ensign Ro Laren
027 Lursa
Super Rare: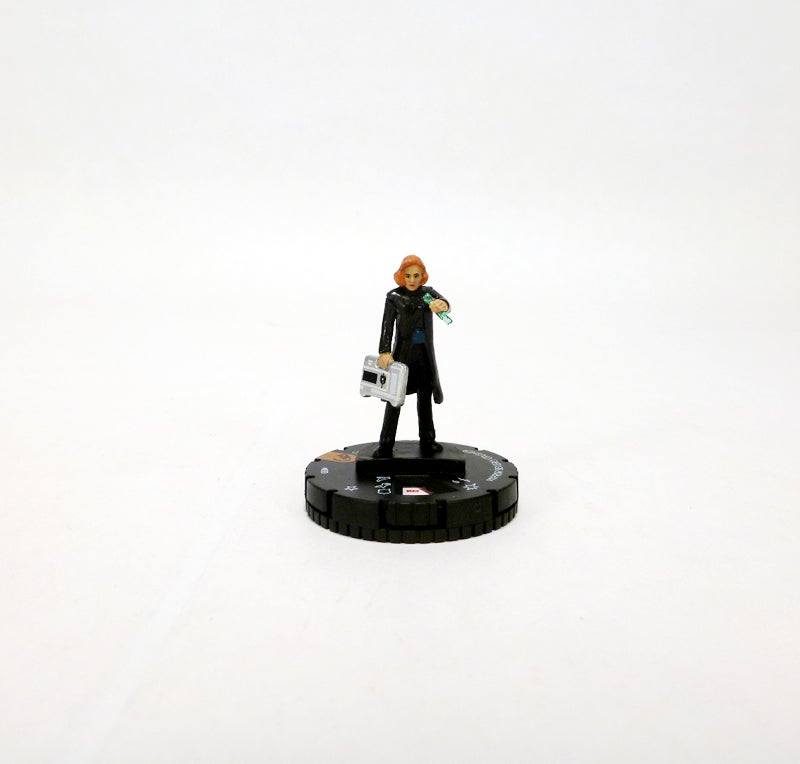 Chase:
033 Mirror Beverly Crusher
As we've noted in previous reviews, collation in countertop display boxes works differently from what you're used to in five-figure booster sets, and even among the smaller sets themselves. With Resistance Is Futile we see a more "standard" single-figure set of pulls. We found at least one of each of the nine commons (including three duplicates, and barring the a/b Prime on 002), six of the nine uncommons, four of nine rares, one of the six super rares, and one of the two chases!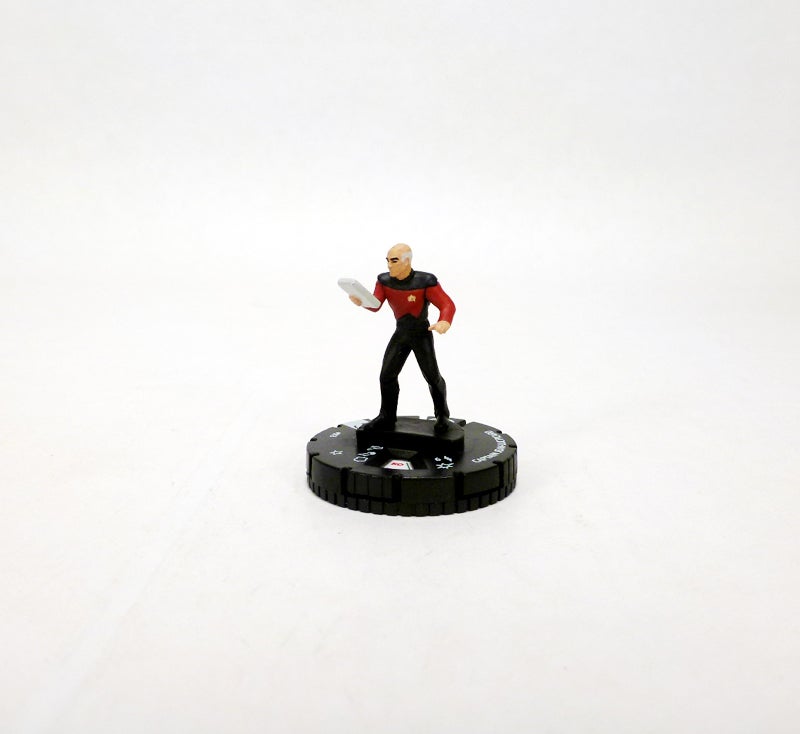 Let's go through each rarity level and check out the figures! Right away in the commons we see the three main themes in this set: Starfleet, Klingon, and Borg (with some other additions as well, of course). The Empire fields both a Klingon Crewman and a Klingon Warrior at this level, both fun generics to fill out your team. The Borg have only a measly Borg Drone, but watch out for these guys at higher rarity levels. Of course, Starfleet has the biggest contingent starting with the generic but always useful Starfleet Ensign. Named characters among the commons include Captain Jean-Luc Picard, Lt. Commander Data, Lt. Worf, Dr. Beverly Crusher, and Counselor Troi.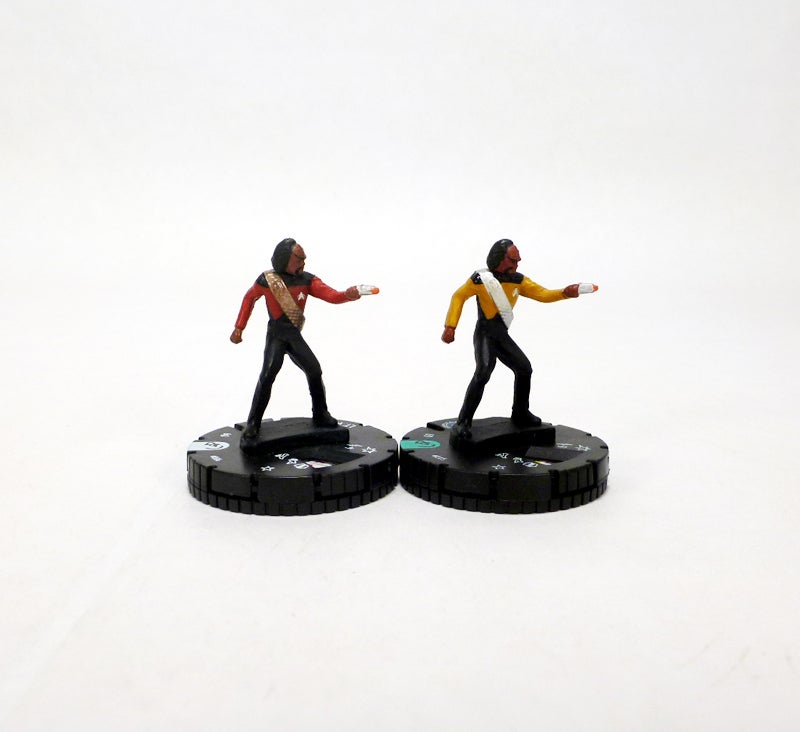 The uncommons continue the same exact themes, starting with famed Klingons Gowron (not yet Chancellor) and one half of the villainous pair of ladies B'Etor. Meanwhile, assimilation is coming with the Borg Search Party that will find your technological uniqueness. Starfleet then adds the young and eager Ensign Crusher and Nurse Ogawa, and another Lt. Worf (this time in his longer-used yellow uniform).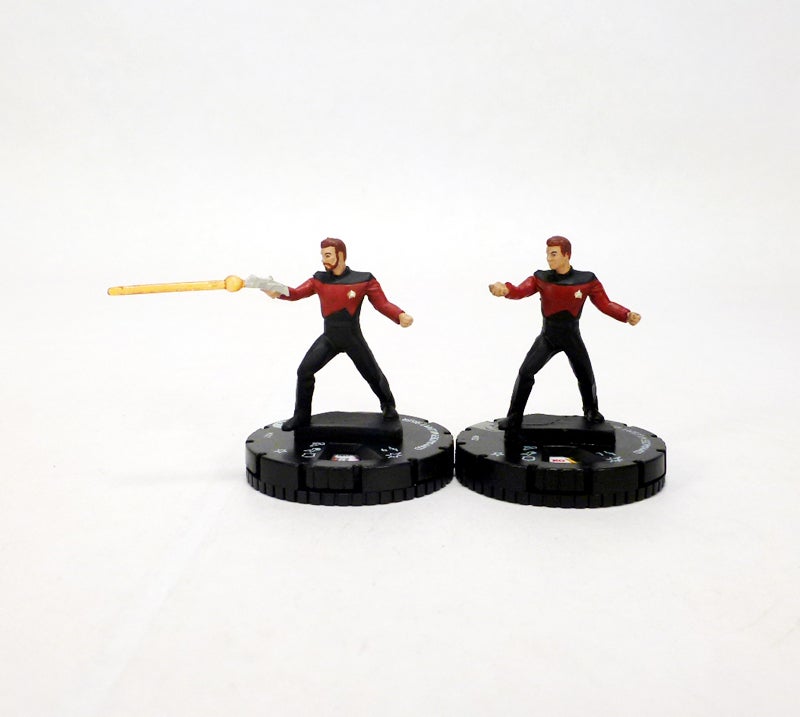 Among the rares we pulled Lursa, the perfect match for B'Etor above, and the Borg Boarding Party which naturally follows after the Search Party. Two unique Starfleet members here are the troubled Bajoran Ensign Ro Laren and Commander William T. Riker empowered by Q!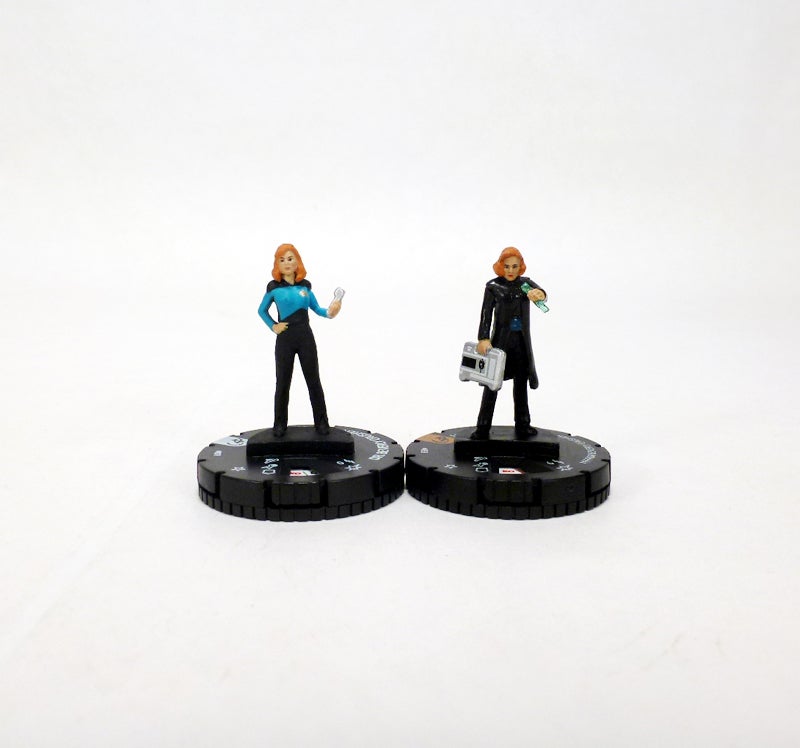 The rarest figures we pulled here are super cool (and there are others that are just as good!). Our one super rare is Locutus of Borg, the terrifying evil version of Jean-Luc Picard that nearly took down the Federation. Meanwhile, WizKids has given this set a sub-theme of Mirror Universe versions of characters, and our chase here is Mirror Beverly Crusher. She is one doctor who definitely failed the Hippocratic Oath.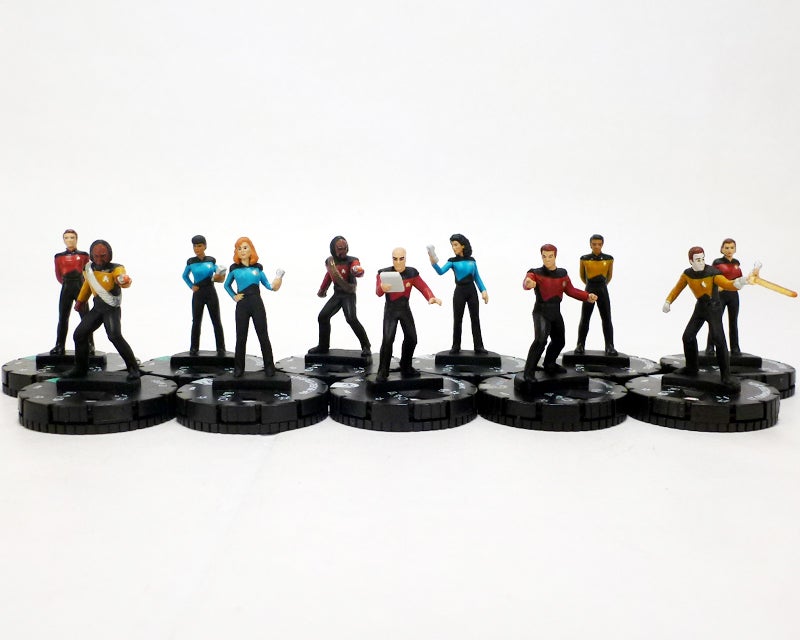 With Star Trek, unlike superheroes, there's not a whole lot of interpretation when it comes to making miniatures. We all know exactly how these characters looked in the TV shows, and expect their HeroClix versions to match up. As you can see from the photos here, WizKids did a great job doing just that! And of course, the trick is to come up with interesting and varied poses for characters who spend a lot of time standing or sitting around on a spaceship. Just look at the Starfleet figures; you've got everything from the upright Cadet/Ensign Crusher to "investigators" like Captain Picard, Troi, and Ro Laren, and even action poses on Worf, Data, and Riker.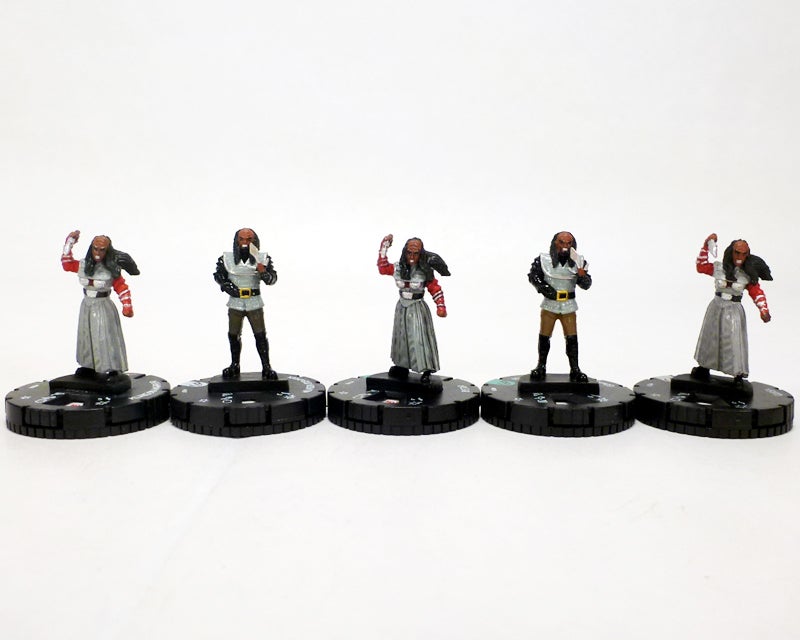 The five Klingons I pulled share two sculpts, but they're very highly detailed. I especially like the female warrior figure with its textured clothing and hair and great stabbing pose. Meanwhile, the Borg figures are fantastic! They're absolutely covered in sculpted details with tech bits, hoses, implants, and more. The photos on these guys just do not do them justice and you'll need to see them in person.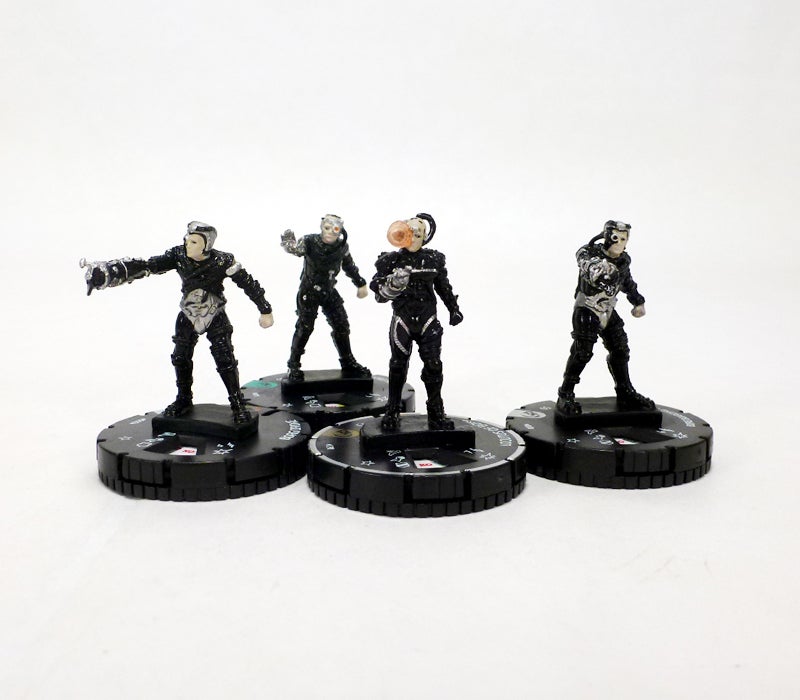 As with the sculpts the paint applications in this set are great. The colors on the Starfleet uniforms are bright and crisp, with good consistency across the different figures. There are great little details everywhere including faces, combadges, and especially the screens on PADDs and tricorders. Similarly, the Klingons and Borg look nice, and while the Klingons are primarily uniform across the different figures there are some small variations (different color pants on the men and a dark wash on B'Etor). The Borg are primarily black and silver with some super pale skin tone and some other color accents especially on the eye implants. The set features translucent plastic on phaser blasts, Locutus' eye implant, and Mirror Crusher's hypospray, while metallics show up on Klingon blades, Worf's baldrics, Borg implants, and Starfleet equipment.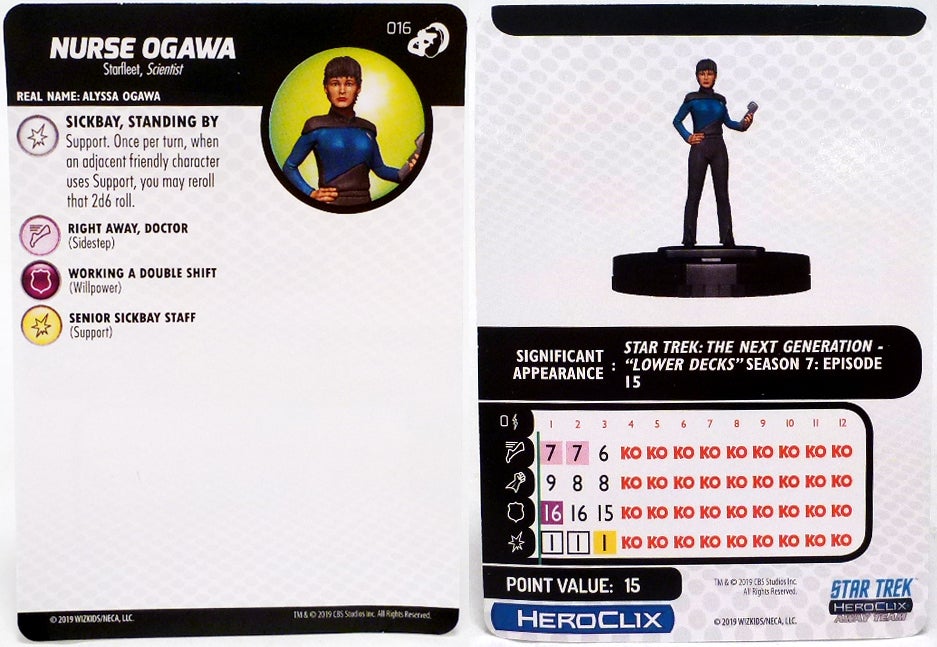 The set is about to come out, so I'll offer you just a couple quick, final reveals! First up, 016 Nurse Ogawa who heals her allies with a super version of Support.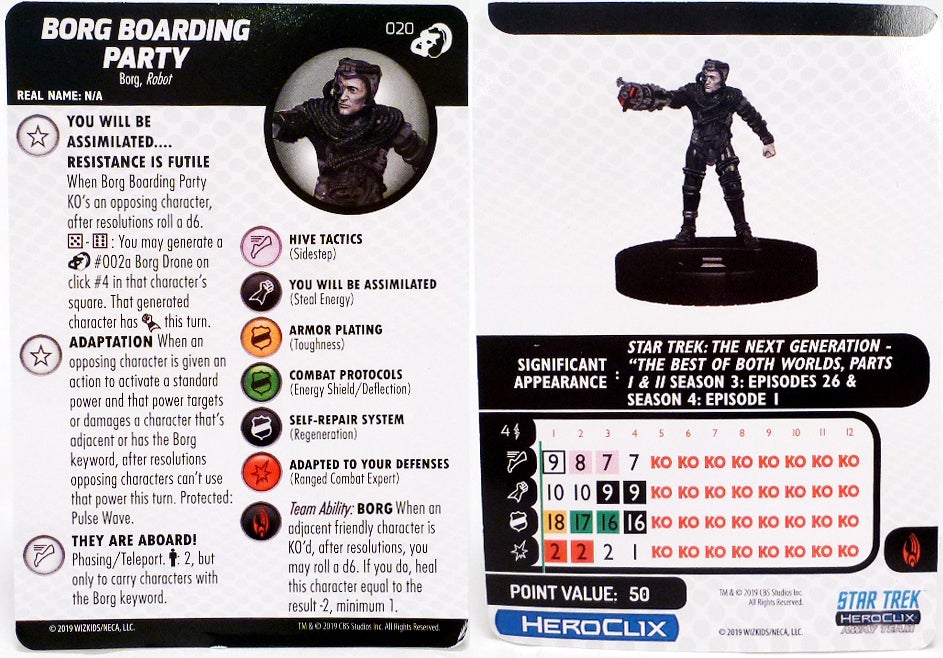 Next up, 020 Borg Boarding Party out for assimilation. He's got the Borg Drone generation trait, as well as a second one that shuts off enemy powers as well as a Phasing/Teleport with Passengers.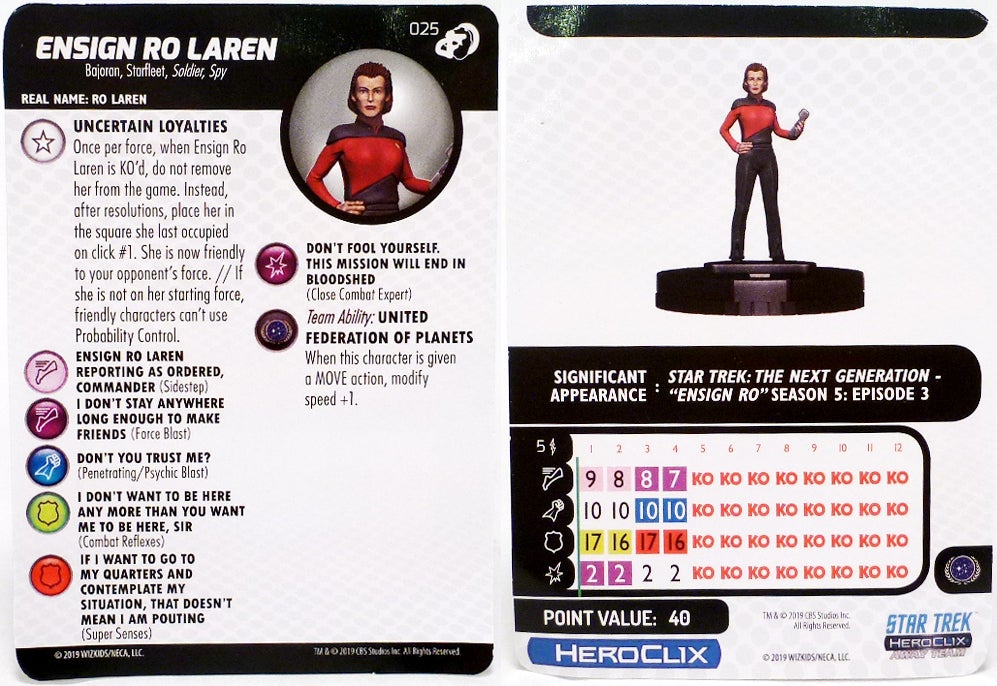 025 Ensign Ro Laren has a powerful four click dial with both melee and range capabilities, but watch out; when she's KO'd she switches sides and works for your opponent!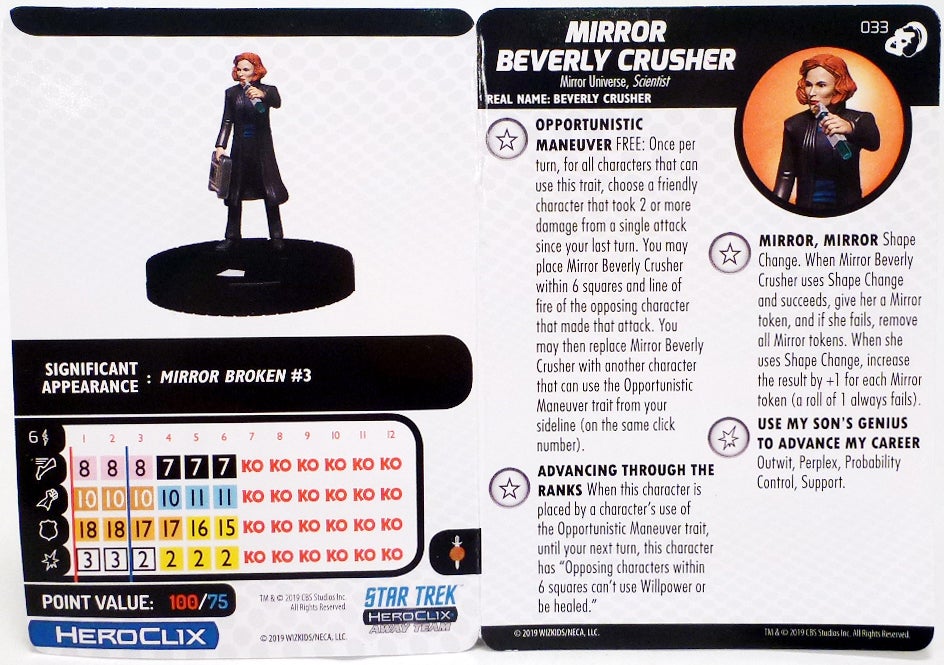 Finally, we have to check out the chase 033 Mirror Beverly Crusher. She's got the familiar Opportunistic Maneuver, Advancing Through the Ranks, and Mirror, Mirror traits for shenanigans popping Mirror figures around the board, preventing enemies from healing or using Willpower, and giving her souped up Shape Change.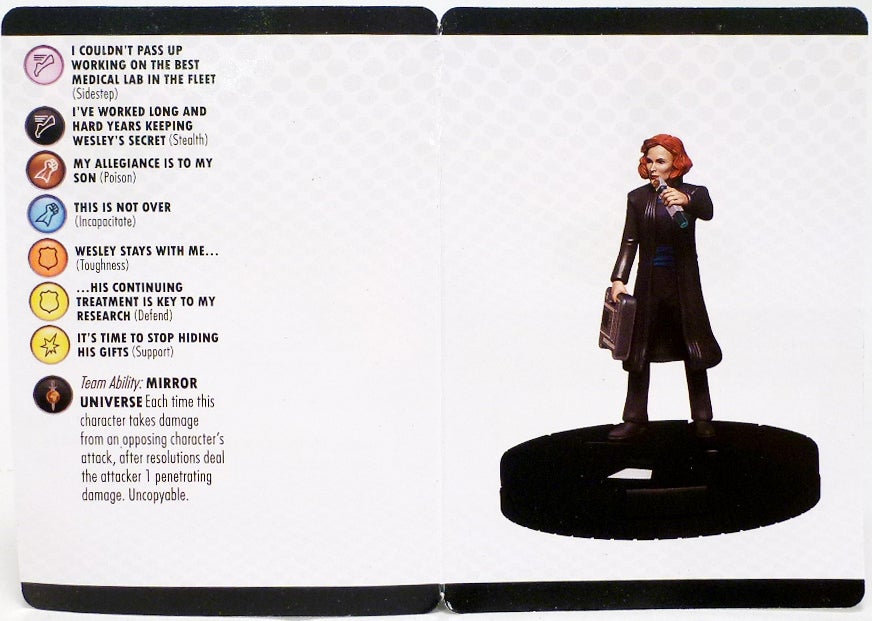 Crusher is also a one-woman pit crew with a starting special power combining Outwit, Perplex, Probability Control, and Support!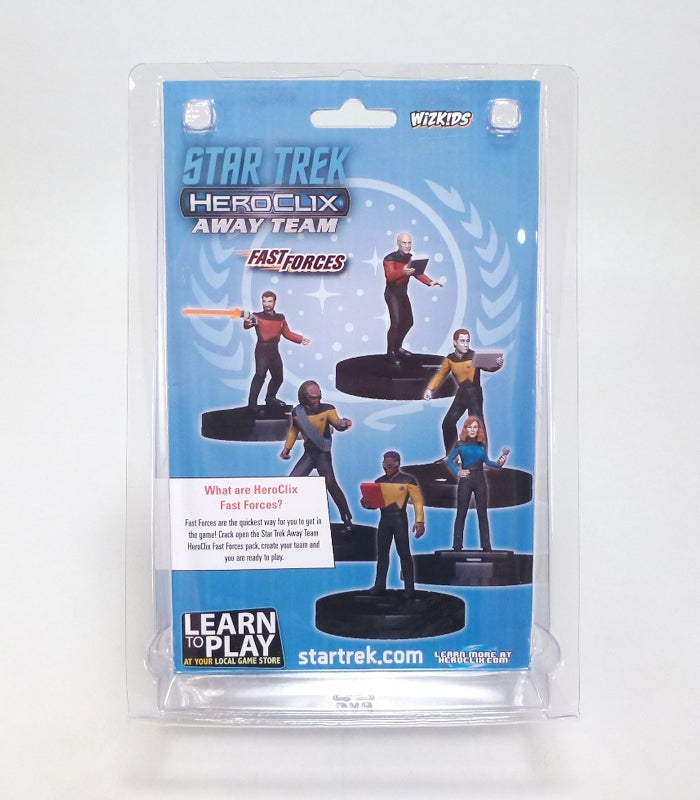 Lastly, we also got a look at the Resistance Is Futile Fast Forces pack, giving you alternate dials for Captain Jean-Luc Picard, Commander William T. Riker, Lt. Commander Data, Lt. Worf, Dr. Beverly Crusher, and Lt. Geordi La Forge. This set is especially neat because in addition to the usual benefits (different abilities from their main set versions and team-friendly point costs), the figures here have some different sculpt options like Data reading a PADD instead of shooting a phaser. Also, if you don't pull all of these main crewmen in the booster set you can get all of them here in one place! Each of these figures can be played at either 75 or 50 points, making team building super easy among this group or in combination with other Starfleet figures in the main set. Each figure here also has a trait that directly benefits other Starfleet allies within 3 squares, so plan on building a little swarm team and keeping these dudes together!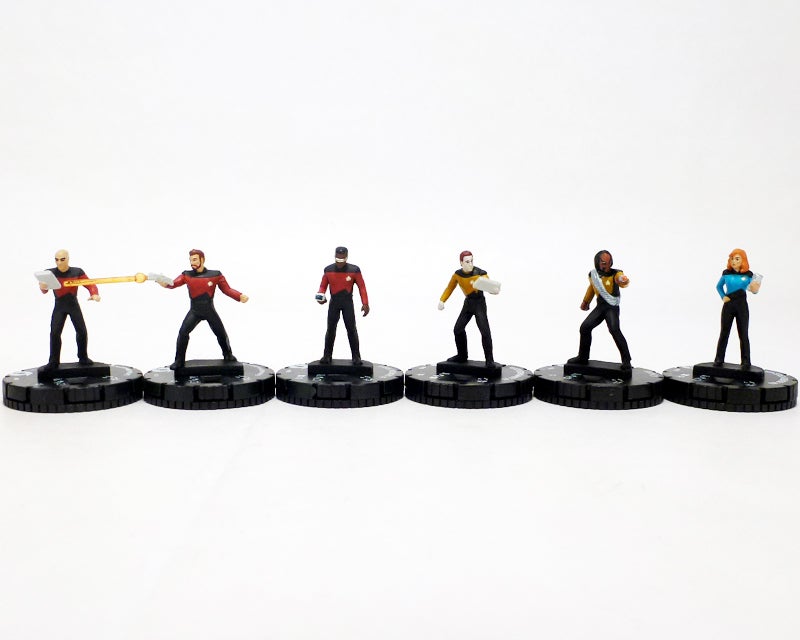 There's a quick look at the Star Trek HeroClix Away Team: The Next Generation – Resistance Is Futile expansion, complete with the Fast Forces. Make sure to scroll down to see all of the images, and get yours in stores everywhere this week! This set is an absolute slam dunk for fans of Star Trek and HeroClix, bringing you your favorite characters in great looking miniatures as well as new and fun ways to play the game. Interested in getting into the game? Head over to the WizKids Info Network to find a participating venue near you. Good luck with your pulls!
Scroll down to check out a photo gallery of all the figures from this brick.
Visit HeroClix.com for even more info as well as downloads of rules and maps, and stay tuned to Figures.com as we continue our reviews of new HeroClix!
Review and photos by Scott Rubin
Review samples courtesy of WizKids Games
[See image gallery at www.figures.com]
---
Keep up with all the latest toy news by following Figures.com on Facebook and Twitter!
To buy action figures, take a look at Hobby Link Japan, BigBadToyStore.com, TheToySource.com, Toynk.com, and BriansToys.com.