-Review and photos by Scott Rubin.
HeroClix fans, we've got more cool stuff to check out from the new Marvel HeroClix Avengers Infinity set! A couple weeks ago we did an unboxing of a brick of boosters, featuring the awesome 2×2 figures and vehicles (check that out HERE). The set doesn't release until the 16th, but players are already getting their hands on it thanks to pre-release events happening at participating comic book and game stores. The expansion is based on a comic book storyline from 2000 and includes Avengers in space, classic characters (both new versions and some never before clixed), Infinity Watch, Guardians of the Galaxy members from their first appearances, Spaceknights, and more. Along with the booster set there are a couple more products on the way that we're going to look at today, the Avengers Infinity Fast Forces pack and Dice & Token pack!
Designed to provide ready to play teams, Fast Forces packs offer sculpts from their respective main sets with new dials, and specifically ones with complementary point values. This latest set comes in the traditional packaging scheme we've seen for years but with a twist. It's a big clamshell revealing the six figures and including inserts of comic art and figure renders, but in this case it's gigantic because it includes a 2×2 colossal figure! Coming from the main Avengers Infinity set but with new dials are Iron Man, Black Panther, Black Widow, Hawkeye, Vision, and colossal Giant-Girl.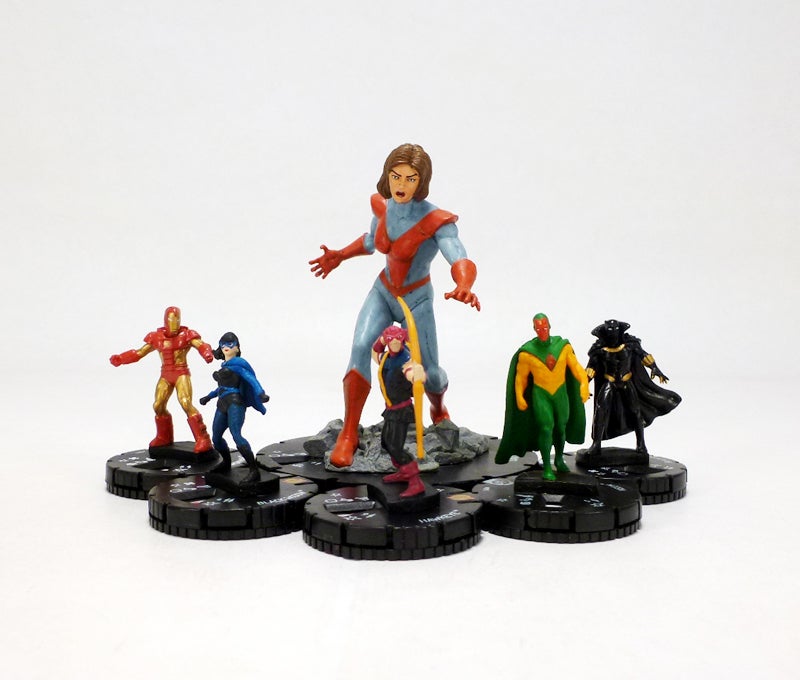 The figures all look identical to their main set counterparts (Vision is a carbon copy of Anti-Vision) with the exception of Janet Van Dyne who gets a spiffy new outfit color scheme in pale blue and red vs. the booster version's black and pink. They make an interesting group with the space armor Iron Man, early appearance Hawkeye, Black Widow (in black and blue with mask and cape!), and Vision, a great-looking Black Panther with long cape.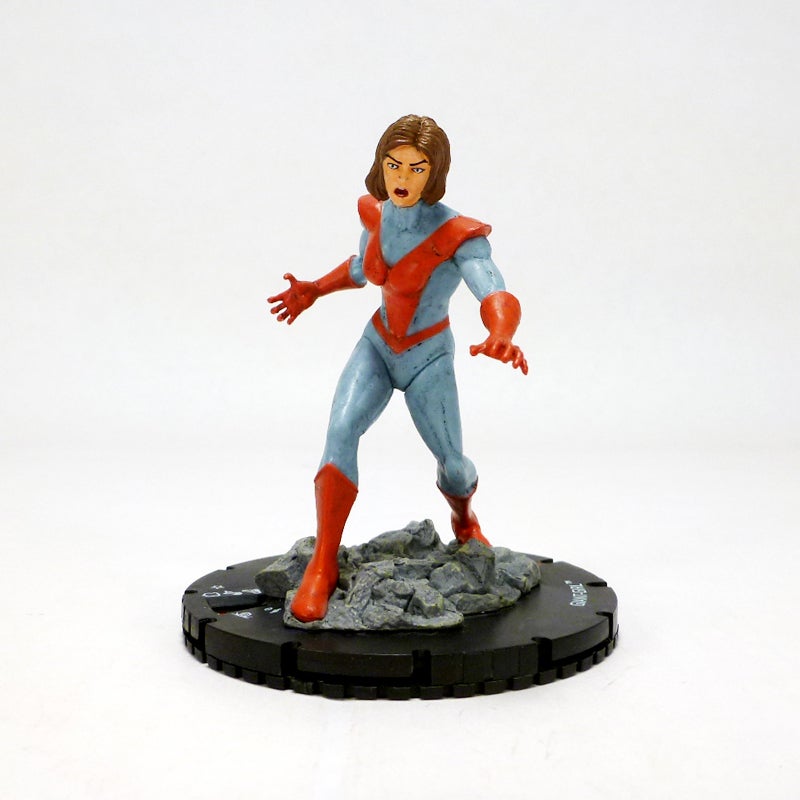 Colossal figures are always cool, and it's great to get one in a Fast Forces pack. Giant-Girl may not be the most well-known Marvel character but the figure looks nice and has lots of options for play.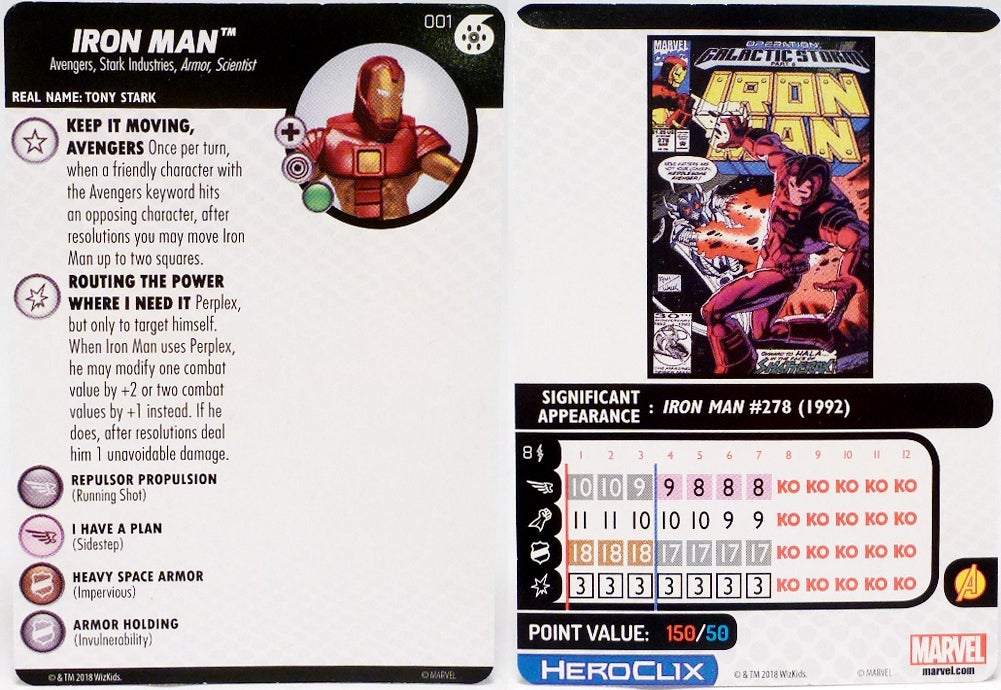 There's some nice variation with these figures with respect to their point values related to the main set: Iron Man goes up from the booster set's 60 to a huge 150 and Vision from 100 to 125, Black Widow and Hawkeye stay the same at 50, and Black Panther is cheaper down to 50 from 60. Meanwhile, both Iron Man and Vision can also be played at a budget 50 points. Giant-Girl got a revolutionary dial in the main set with options to play at 25 different point levels all the way from 10 to 250, while the Fast Forces version can be played at 300, 150, 50, or a 10 point colossal retaliation level. These Fast Forces figures give you a ton of easy team building options whether you're playing in a standard 300 point game or 600 points, and of course you can mix and match these figures with main set characters (and beyond) for infinite variations.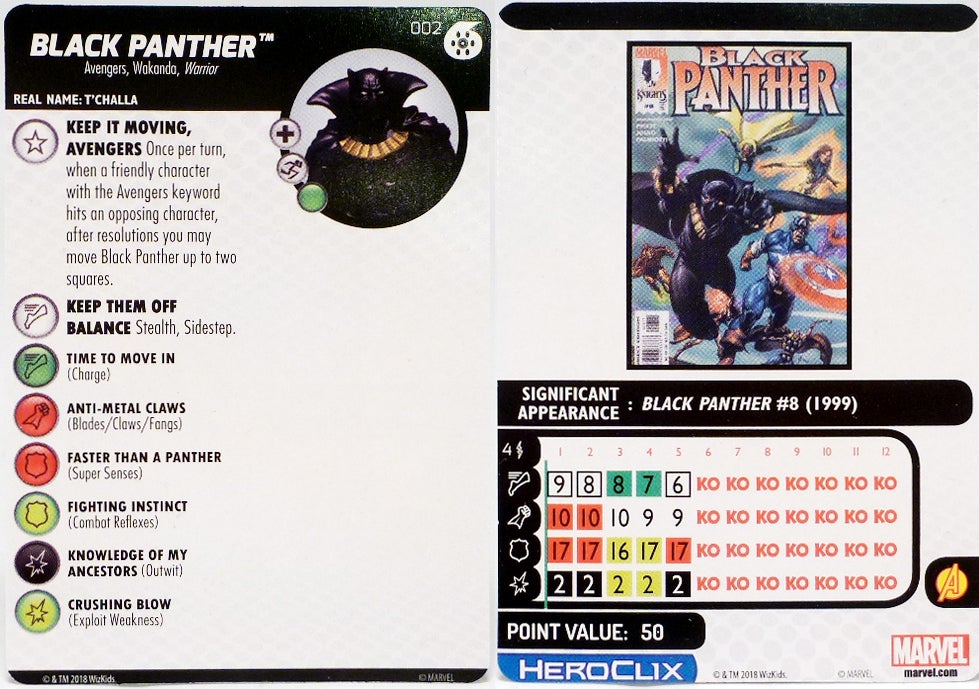 As usual, these Fast Forces dials are fairly straightforward. The five standard-size figure have the Avengers team ability, and all six of them share a new trait called "Keep It Moving, Avengers" that lets them get a bonus move in once per turn when a friendly Avenger hits an enemy! It's a neat trick that really give you flexibility on the battlefield, especially when you can move tokened figures. Beyond that most of these figures have one special power or trait; for example Iron Man has a special Perplex that can be boosted at the cost of 1 unavoidable damage afterwards, and both Black Widow and Black Panther get Stealth paired with Sidestep. Vision gets the shared trait, a second one giving him permanent Phasing/Teleport and Super Senses, plus a souped-up Exploit Weakness special power, while Giant-Girl has Colossal Retaliation and Colossal Indifference.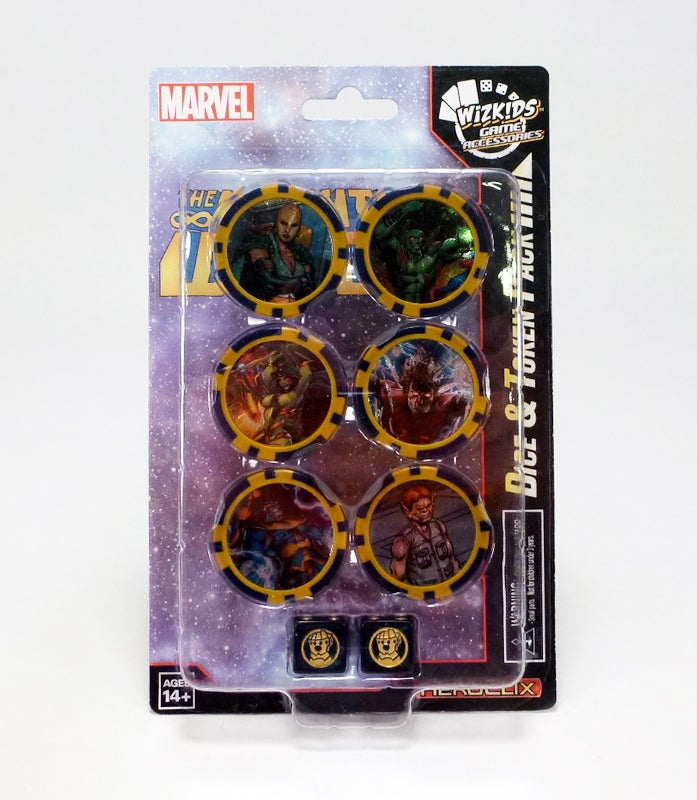 Once you've got your Fast Forces and a set of boosters from Avengers Infinity there's still more, and you can give your game a boost with the new Dice & Token Pack. You've seen these before; they bring you six poker chip-style action tokens and a pair of dice themed to the new set. In this case the dark blue dice with gold pips feature the Infinity Gauntlet on the "6" side! The tokens have the same colors on the rims. On their front sides are shiny metallic images of Pip the Troll, Moondragon, Thanos, Drax, Gamora, and Adam Warlock, while on the reverse are the Infinity Gems. That was a nice surprise as usually these tokens have a generic, shared background image.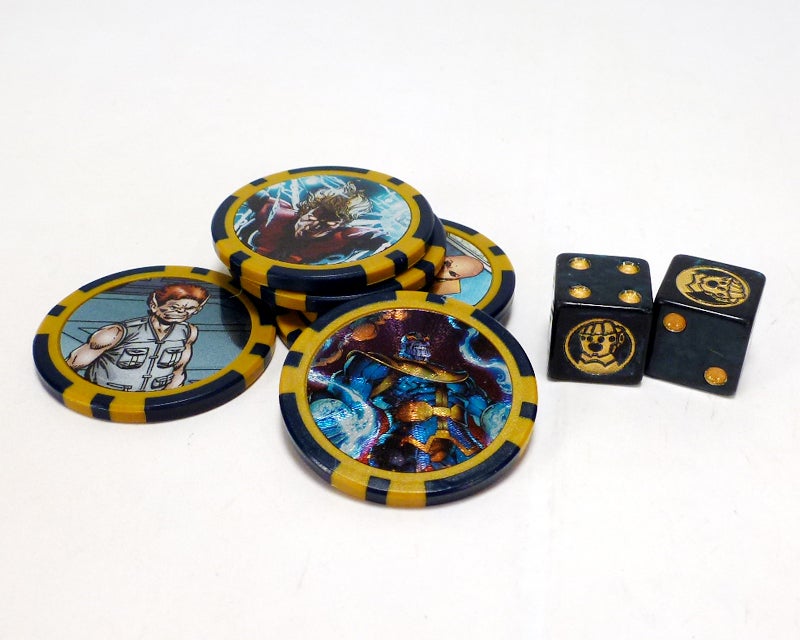 Next week is the big day as Marvel HeroClix Avengers Infinity officially hits stores (pre-release events are going on now). On May 16th you'll be able to pick up booster packs as well as the Fast Forces (MSRP $19.99) and the Dice & Token Pack ($9.99), plus there will be an organized play kit with exclusive prizes at participating stores. Make sure your local venue is going to be part of the action or find a place to play on the WizKids Info Network.
Visit HeroClix.com for even more info as well as downloads of rules and maps, and stay tuned to Figures.com as we continue our reviews of new HeroClix!
Review and photos by Scott Rubin.
Review samples courtesy of WizKids Games.
[See image gallery at www.figures.com]