On March 31st, the epic throwdown between giant lizard and ape is on! Godzilla vs. Kong, originally scheduled for release LAST YEAR, pits two of cinemas greatest kaiju – Japan's "King of Monsters" Godzilla versus America's "Eighth Wonder of the World" King Kong – in only their second battle since 1962's King Kong vs. Godzilla.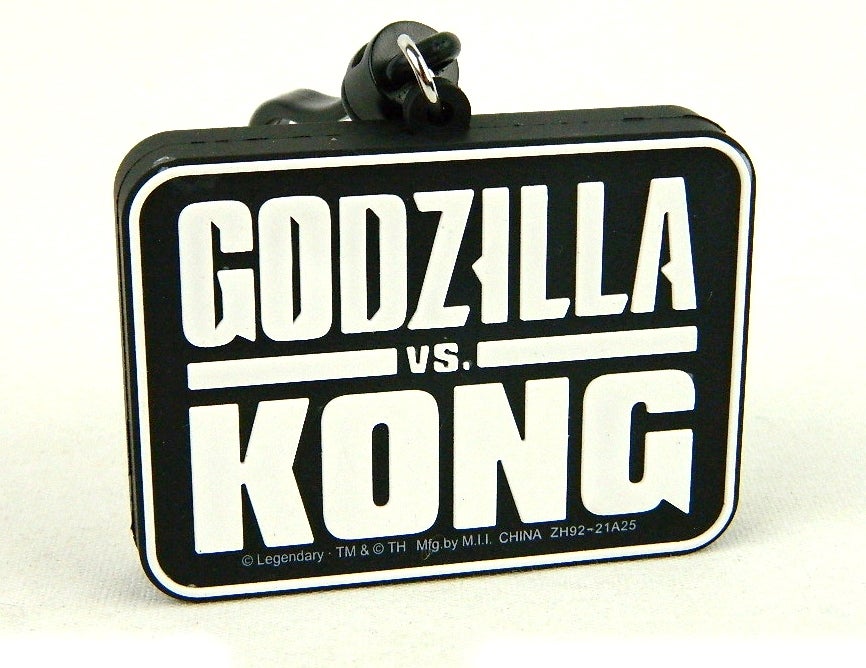 While the former encounter ended in a draw, the jury is still out on who will claim victory in Godzilla vs. Kong. Today's March 8th embargo-lift introduces even more intrigue to the battle royale – MECHAGODZILLA – a new threat that has been heavily speculated upon. That's right, Mechagodzilla has been confirmed courtesy of a new blind bagged collection from Monogram! What that means for our two opposing main heroes is anyone's guess, but my bet is that 'Zilla and Kong unite to take on the new threat.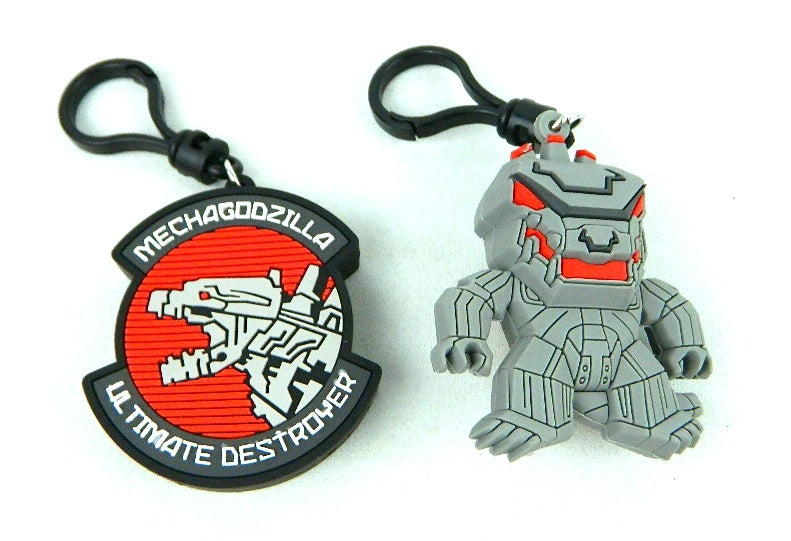 Cutting to the chase (literally), the two ultra-rare chase figures (only 2 per case of 24!) are Mechagodzilla and an emblem that states that Mechagodzilla is the "Ultimate Destroyer". This totally implies that the monster is man-made – but by who? Monarch Earth forces or extraterrestrial like in past 'zilla films? We just don't know yet! My bet is on Monarch creating Mechagodzilla to create an artificial "war" between the two bio-titans in an effort to have them kill each other. Whoever is left standing, Mechagodzilla comes in to finish off the victor. I think Monarch's plan is going to badly misfire.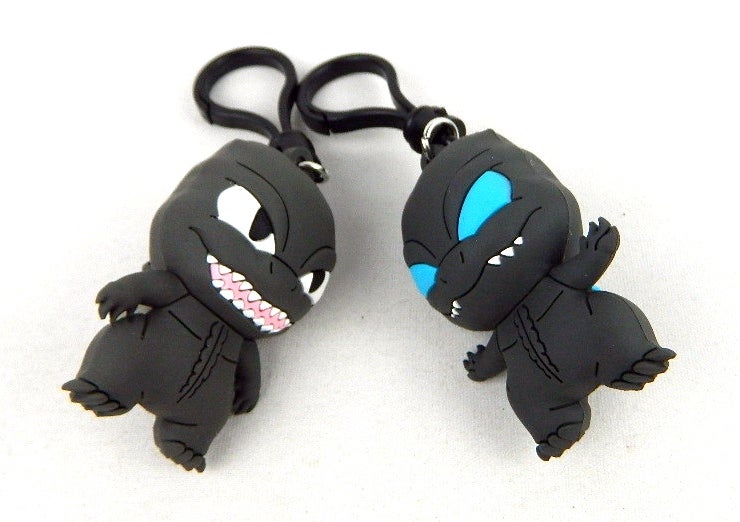 As for the core assortment, there are 9 figural keychains to collect. These include two versions of Godzilla, both standard and with "Heat Ray" activated. While no breath weapon is shown, one can safely assume this is 'Zilla doing what he does best when cornered: blasting his foes with atomic fury!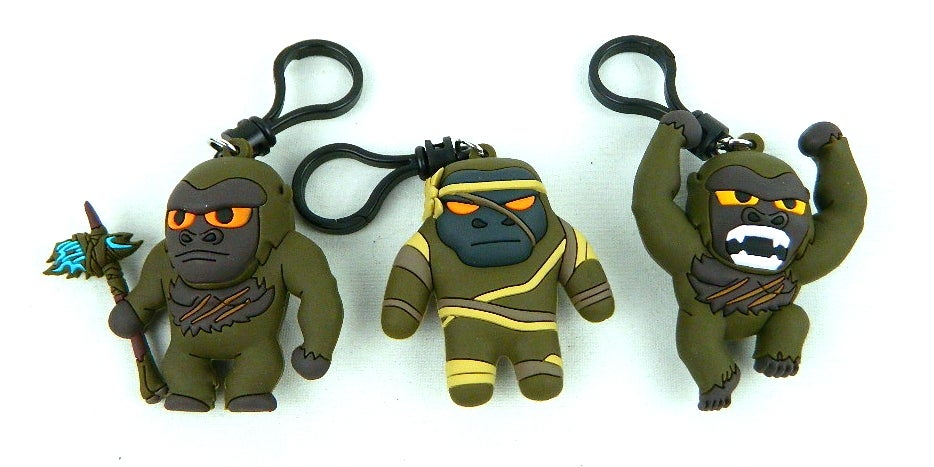 For team Kong we receive the great ape with his long-revealed battle-ax weapon (which appears to be made of one of Godzilla's backplates?!), Kong raging out and leaping into action (my fave), and a King Kong totem called "Jia's Doll". I'm assuming this is something owned by Madison Russell, the movie's new young character, as a bond with Kong. How special.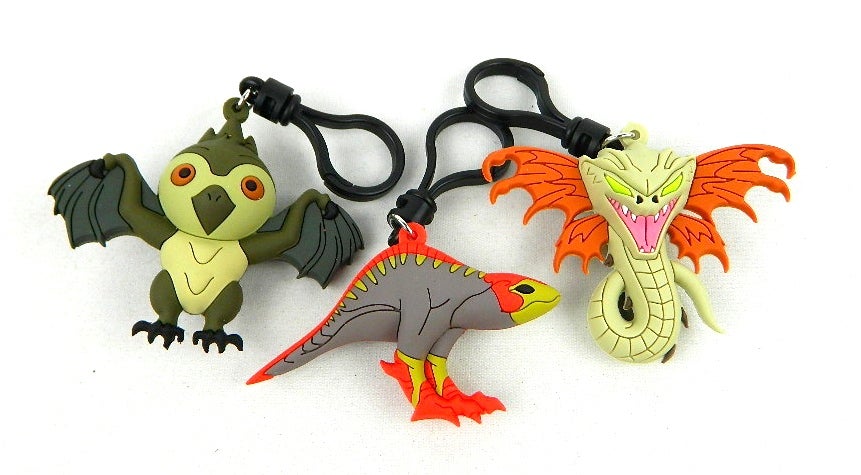 It looks like we will receive some Monster, err Skull Island kaiju action first! Monogram's Godzilla vs. Kong assortment throws in some unexpected creatures in the form of a Skullcrawler (seen in 2017's Kong: Skull Island, though not as colorful), and two new winged critters: Hellhawk and Warbat (first revealed to you HERE).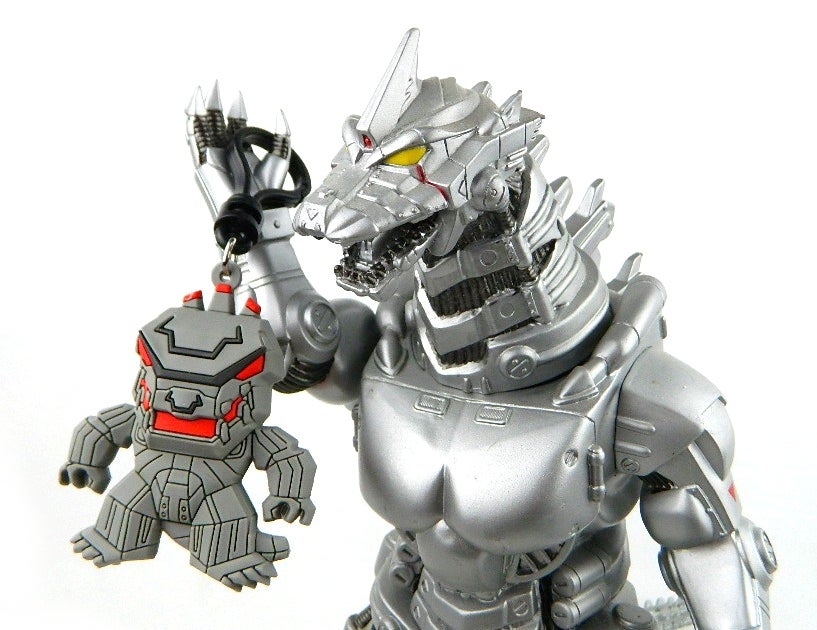 Listen, I'm not one that thinks Godzilla OR Kong is going to be killed in this movie. Why would either studio agree to that? With that said, I do think it is going to be an awesome battle, even with Mechagodzilla thrown into the mix. I think we'll get some great Skull Island monster on monster battles at the start, then some faux Godzilla attacks on the world will trigger Kong into hating 'Zilla, and then a big reveal of – Oh no! That's not Godzilla! – and Kong and Godzilla tag-teaming on Mechagodzilla. Now, how THAT ultimately ends is anyone's guess. But hey, it's all speculation on my part.
I just know that you can't go wrong in celebrating the movie in style with these cool new Monogram Godzilla vs. Kong figural bag clips!
Scroll on for more photos!
-Review and Photos by Jeff Saylor
-Review Samples Courtesy of Monogram
[See image gallery at www.figures.com]
---