Review and photos by Scott Rubin
Harley Quinn is one of the most popular DC characters, and fans of hers are getting a quintessential representation of the crazy lady this summer with an awesome new vinyl statue from Cryptozoic Entertainment. The company has really made a name for itself in the last couple years with high quality and affordable small-scale statues featuring ultra-popular characters like the DC Bombshells, Street Fighter competitors, and more. Now they've turned their eyes to the classic and beloved Batman: The Animated Series with a perfect physical representation of Classic Harley Quinn. The character first appeared on that series way back in 1992, giving a sidekick/love interest to the Joker and a compelling female villain for Batman. Harley has since become a household name and has gone through some very distinctive makeovers throughout the years and different media, but none holds a candle to the original created by Paul Dini and Bruce Timm. Today we're going to take an in-depth look at this beautiful new Classic Harley Quinn vinyl figure from Cryptozoic, which fans can bring home starting at San Diego Comic-Con next week and followed by a wide release.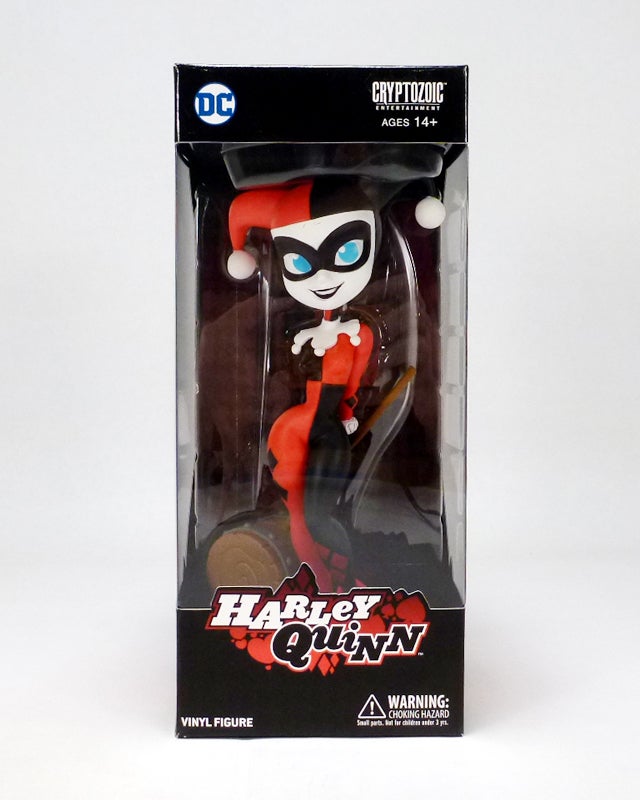 If you've bought (or seen) any vinyl figures from Cryptozoic you'll be familiar with their overall packaging design. Just like the Street Fighter Knockouts and others Classic Harley Quinn comes to you in a highly decorated tall window box. Surrounding the window displaying the figure are logos for the collectibles company and DC along with the current logo for the character, all popping against a pitch black background.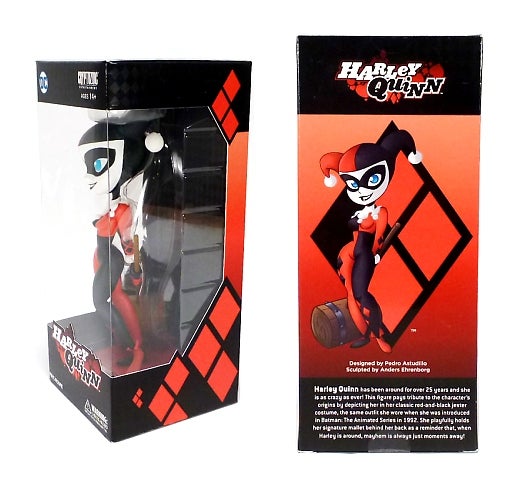 Meanwhile, the sides of the box add Harley's trademark black and red diamond pattern for a bit of flair. And lastly the back panel has an adorable drawing of Quinn and a description of her character and history. Here you'll read about the figure being based on the original 1992 Batman: The Animated Series appearance, and that she was designed by Pedro Astudillo and sculpted by Anders Ehrenborg (the same team behind the Knockouts and more). It's a perfectly displayable box if you're into that sort of thing, but for collectors like me you're going to want to let this crazy little lady out to breathe.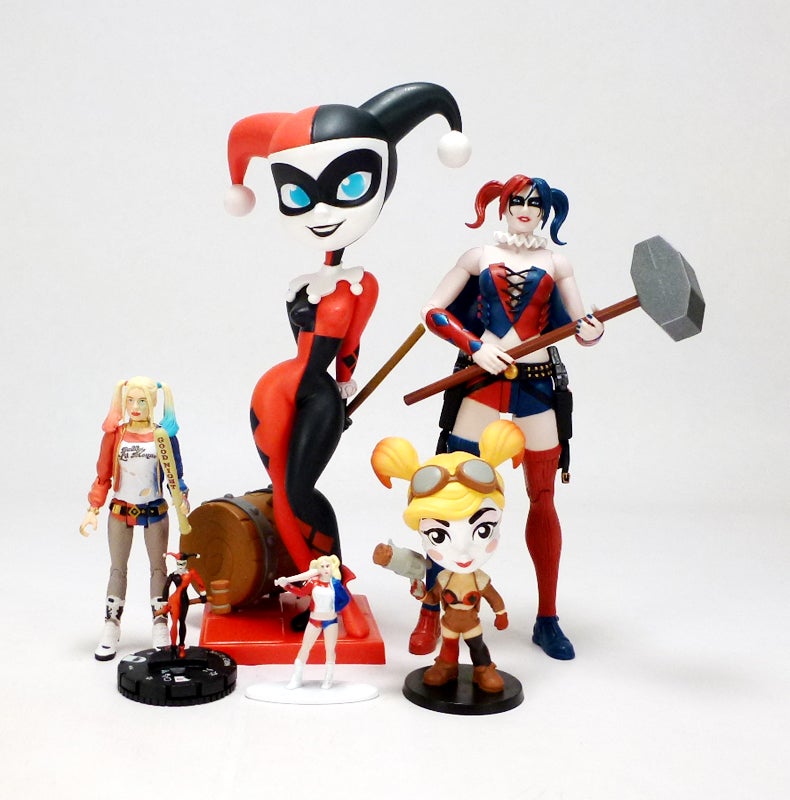 If you somehow haven't seen Batman: The Animated Series, go do that right now. Okay, cool. Now you'll all be able to appreciate this beauty fully. While more recent versions of Harley have strayed into some pretty crazy territory, the original was super fun as a wacky sidekick/love interest to the Joker. She wore an iconic jester costume complete with white face makeup, and her blue eyes could charm anyone in Gotham City. That's exactly what you get with this classic figure, along with a hefty amount of style and charm crammed into a 7 inch frame. Harley is a cutie with exaggerated features, notably an oversized head and curvy body. She stands in a cute but mischievous pose, swinging her hips playfully while holding her trademark giant mallet behind her. The center of focus is obviously her grinning face with its hypnotizing large blue eyes and sneaky little smile standing out from her powder white makeup.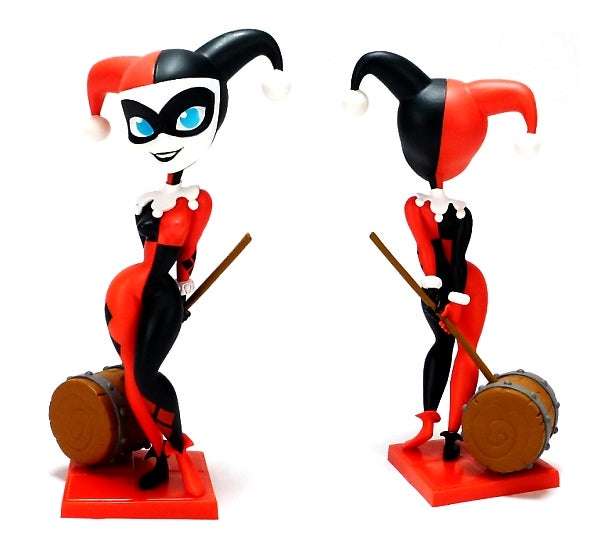 With these types of vinyl figures Cryptozoic has hit a really nice balance between extreme sculpted detail, a beautiful presentation, and value for your dollar. Harley Quinn may not have intricate textures or the like but she simply does not need it; smooth lines and break ups at costume elements all work perfectly, and there are some really nice little details to be found on the statue's lacy bracelets and her mallet. Quinn's physique is nicely rounded and smooth, emphasizing the skin-tight quality of her bodysuit as well as the style of the animation source material. The sculpt also conveys subtle movement with the aforementioned swinging hips and the left foot raising up to take a step.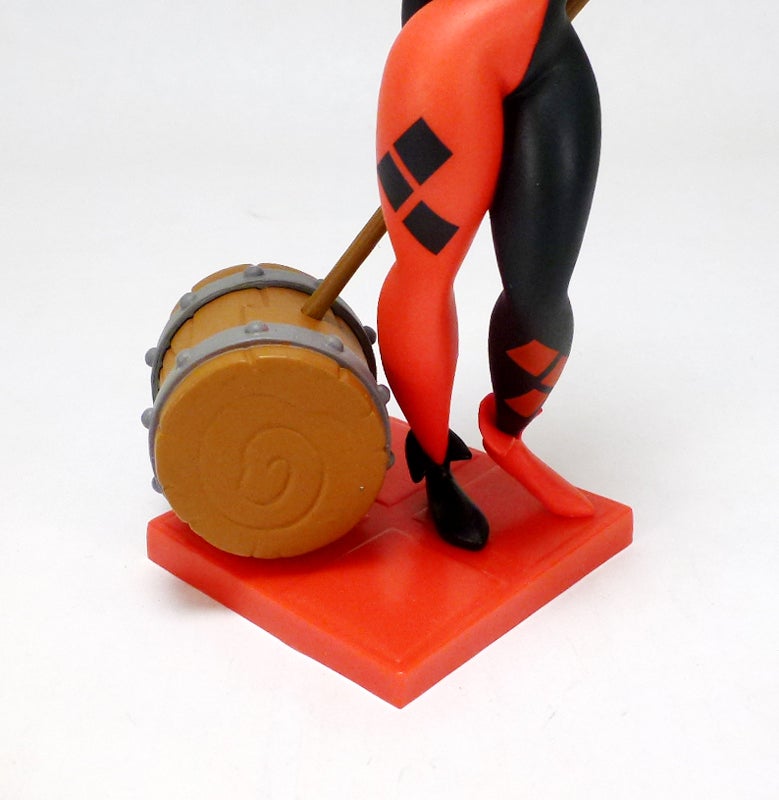 There's a joke somewhere about "black and red all over," but that's the overall sense Harley Quinn gives off with her classic color scheme. Paint on this figure looks great with super clean lines, dark black, and bright shades elsewhere. The red looks great next to the black and there's almost no bleed across her costume sections, which is especially crucial on her cowl and at the diamond accents. As you can see in the photos the white used on her face makeup, eyes, and teeth is blindingly bright, perfectly offsetting the light blue eyes and black mask and lipstick. There is no question that this figure will stand out in any collection for these colors alone. It's worth noting here too that Harley stands on a bright red checker/diamond base that has just the right amount of detail to look cool but not too much to distract from the statue's appearance.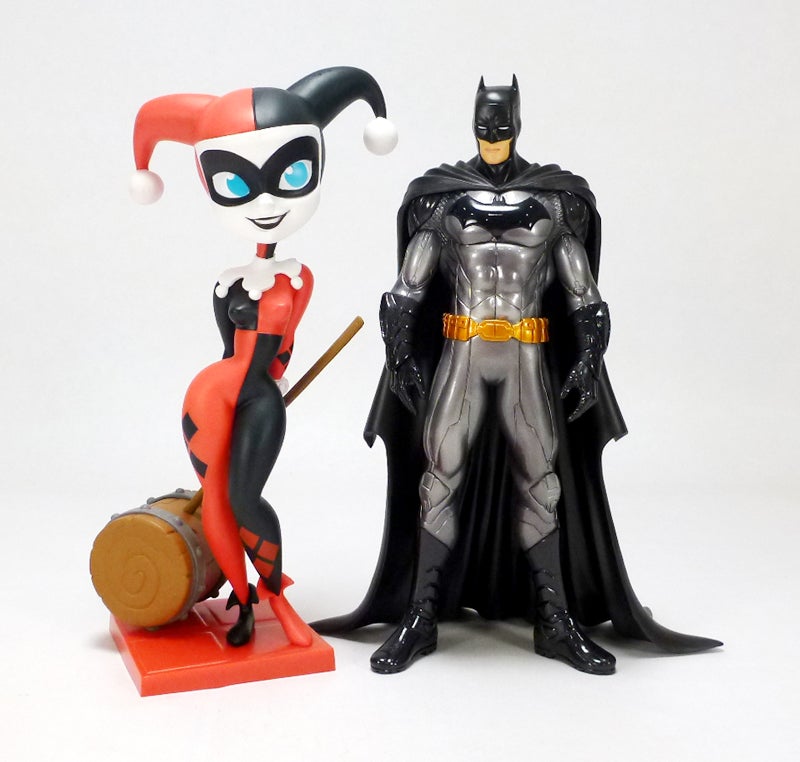 If you'll be at SDCC next week you can be among the first people to get your hands on Classic Harley Quinn by going to the Cryptozoic Entertainment booth (#115), but if you can't make it to the big show you don't have to worry as she'll be widely available shortly thereafter. For $30 MSRP Harley's a steal (get it?) with a great look in a nice, compact package. She is highly recommended for fans of the character as well as anyone who loves/loved Batman: The Animated Series, and for anyone looking for fun, high quality statues at modest prices. Just don't get in between Harley and her puddin'!
Review and photos by Scott Rubin
Review sample courtesy of Cryptozoic
[See image gallery at www.figures.com]
---
Keep up with all the latest toy news by following Figures.com on Facebook and Twitter!
To buy action figures, take a look at Hobby Link Japan, BigBadToyStore.com, TheToySource.com, Toynk.com, BriansToys.com, ToyWiz.com, and EntertainmentEarth.com.