HeroClix players and collectors, and those who may be interested in the game and its awesome figures, welcome back! When last we spoke, we were looking at the House of X expansion, originally slated to debut at the end of 2020 but pushed to the beginning of 2021. Now WizKids is back and featuring a team designed to make the world a better place with Marvel HeroClix Fantastic Four Future Foundation! Introduced to Marvel comics in 2010, the Foundation was created by Mister Fantastic as a school/think tank for young geniuses of various species to learn and grow, as well as tackle literally earth-shattering problems. The HeroClix set by that name then naturally brings to 3D form many of the members of the Future Foundation as well their teachers, allies, and enemies, and of course it wouldn't be a Fantastic Four set without even more FF heroes and beyond. Below you'll see all of the figures we pulled from a brick of 10 Future Foundation boosters, as well the Dice & Token Pack, Fast Forces, Play At Home Kit, and the new Legacy Card.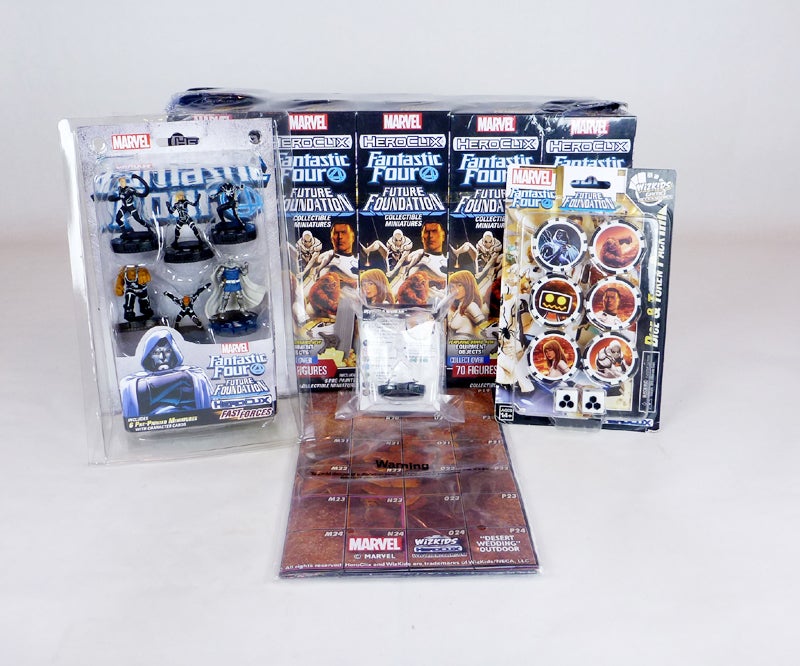 First up, we're digging into the brick, which consists of the standard five figure boosters. Each one will include at least one common and at least a rare, or potentially something even rarer. The Fantastic Four Future Foundation boosters have some cool artwork decorating them, starting with a shot of the main four members (in their white suits) of the Fantastic Four at the Foundation's founding: Mister Fantastic, The Thing, Invisible Woman, and Spider-Man. Tucked into the corner is a little preview of the Equipment in the set with the Silver Surfboard and Ultimate Nullifier. The sides of the box have interesting combo images of artwork and 3D renders of figures, featuring an expanded roster of the Foundation, the Fantastic Four of Ant-Man, Ms. Thing, Medusa, and She-Hulk, and some of the FF's greatest enemies. Finally, the back panel of the booster shows off the set's chase theme: Dr. Dooms!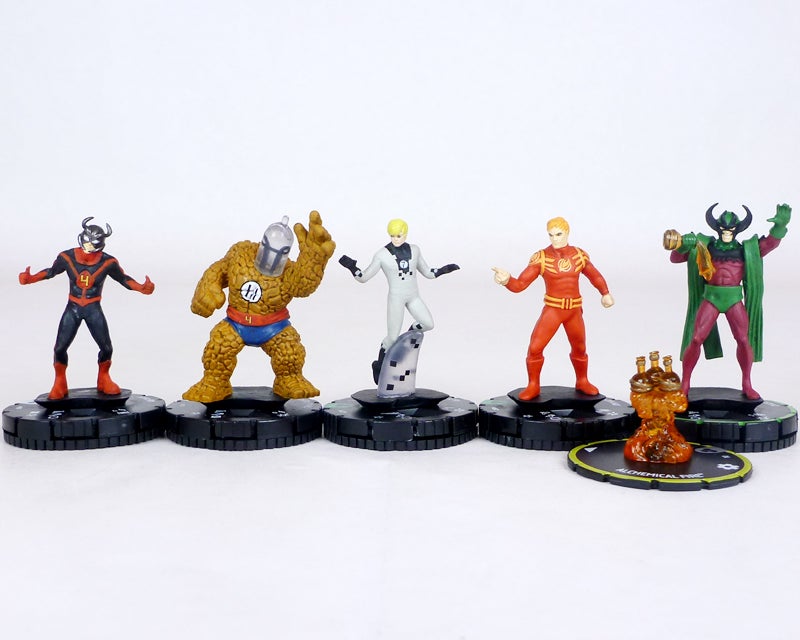 Booster 1
• 007 Ant-Man
• 009 Thing Robot
• 029 Alex Power
• 032 Jim Hammond
• 047b Diablo (with s002 Alchemical Fire)
Alright, first booster! Some interesting things going on here right off the bat with commons Ant-Man and a Thing Robot from the Fraction/Allred run, while the uncommons are Alex Power of Power Pack and Foundation guardian Jim Hammond. We've got something special in the final slot, the rare Prime Diablo along with his Alchemical Fire equipment!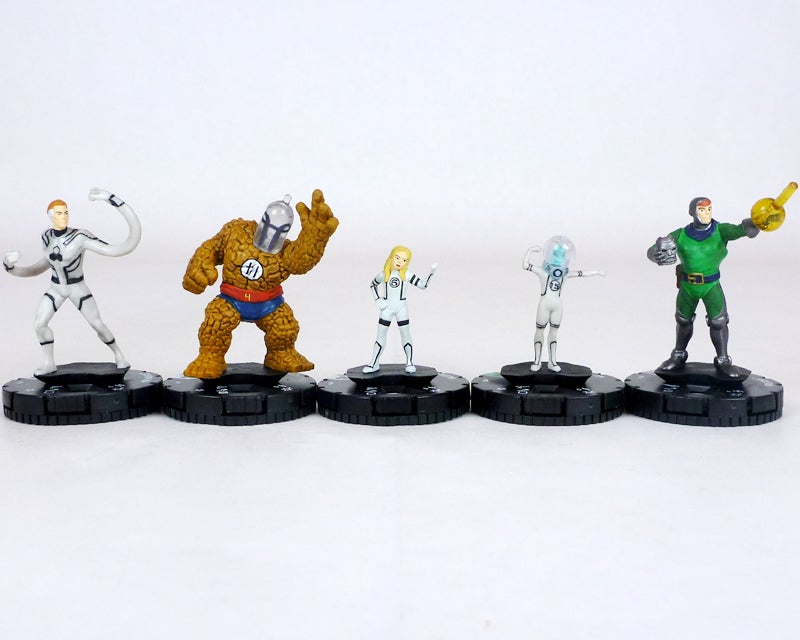 Booster 2
• 001 Mr. Fantastic
• 009 Thing Robot
• 014 Valeria
• 027 Wu
• 041 Kristoff
Mr. Fantastic kicks off booster #2 in the first common spot, joined by another Thing Robot and Richards' daughter Valeria. The uncommon is a third Foundation member in the Uhari heir Wu, and the rare is the Latverian Kristoff.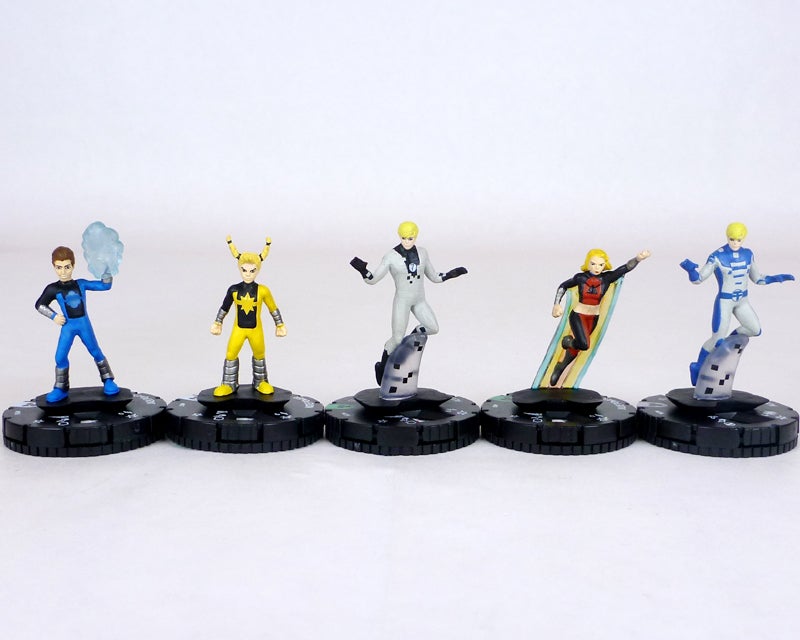 Booster 3
• 016 Jack Power
• 017 Katie Power
• 029 Alex Power
• 030 Julie Power
• 034 Alex Power
Power Pack assemble! This is an awesome themed booster with all four "rookie" versions of the Power Pack heroes (commons Jack Power and Katie Power, uncommons Alex Power and Julie Power) along with rare Alex Power in his Future Foundation uniform.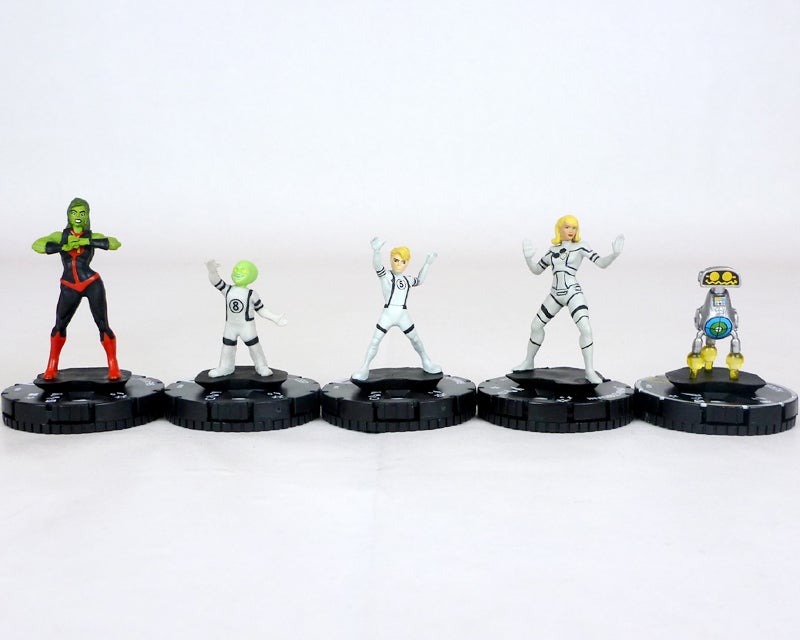 Booster 4
• 006 She-Hulk
• 010 Leech
• 015 Franklin
• 019 Invisible Woman
• 050 H.E.R.B.I.E.
Fierce protectors and small children are the theme of this booster, and it brings us our first super rare in the diminutive hall monitor bot H.E.R.B.I.E. She-Hulk, Leech, and Franklin are the commons, and Invisible Woman is uncommon.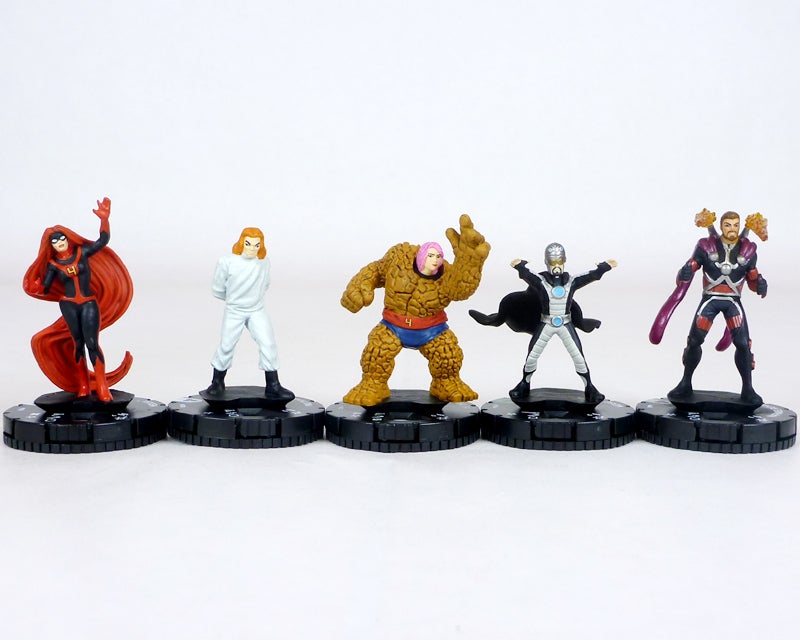 Booster 5
• 008 Medusa
• 013a Mad Thinker
• 022 Ms. Thing
• 031a Wizard
• 043 Nathaniel Richards
In booster #5 we get two more members of the fill-in Fantastic Four with common Medusa and uncommon Ms. Thing along with enemies-turned-allies in the common Mad Thinker and uncommon Wizard, and rare Nathaniel Richards.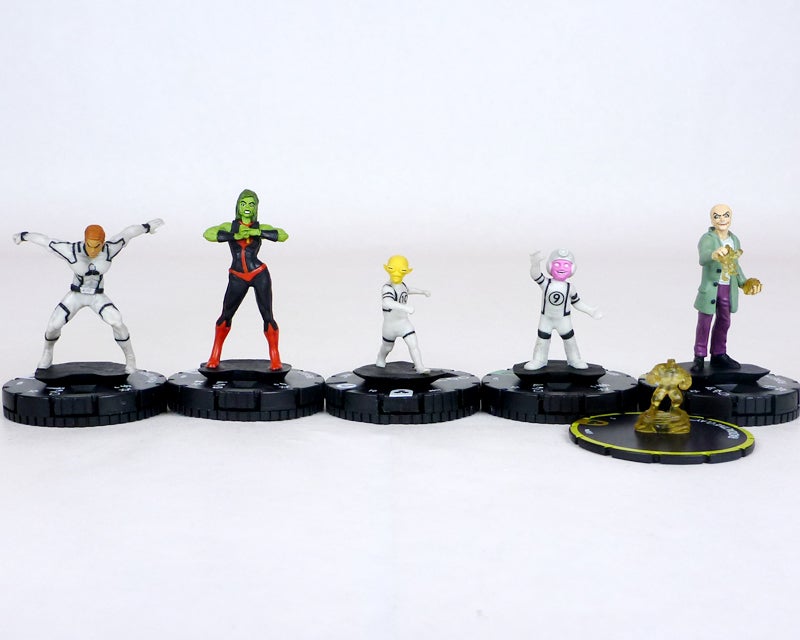 Booster 6
• 004 Human Torch
• 006 She-Hulk
• 011 Mik
• 025 Artie
• 058 Puppet Master (with s007 Radioactive Clay)
Our first (hint, there are more coming) Human Torch starts off the next booster in the common slot, joined by She-Hulk and Moloid Mik. Mutant Foundation kid Artie is uncommon, and our second super rare is the classic Fantastic Four villain Puppet Master who comes with his Radioactive Clay!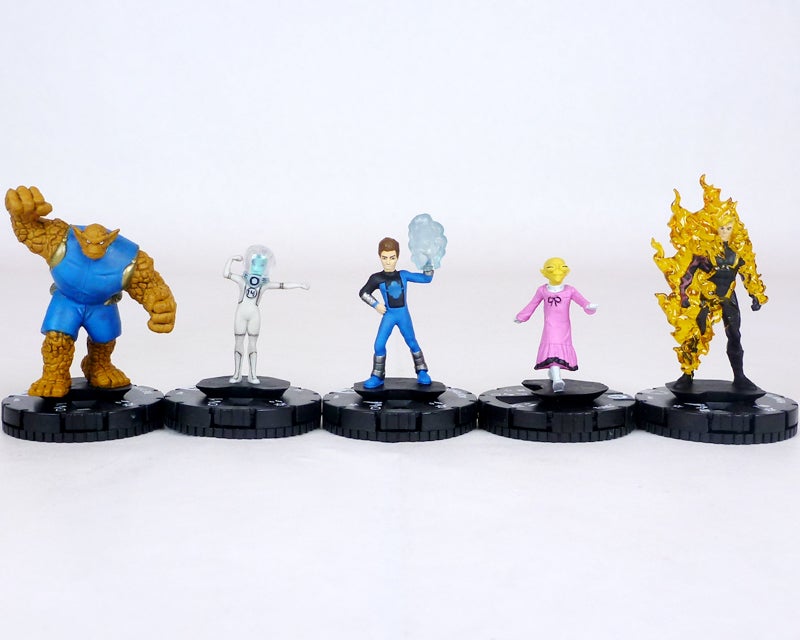 Booster 7
• 003 The Thing
• 012 Vil
• 016 Jack Power
• 026 Tong
• 040 Human Torch
The Thing is the first common here, but it's not the normal one but a Skrull in disguise! He/she/it is joined by commons Vil and Jack Power, with another Moloid Tong in the uncommon spot. Human Torch returns from the dead in this booster as a rare.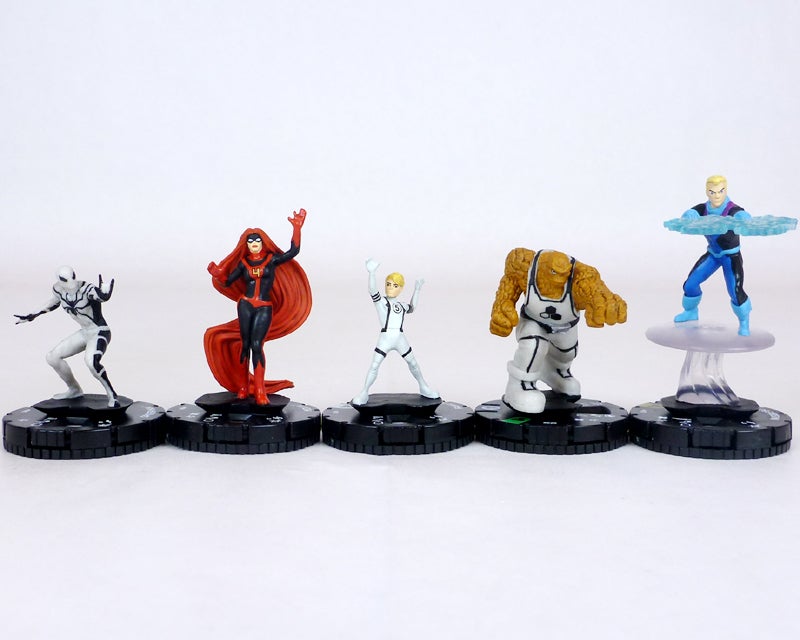 Booster 8
• 005 Spider-Man
• 008 Medusa
• 015 Franklin
• 020 The Thing
• 053 Invisible Boy
Our Fantastic Four rosters get a nice boost here with commons Spider-Man and Medusa (along with Franklin), and uncommon The Thing, the real one this time. And then our third super rare is an alternate version of Johnny Storm as Invisible Boy!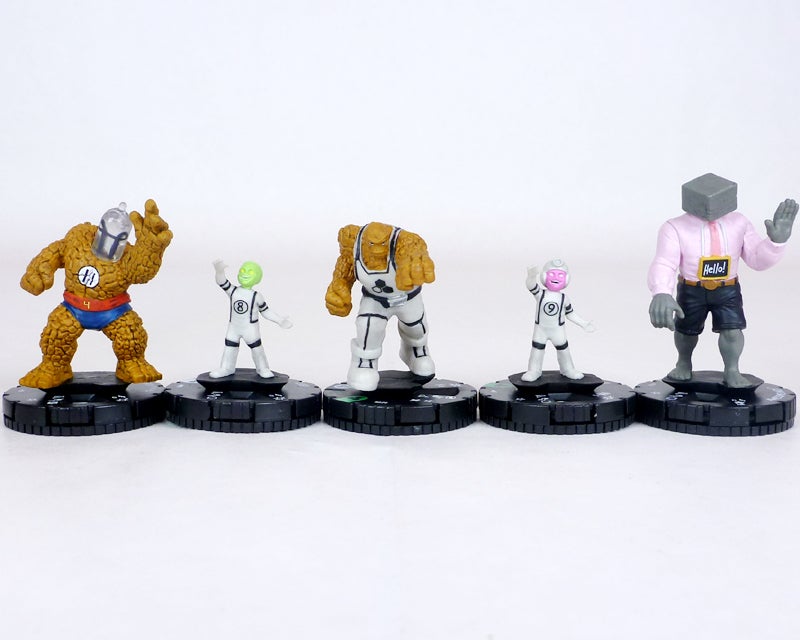 Booster 9
• 009 Thing Robot
• 010 Leech
• 020 The Thing
• 025 Artie
• 039 Awesome Andy
Big bruisers and little mutant children are to be found in booster #9, and they're nearly all figures we've pulled already in this brick with commons Thing Robot and Leech and uncommons The Thing and Artie. New for us is the rare, helpful robot with a block head Awesome Andy!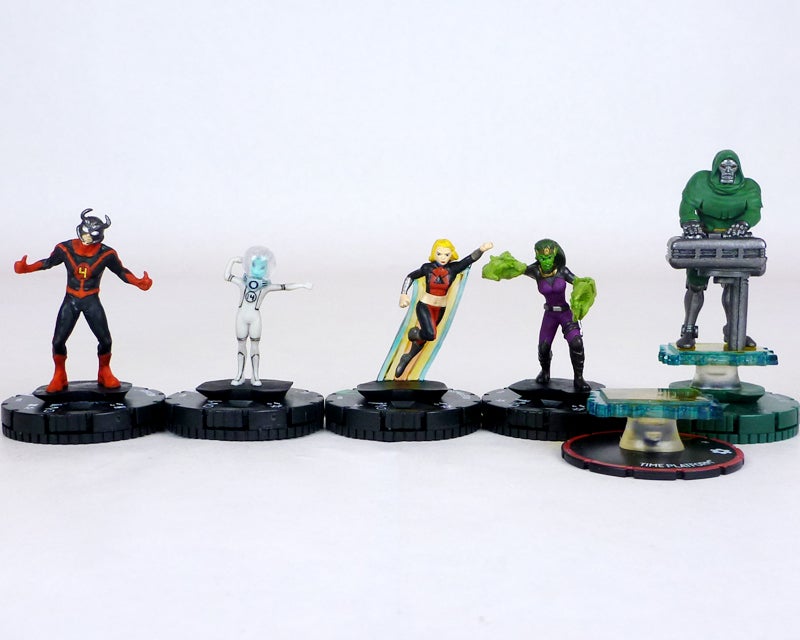 Booster 10
• 007 Ant-Man
• 012 Vil
• 030 Julie Power
• 042 Lyja
• 062 Dr. Doom (with s010 Time Platform)
Okay, full disclosure I may have saved the best for last… Booster #10 has dupes of Ant-Man, Vil, and Julie Power with newcomer in the rare Skrull Lyja. But the big news here is that we pulled a chase! Ours is a classic Dr. Doom (there are others in the set) who comes with the Time Platform equipment.
Here's the full breakdown of the figures in this brick (your results will vary of course):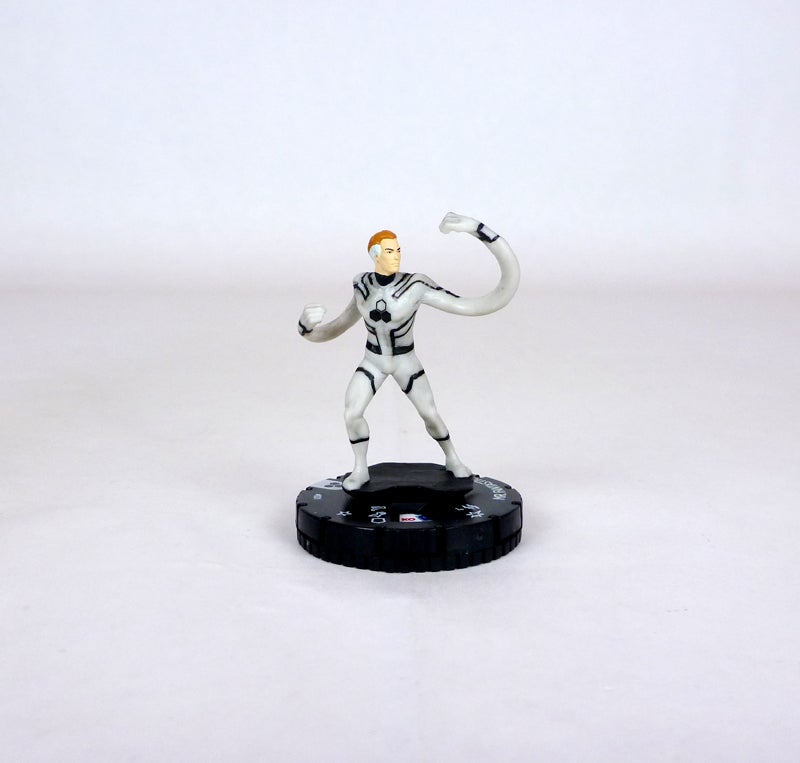 COMMONS (including duplicates)
001 Mr. Fantastic
003 The Thing
004 Human Torch
005 Spider-Man
006 She-Hulk
007 Ant-Man
008 Medusa
009 Thing Robot
010 Leech
011 Mik
012 Vil
013a Mad Thinker
014 Valeria
015 Franklin
016 Jack Power
017 Katie Power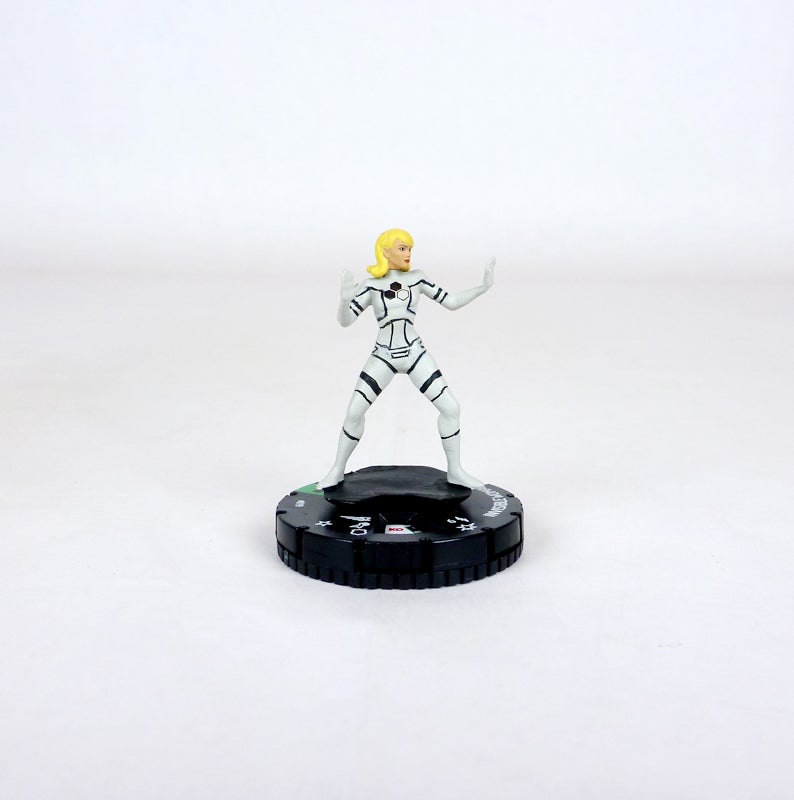 UNCOMMONS (including duplicates)
019 Invisible Woman
020 The Thing
022 Ms. Thing
025 Artie
026 Tong
027 Wu
029 Alex Power
030 Julie Power
031a Wizard
032 Jim Hammond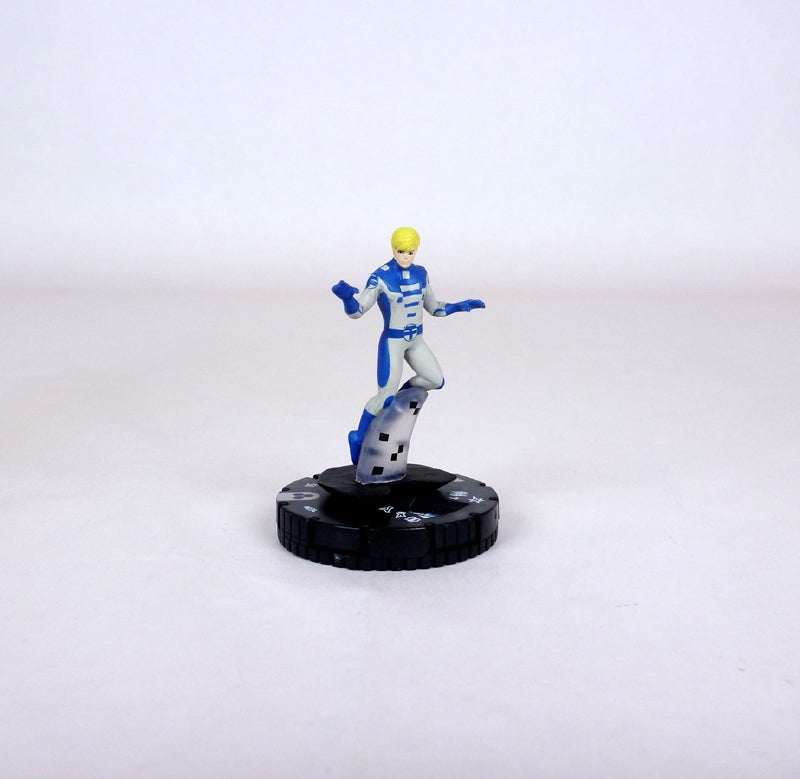 RARES
034 Alex Power
039 Awesome Andy
040 Human Torch
041 Kristoff
042 Lyja
043 Nathaniel Richards
047b Diablo (with s002 Alchemical Fire)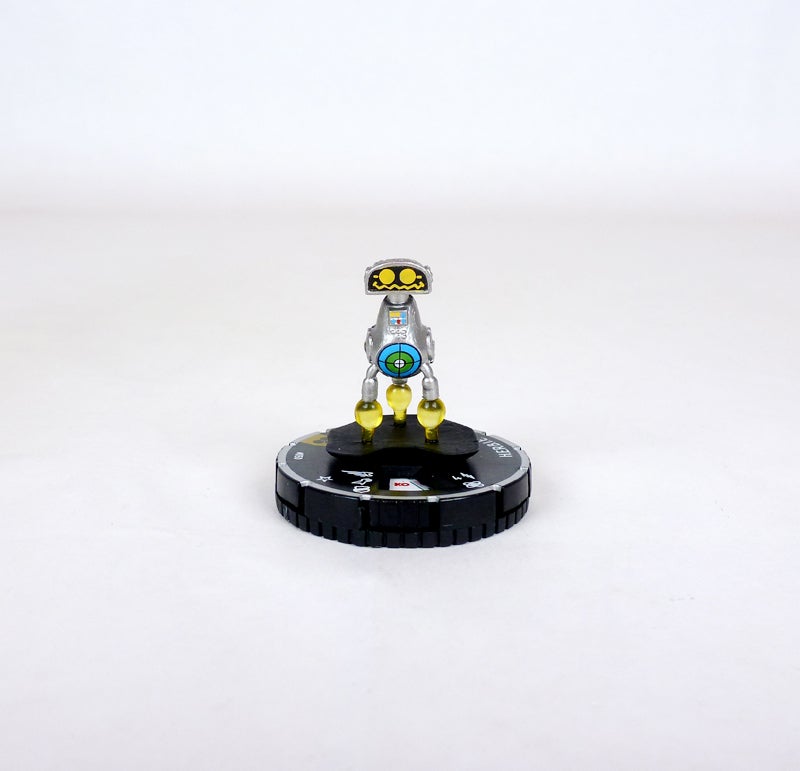 SUPER RARES
050 H.E.R.B.I.E.
053 Invisible Boy
058 Puppet Master (with s007 Radioactive Clay)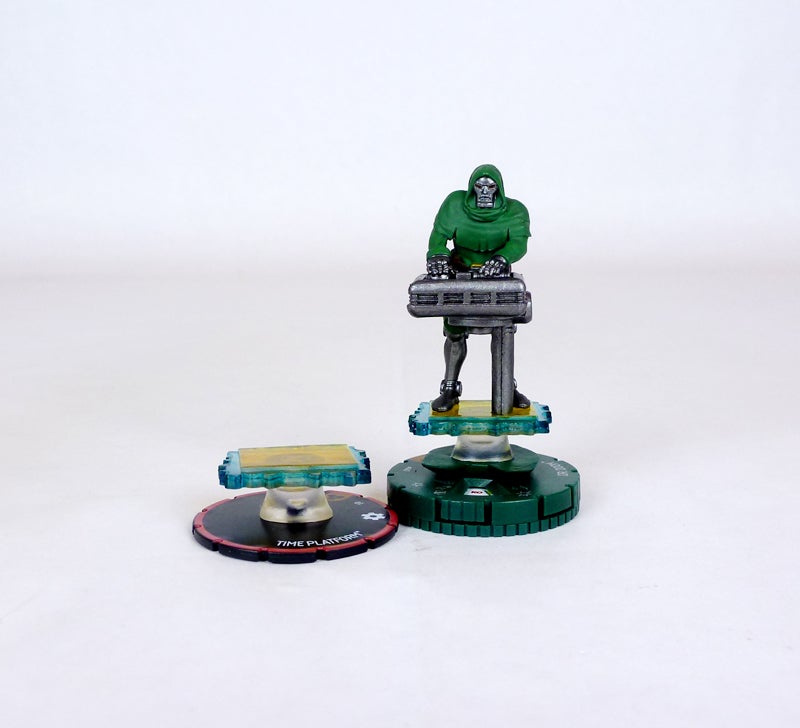 CHASE
062 Dr. Doom (with s010 Time Platform)
Now let's dive in for a closer look, starting with an overall examination of the collation. The good news is our brick included a Prime, three super rares, and a Chase! That's awesome, and a welcome change from other recent unboxings. We did okay with regards to our range of commons and uncommons. Going through the rarities we're only missing one of the 17 commons (not including the Prime), and 6 of the 16 uncommons (not including the Prime). Our rares number 7 out of a total possible 17, and we did pull the Prime here! Our 3 super rares come from a pool of 12, and our chase Dr. Doom is one of 9 total Dooms. As always, your results will vary.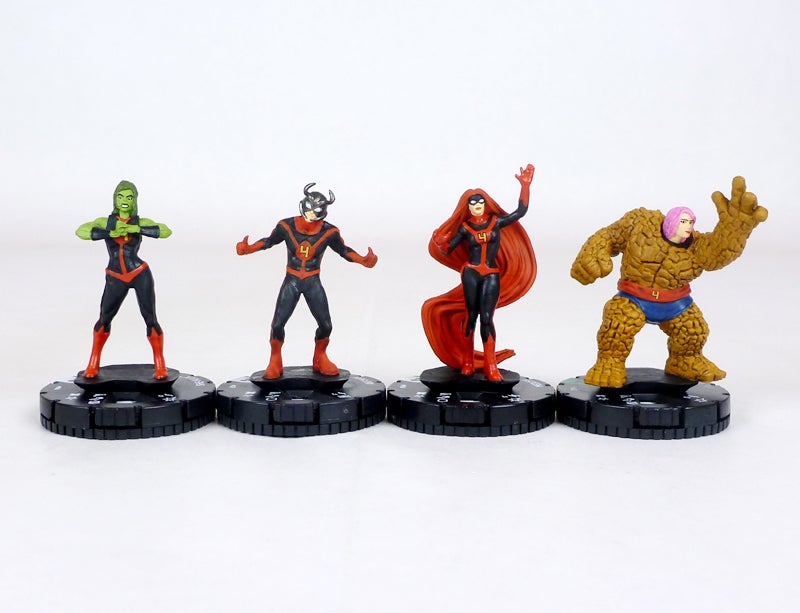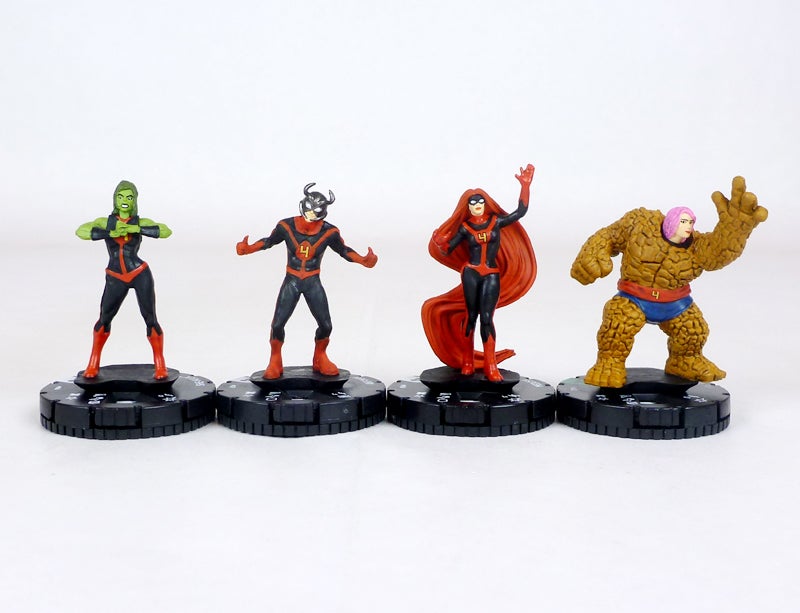 Looking at this set's commons will give us a sense of the types of figures as well as themes we'll see throughout the rarity levels. As you might expect, the very first figure is a core member of the Fantastic Four, Mr. Fantastic. Among these figures you'll also find Human Torch and Spider-Man, all in their white Future Foundation-era costumes. Then there's the "other" Fantastic Four that stepped in while the original was traveling through time, and among the commons are She-Hulk, Ant-Man, and Medusa along with the generic Thing Robot from that comic run. The Fantastic Four have long tangled with Skrulls, and the first one we pulled was The Thing, here with a rocky body but an alien head. Child Foundation members will be found throughout the set, and here we found no fewer than Leech, Mik, Vil, Valeria, and Franklin! The commons are rounded out by former villain and Council of Doom member Mad Thinker and Power Pack siblings Jack Power and Katie Power.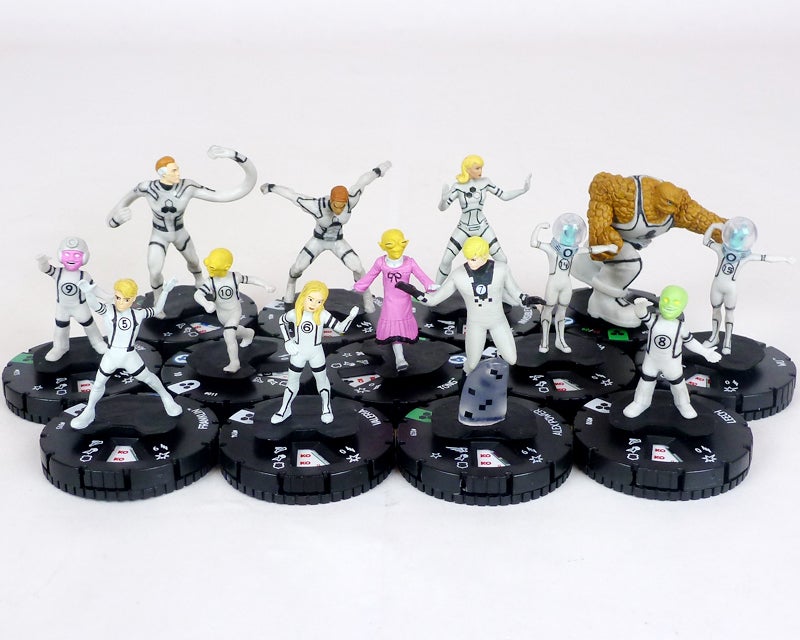 The themes among the uncommons are pretty much the same, starting with matching Invisible Woman and The Thing of the Fantastic Four, and Ms. Thing of the replacement team. More little kids populate the Future Foundation with Artie, Tong, and Wu, and they come with one of their android protectors Jim Hammond. Wizard is the next addition to the Council of Doom, and Alex Power and Julie Power round out the Power Pack started by Jack and Katie.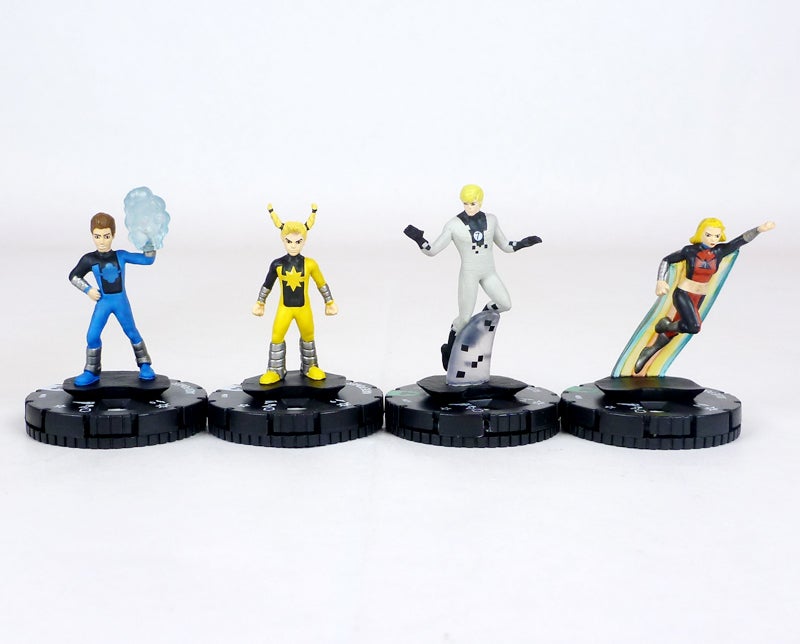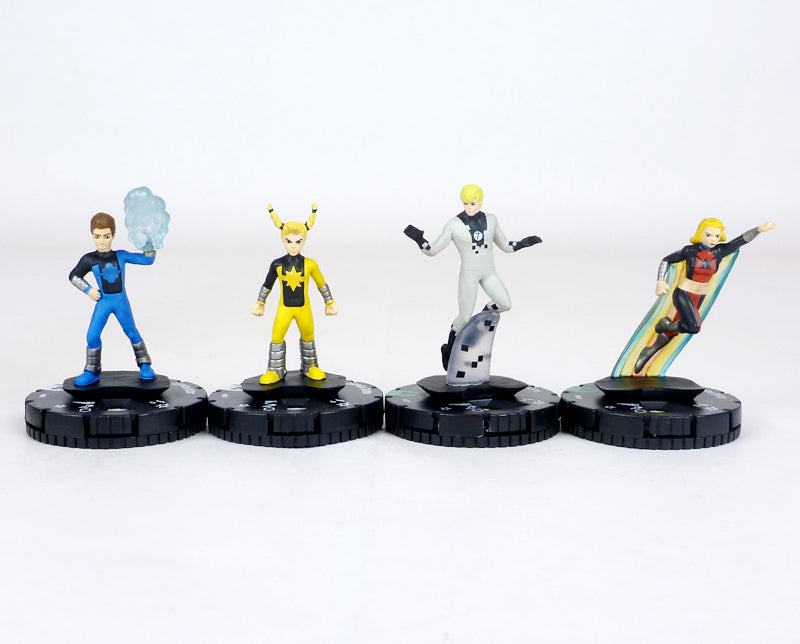 If you guessed that our rares continued on with what we saw previously… you'd be right! Though there are a couple of new things here as well. First off, there's a Human Torch, so we've got another original Fantastic Four member (here depicting his bug resurrected state). Rare Alex Power has joined the Future Foundation and is a bit more experienced than his Power Pack version, and joining him are teachers and time adventurers Awesome Andy and Nathaniel Richards. Our second Skrull has shapeshifted into view none other than Lyja, who was once married to Johnny Storm! On the less heroic side is the Latverian leader Kristoff, and the Prime version of Diablo is his villainous Masters of Evil incarnation.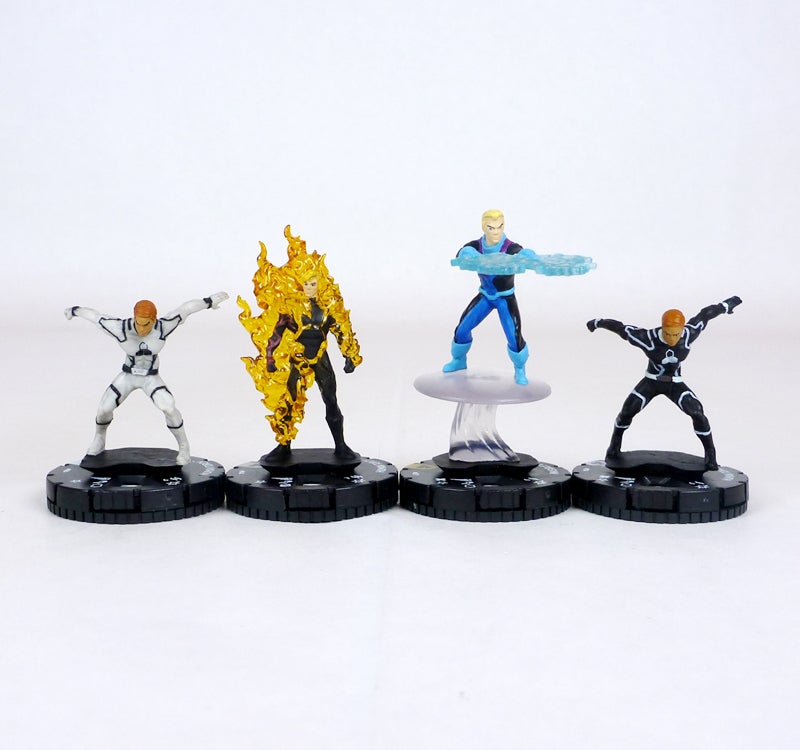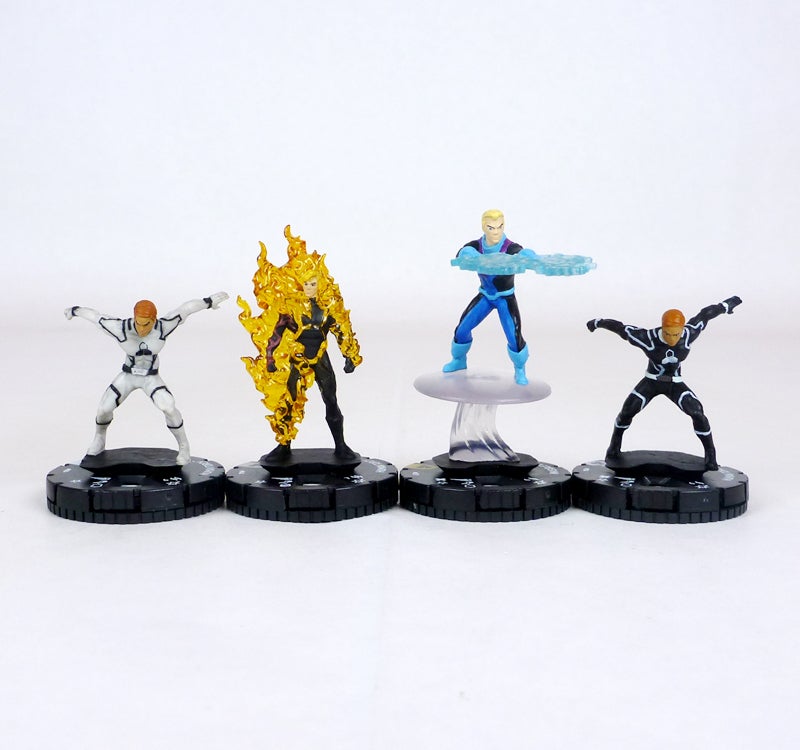 In the upper echelons of rarities, you'll find some alternate versions of characters, heroes and villains needed to complete certain teams, and highly useful support figures and attackers. Our three super rares include the miraculous robot H.E.R.B.I.E. who comes loaded with beneficial powers, can provide a Mr. Fantastic on your team with the ultimate weapon, and brings Future Foundation members back from the dead. Invisible Boy is a unique incarnation of Johnny Storm when he switched powers with his sister and became herald to Galactus, and the Puppet Master is a welcome villain in a set jam-packed with heroes. Lastly, our chase figure is Dr. Doom, one of multiple "Doom" characters in the most coveted spots. This one is a classic version, inspired by his comic book appearance and storyline in 1961.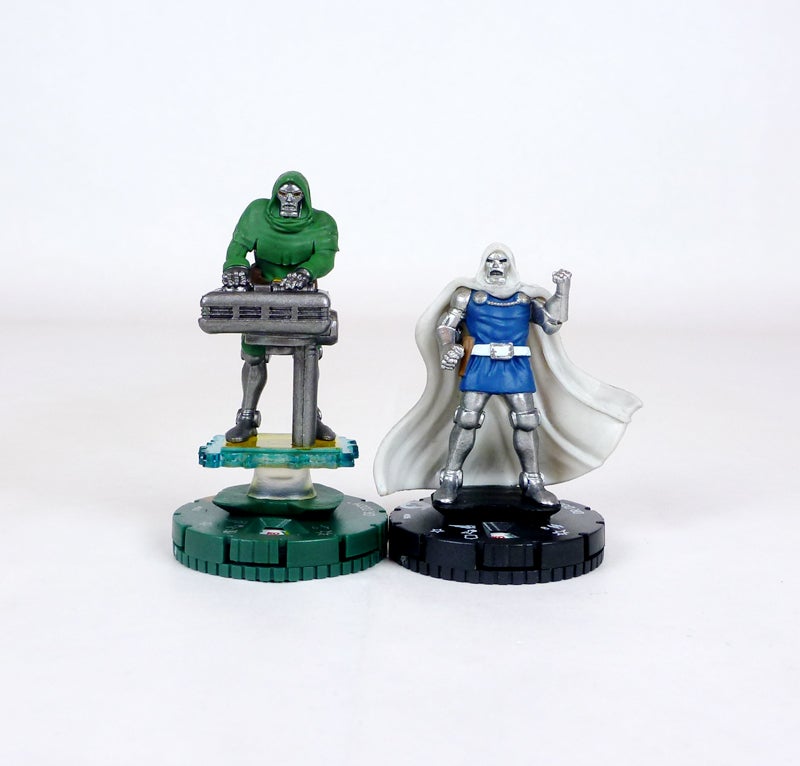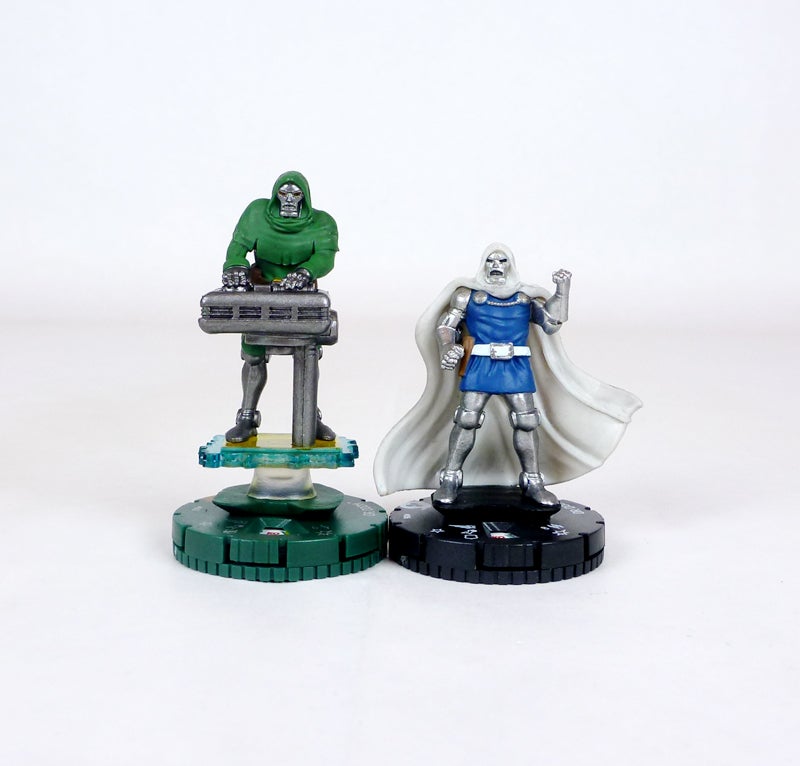 As noted above the Fantastic Four Future Foundation set includes new equipment objects that come with specific figures. In our brick we pulled three of these: Alchemical Fire with Prime Diablo, Radioactive Clay with Puppet Master, and the Time Platform with Dr. Doom. With fun rules, each one of these can be paid for and played on any team, or they can be assigned for free to their respective figures (and sometimes some others). There are also some really neat mechanics being introduced in this set, notably the Ally/Captain/Sidekick format. These are additional terms on character cards that allow for cool interactions. For example, captains like the original Fantastic Four members give bonus powers to friendly Future Foundation kid sidekicks. You can make really interesting combos this way!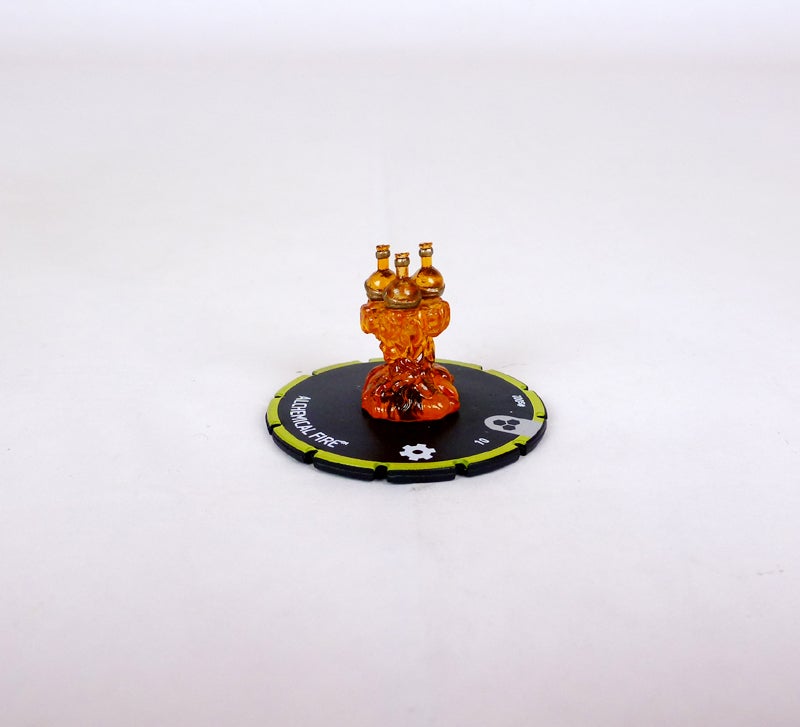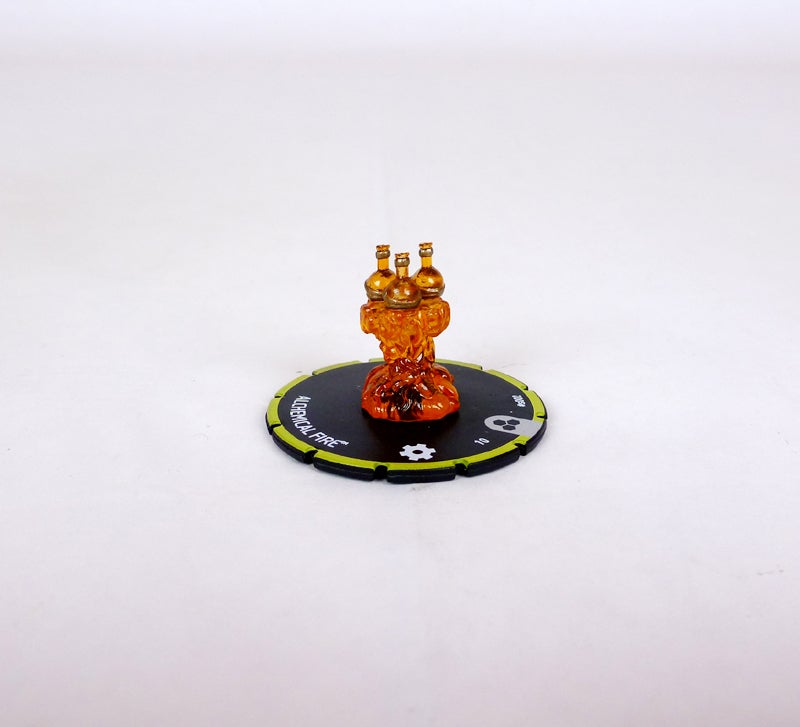 This is the second full HeroClix expansion with the new, slightly enlarged figure scale and upgraded detailing, and I'd say it shows. The figures look really nice across the board, with some fantastic sculpts and paint jobs that really pop. There's a nice variety of action poses, dynamic movement, and threatening stances as well. Some of my favorite sculpts from the figures in this brick include: Mr. Fantastic in a classic stretching punch pose, common Human Torch leaning over about to flame on, Ant-Man looking sassy with the double thumbs up, the adorableness of Leech/Artie and their unique heads, the fun Moloids Mik and Tong, Vil and Wu with their highly detailed aquatic heads inside little translucent dome helmets, Jack Power looking super cocky while holding up a cloud form, Invisible Woman radiating strength and confidence, Wizard with his cool costume details, flowing cloak, and techie helmet, rare Human Torch capturing a perfect comic book image in 3D with a great looking figure inside a cool flame effect, Lyja with her huge crab claws, the costume flair and blasting energy weapons of Nathaniel Richards, Diablo looking incredibly sinister as he pours his alchemical mixture, H.E.R.B.I.E. who's just adorable, Invisible Boy with detailed physique and energy waves, Puppet Master nailing a creepy look like I've never seen before in miniature form, and Dr. Doom as the perfect stiff retro villain with lots of cool details on his mask, hands, and Time Platform. Meanwhile, there are some great sculpted textures on figures like Medusa's hair, rare Human Torch's fire, and of course the rocky exteriors of the various Things.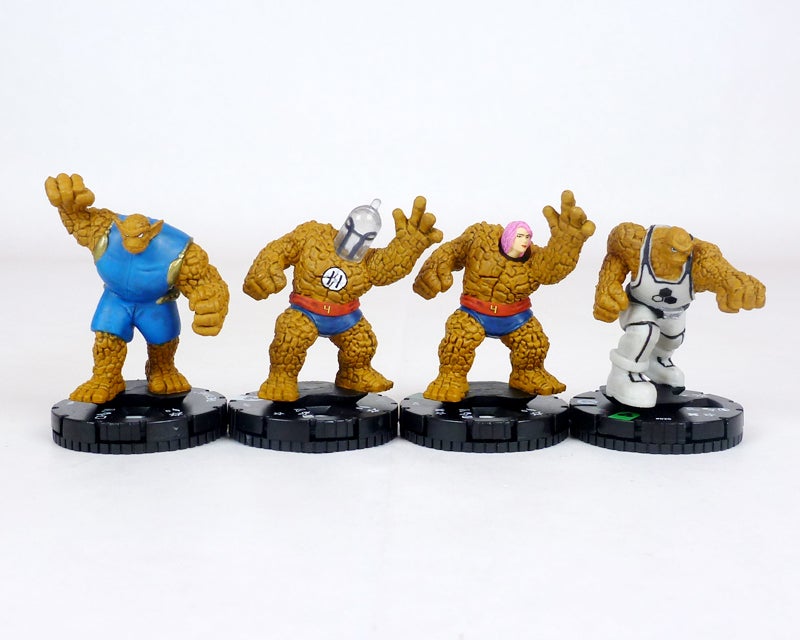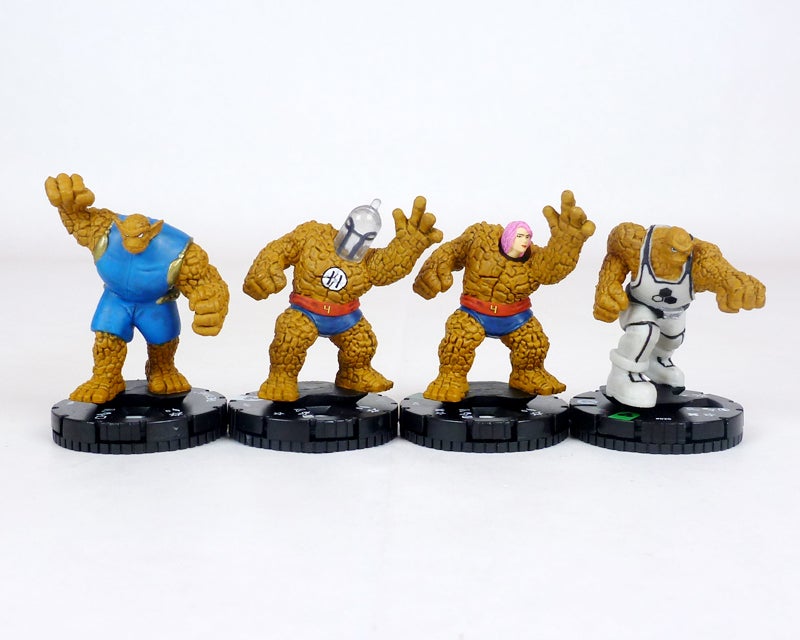 Now, looking at the overall set you'll find quite a few figures in shared costumes so there isn't quite as much variation in the paint and color of minis as in other expansions, but that's literally in the name. So yes, the majority of Future Foundation core members and children are in white and black costumes with various patterns and signifying numbers, but those details look nicely crisp and legible even on the little tots. You can see for yourself how everything looks in the photos, but I'll tell you about the paint jobs I particularly enjoyed seeing in person: the core Fantastic Four members in the common and uncommon slots all look really good and I dig their costumes' off-white coloration especially as it contrasts with the black, Ant-Man/Medusa/Ms. Thing/She-Thing really look like they stepped out of a Mike Allred illustration especially with Medusa's huge eyes (Ms. Thing also has a great face application), Jim Hammond's uniform details are perfect down to the logos, Awesome Andy is pretty in pink and his chalkboard's "Hello!" looks great, rare Human Torch's expertly painted face and bug-infested arm contrast perfectly with his bright fire, the details of Lyja and Nathaniel Richards' costumes and faces are really nice, H.E.R.B.I.E. is adorable (have I mentioned that yet?) with his little smiley face and colorful screens, and Puppet Master's leering face looks like a Gabriel Rodriguez (Locke & Key) villain.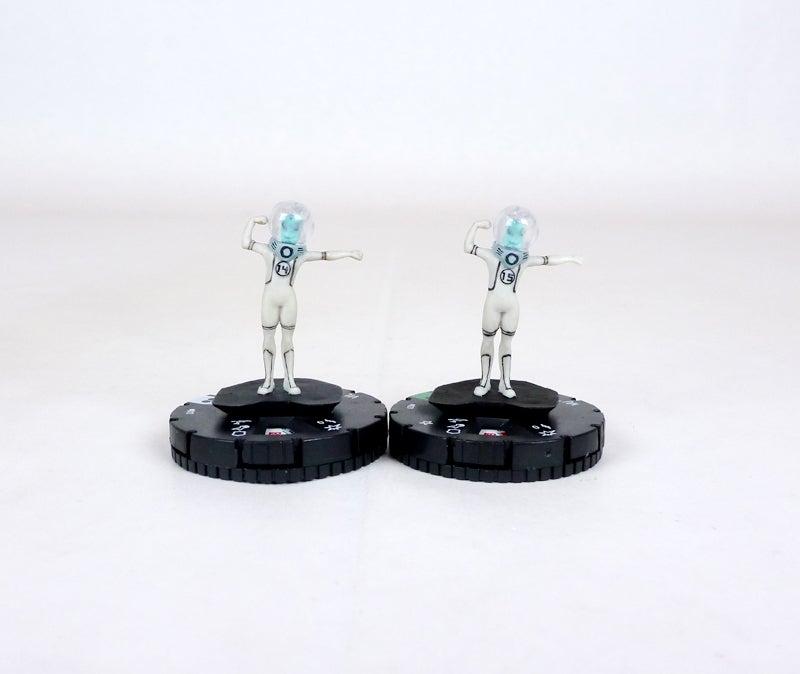 There's plenty of fun uses of translucent plastic in the set with Thing Robot's clear head canister, Vil and Wu's dome helmets, the energy powers and effects of the Power Pack kids, rare Human Torch's crawling flames, Kristoff and Nathaniel Richards' energy blasts, the alchemical fire Diablo is pouring out, H.E.R.B.I.E.'s flight effect, Invisible Boy's base and blasts, Puppet Master's radioactive clay sculpture, and Dr. Doom's Time Platform. Lastly, there are the usual uses of metallic paints on armor, weapons, robots, and more.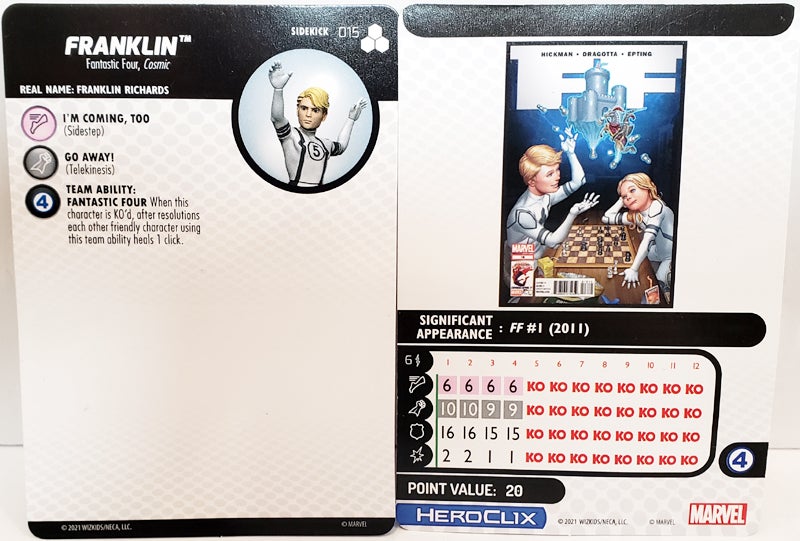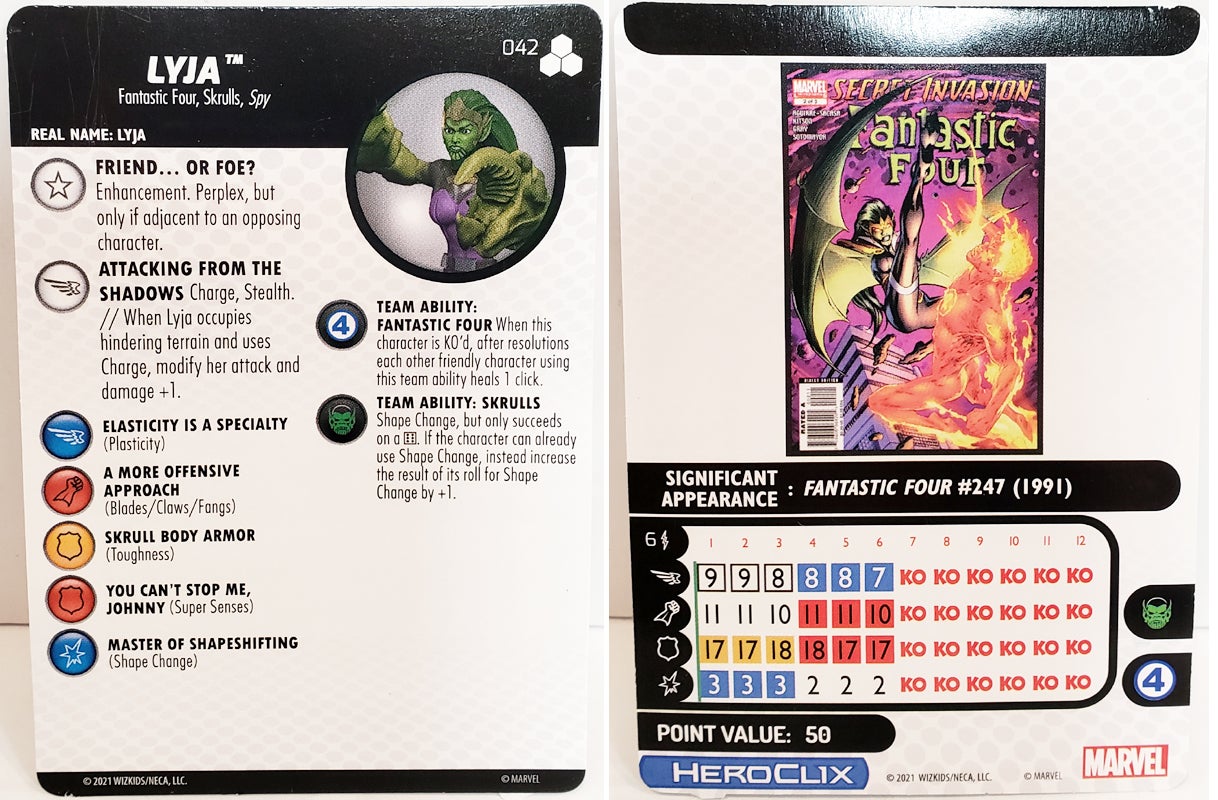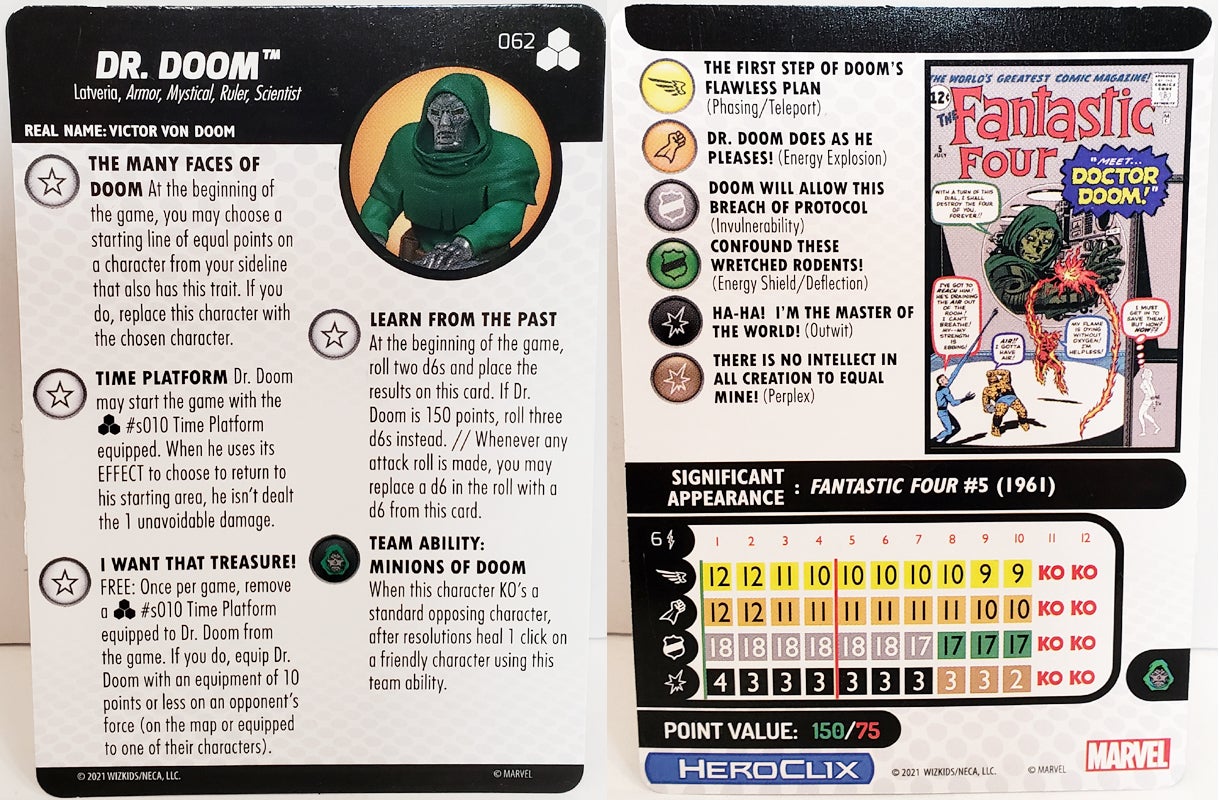 I think it's time for some dial and card reveals, don't you? Thanks to all of the previews from WizKids, unboxings by Scott Porter and others, and more than a couple spoilers dropped on social media we know just about the entire set at this point, but I think I have a couple to show off for the first time. Without further ado, here's common Franklin, rare Lyja, and chase Dr. Doom!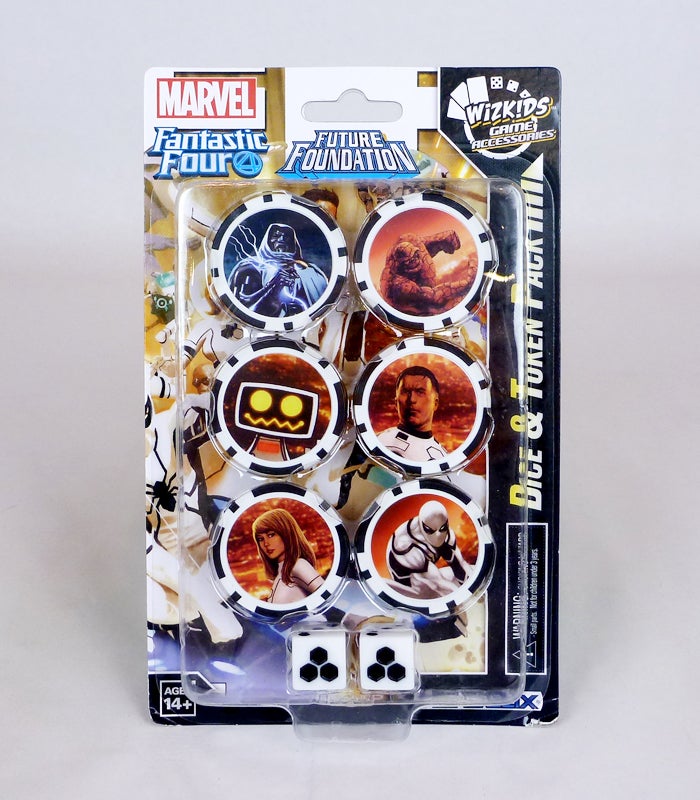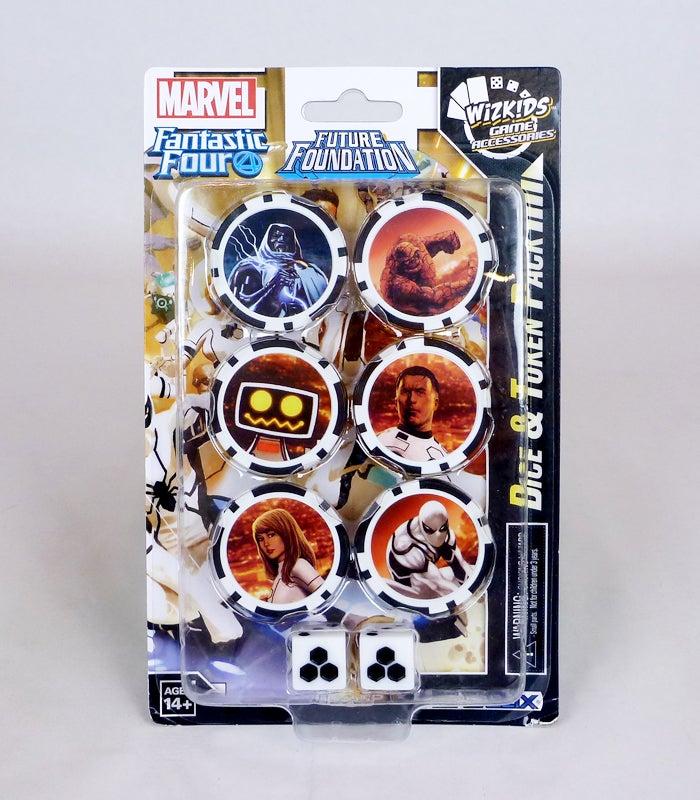 But that's not all! As usual the Fantastic Four Future Foundation expansion comes with more than just boosters. First off is the traditional Dice & Token Pack ($9.99), with six black and white poker chip-style tokens featuring comic book artwork of Mr. Fantastic, Invisible Woman, H.E.R.B.I.E., The Thing, Dr. Doom, and Spider-Man. The reverse sides give you bystander tokens that figures in the booster set generate: two Latverian Peasants, Turg, and the three Super-Apes Peotor, Mikhlo, and Igor. The dice are matching solid white with black ink, with the Future Foundation triple hexagon symbol on the "6" side.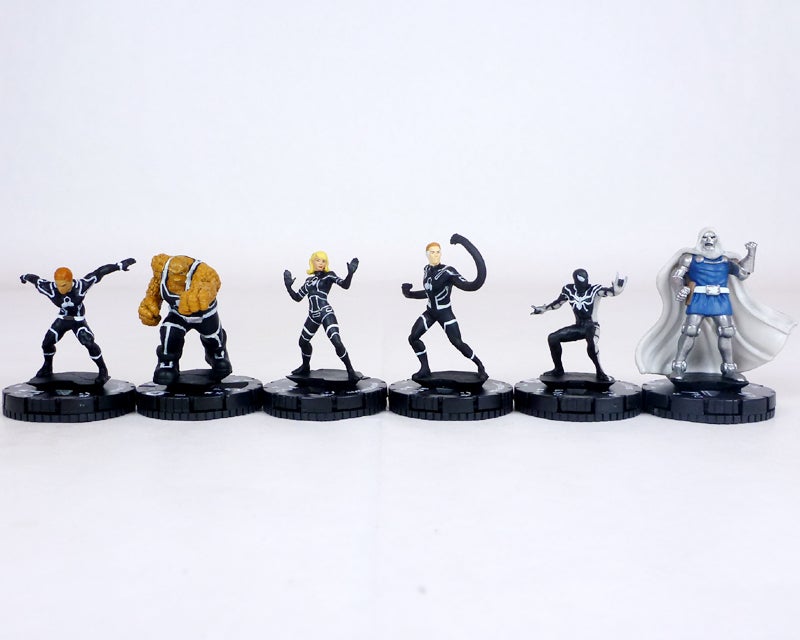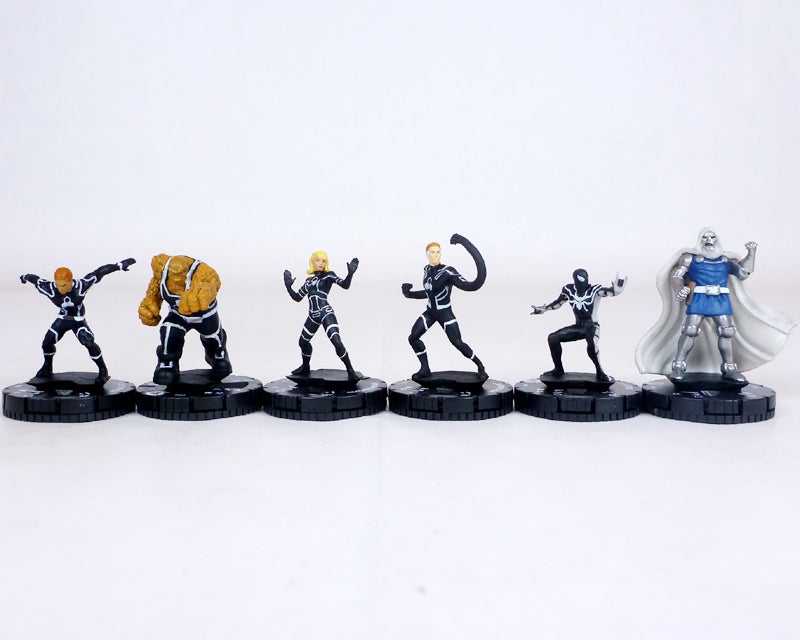 Next up is the Fast Forces ($19.99)! All of these figures are based on sculpts in the booster set, including one we didn't pull, but in cool palette swaps. Mr. Fantastic, Invisible Woman, The Thing, Human Torch, and Spider-Man wear reversed color versions of their Future Foundation era costumes while Dr. Doom appears much less threatening in a blue tunic and white cloak. These are all solid sculpts with a lot of personality in their poses, and it's fun to have these very visually distinct versions. Of course, along with the different looks they also come with different dials unique to this Fast Forces. Intended to give you a team (or teams) you can play right out of the box, each member of the Fantastic Four is a lean 50 points, while Dr. Doom can be played at 100 or 50. The dials are emblematic of the current play style, short but powerful. There are no special powers to be found here, but each figure has at least one Trait, and they all share one: when an enemy moves adjacent to them, they roll a d6 and on a result of 4 that enemy has to immediately end its action or take one penetrating damage! The five "good guys" also have one click of Regeneration at the end of their dials and the Fantastic Four team ability, while Dr. Doom has that TA and the Minions of Doom. These figures look great and seem fun to play whether you're running a team right out of the Fast Forces or some of the figures mixed with other Fantastic Four allies from your collection!
In the past, HeroClix expansions would typically arrive at your friendly local game store along with an Organized Play Kit consisting of prizes and maps. Obviously, things are a little different in the world right now, and WizKids is changing with the times. Instead of the OP kit only available to stores, there is a Play At Home Kit available to everyone! Inside one of these kits ($9.99) is a unique "prize" figure, a translucent Invisible Woman capturing her Ultimates incarnation, as well as a double-sided map. There's a lot to love here with battlegrounds of the "Desert Wedding" (an open area with some blocking terrain rocks and central hindering terrain stage and chairs) and the "Negative Zone." This is a reprint of the fan-favorite Negative Zone Prison map from the Chaos War expansion, a super fun indoor map with a complex room structure, a good amount of scattered hindering terrain, and printed thematic elements. You can also house rule that the portals link up Pac-Man style! Best of all, as a "Play At Home" Kit the maps have markers on each square so you can play with a friend remotely and easily keep track of where all the figures are.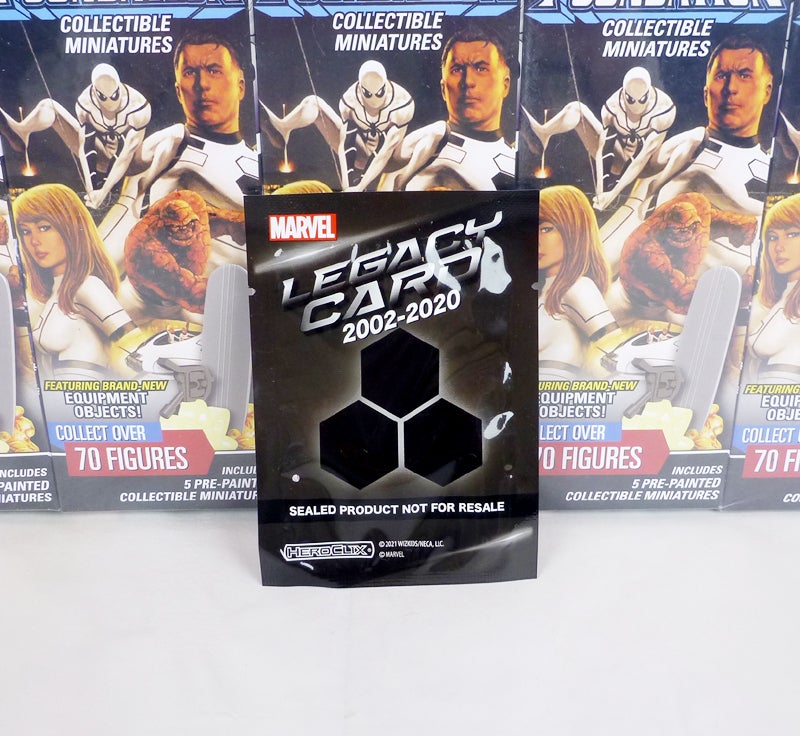 Last but not least, WizKids is introducing another really cool element to HeroClix with this set, Legacy Cards! Coming in single, blind packs attached to booster bricks is a brand new, updated card corresponding to a figure from an older set that is no longer in the "Modern" rules rotation. This brings fan-favorite characters back into the game (especially those who may not be made into figures again) and provides them with all new abilities from traits and/or rewritten special powers. The Legacy Card I pulled was for Morg, originally released in the Galactic Guardians set way back in 2012. This new version increases the efficacy of the herald's Axe Swipe while giving him an entirely new Well of Life trait that gives him a huge boost for making it across the board into his opponent's starting area! I'm really excited to see what other figures WizKids brings back with these Legacy Cards.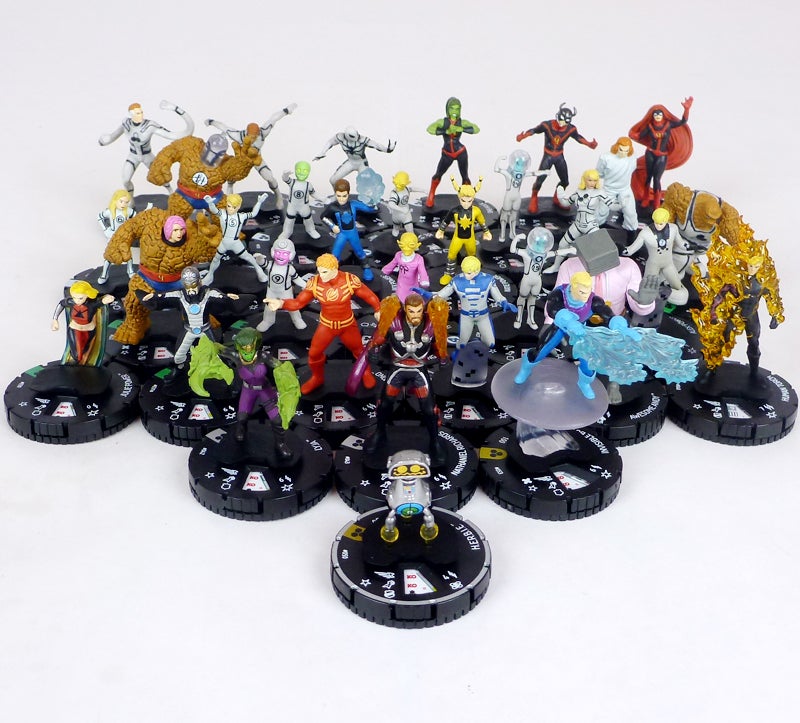 And that is our comprehensive look at the new Marvel HeroClix Fantastic Four Future Foundation expansion with a brick of boosters ($14.99 each), Dice & Token Pack, Fast Forces, Play At Home Kit, and Legacy Card! Everything you see here is scheduled for release next week on February 17th (though be patient as delays happen these days), and check in with your local store to make sure they're getting all the product you want. This set is a really cool addition to the game with a ton of fun characters, interesting mechanics and combos with captains/sidekicks, etc., and great collectability with solid figures at every level and amazing super rares and chases. I also really love all of the additional ways WizKids is supporting players with the Legacy Cards and the Play At Home Kit; hopefully these developments continue with upcoming sets. You're guaranteed to get some great figures out of every Future Foundation booster, and possibly some really exciting surprises, and of course all of the figures in this set work great with your current collection. As always, we hope you've enjoyed this advance sneak peek; have fun and good luck with your pulls!
Visit HeroClix.com for even more info as well as downloads of rules and maps, and stay tuned to Figures.com as we continue our reviews of new HeroClix! If you don't have access to a local comic book or game store at this time you can also order your HeroClix directly from the WizKids website.
Review and photos by Scott Rubin.
Review samples courtesy of WizKids Games.
BRICK
[See image gallery at www.figures.com]
DICE TOKEN PACK
[See image gallery at www.figures.com]
FAST FORCES
[See image gallery at www.figures.com]
LEGACY CARD
[See image gallery at www.figures.com]
PLAY AT HOME KIT
[See image gallery at www.figures.com]
---