I really, really miss events and conventions. Not heading to New York City for NYCC last month, not doing SDCC coverage, and knowing there won't be a NY Toy Fair in February is a real bummer. But I have to admit—Hasbro has upped their social media game substantially, bringing us a record number of digital reveals this year! And today, we Hasbro revealed and opened pre-orders for the full Spider-Man Marvel Legends 2021 Stilt-Man series! And believe it or not, the Stilt-Man BAF isn't the craziest thing in this wave: the Fabulous Frog-Man is legit on the way!
Hand Ninja ►
Miles Morales ►
Peter B. Parker ►
Ghost Spider & Spider-Ham ►
The Prowler ►
Frog-Man ►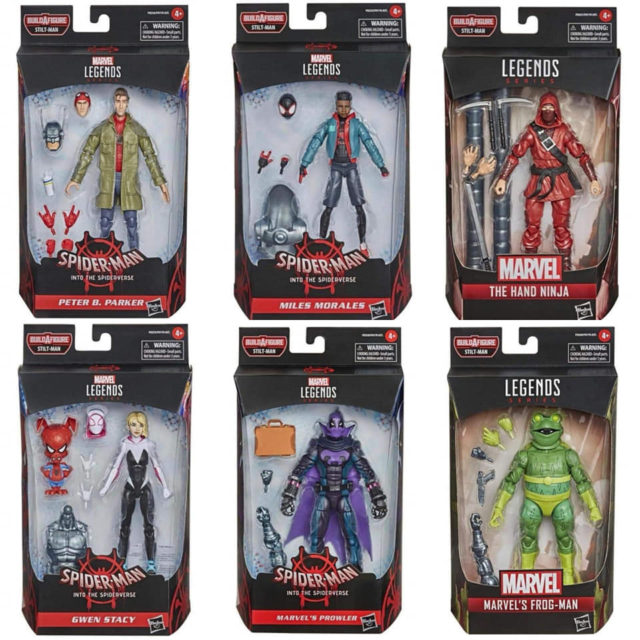 I was born in September 1982–and fittingly enough, that month was also the birth of the Fabulous Frog-Man, who debuted in Marvel Team-Up #131 (as the Leap-Frog)! As such, I've always had a little bit of extra fondness for Eugene Patilio, one of the most ridiculous (and ridiculously fun) Marvel superheroes. Even so, I never dreamed that we'd ever see an actual Marvel Legends Frog-Man figure—but here we are!
And oh yeah—there's 6 other new figures as well. Let's have a look…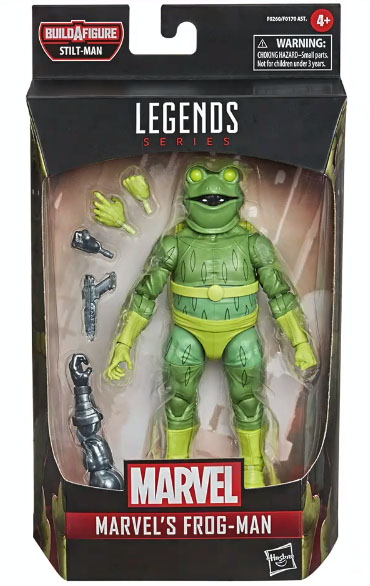 We'll start with the unlikely Frog-Man Marvel Legends figure itself. When White Rabbit was announced last summer, I dared to dream a Fabulous Frogman could become a reality—but even so, I was still a little startled to see him actually confirmed today.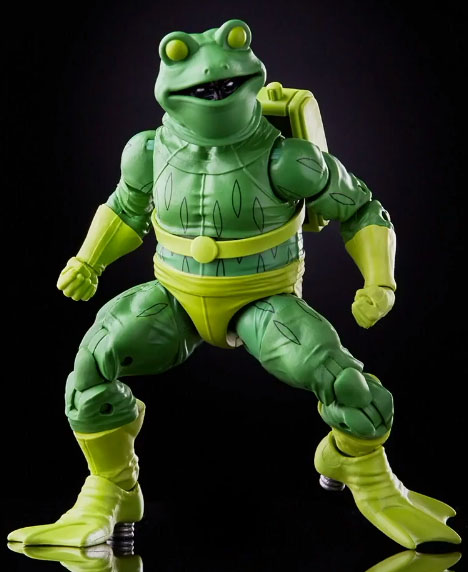 This is such a bizarre figure, but also one that I've been wanting for years. I'm a big fan of this kind of wackiness from Hasbro–the flipper springs are so over-the-top and amazing! Two big frog flippers up!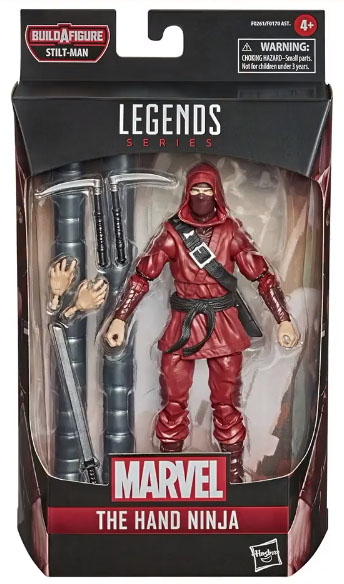 The other comic book-based single-packed figure in this series is the Hand Ninja. Since Daredevil is always lumped into Spider-Man Legends waves of figures, this doesn't seem too jarring of an inclusion here.
This Marvel Legends Hand Ninja will work both in Marvel dioramas and also as a general kickass ninja figure. The interchangeable hands and choice of weapons will help switch things up a bit as an army-builder, and including the Stilt-Man leg extensions with a figure fans won't mind buying multiples of is an absolute stroke of genius.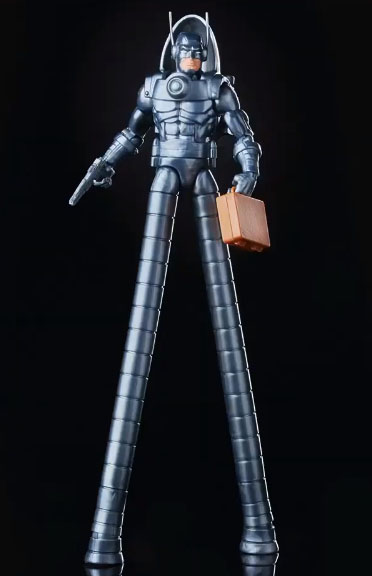 And since we're talking the comic-inspired figures: Marvel Legends Stilt-Man Build-A-Figure! Holy crap, right? What a world! This is another one of those characters that would never see the light of day if we weren't living in the most golden of Marvel merch golden ages ever. Love this. The Stilt-Man BAF includes a briefcase (with mystery contents!) and a blaster, and can have his height extended indefinitely with the leg extensions from the ML Hand Ninja (although there will need
The remaining four figures in this wave are all from the 2018 Spider-Man Into The Spider-Verse movie. Ordinarily I would say that it feels a little bizarre to do these movie figures so long after the fact, but with the new PS5 Miles Morales Spider-Man video game just releasing and the movie remaining popular on Netflix, I think this quartet will do just fine.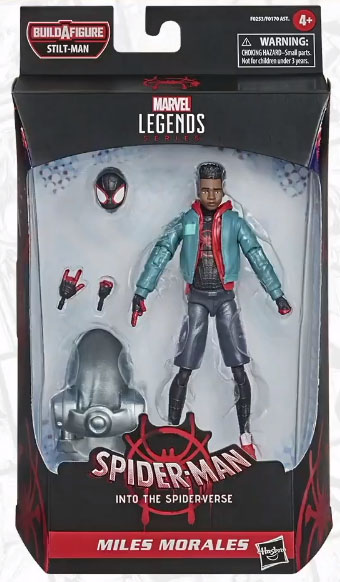 Obviously, the most important inclusion in this wave is the Miles Morales movie figure, which Hasbro sneak peeked a while back in the fall. With what seems like every major Marvel figure licensee out there making their own Miles, it's definitely welcome to see Hasbro doing one–along with several figures to complement him!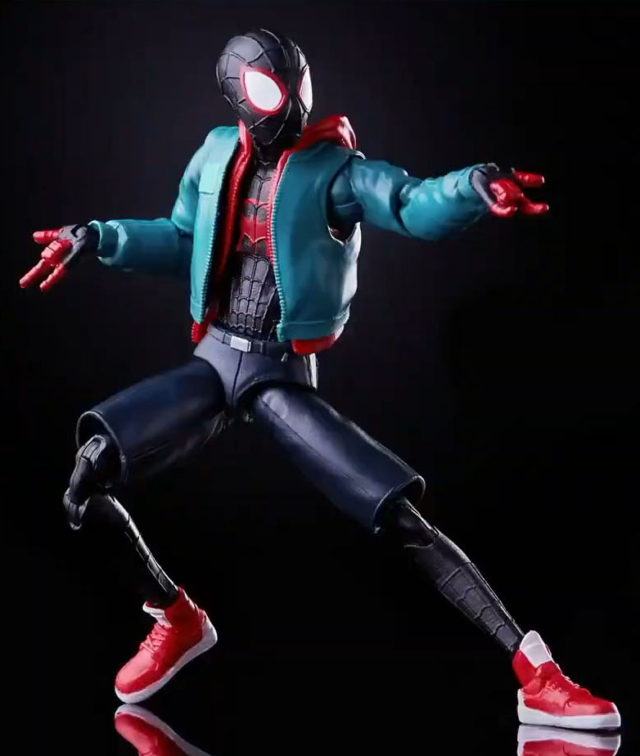 Miles has the new "invis-pin" technology in his legs, which will make his legs really star despite being thin. He has the photo-real deco for his unmasked head as well, the first time Hasbro has used it for animated characters.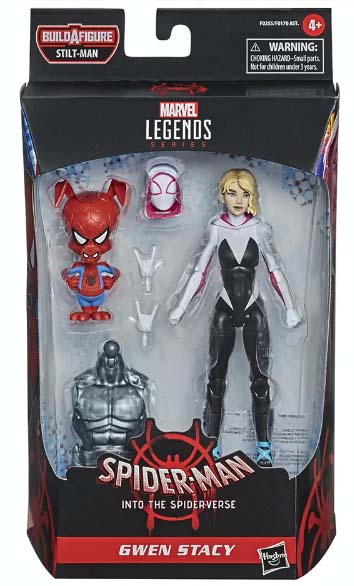 The second figure in the wave is another character that was previously shown off: a Spider-Verse movie Ghost Spider (Spider-Gwen). The aesthetic on this version blows the previous ones out of the water, and I love the unmasked head sculpt (although her new masked head is new and awesome as well).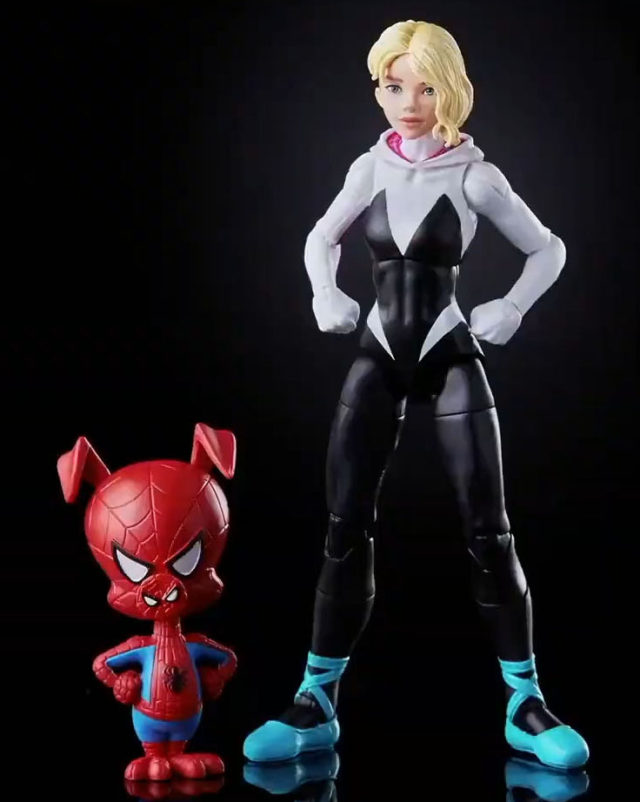 I also never thought we'd ever get a Marvel Legends Spider-Ham figure—and here we are, getting a second one in a span of two years! Spider-Ham only has articulation at the head, but that joint definitely adds some character. Awesome pack-in.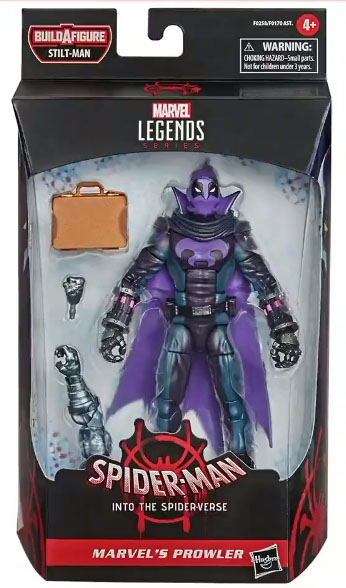 We also get a villain (of a sort) for the wave, in the form of the Uncle Aaron version of the Prowler. I'm a Hobie Brown Prowler kind of guy, but this figure does look quite nice in the animated design. Prowler is movie-accurate and has a new head, cape, boots and gauntlets (gloves). Plus he comes with Stilt-Man's Briefcase of Mystery!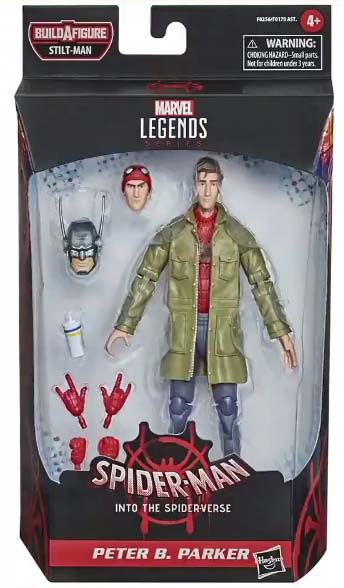 Finally, it's the Into the Spider-Verse Peter B. Parker Legends figure! With his soda cup, half-masked head and jacket, this is such a unique Spidey. This is a lot of fun and way different from any Spider-Man figure that Hasbro has released before.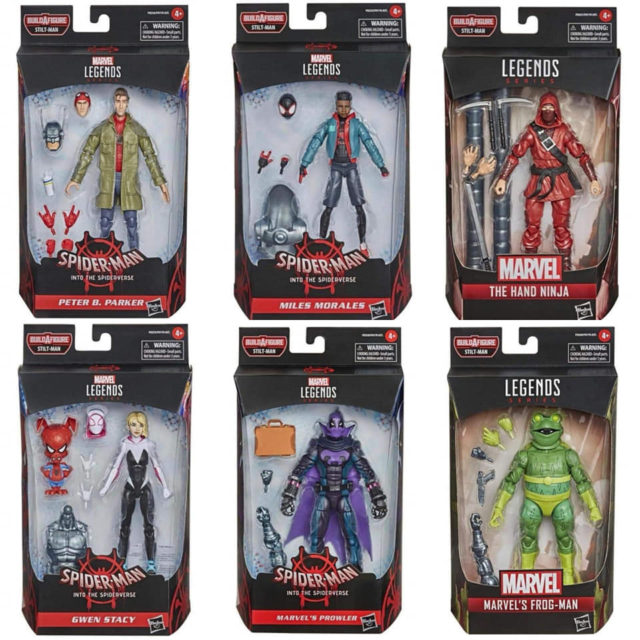 The 2021 Marvel Legends Spider-Man Stilt-Man Series is now up for order, and is scheduled to be released this winter. Given the characters involved, it's unpredictable which will be the fastest-sellers in this wave—but I am comfortable saying that it's not going to be poor Frog-Man! I'd advise locking in those Hand Ninjas early if you want to army-build, though.
What are your thoughts on this first wave of Spider-Man Marvel Legends 2021 figures? Which are your must-haves and must-skips? Is the Stilt-Man BAF convincing anyone to purchase the series who otherwise wouldn't get every figure?
The post 2021 Marvel Legends Spider-Man Stilt-Man Series Up for Order! FROG-MAN! appeared first on Marvel Toy News.