NEWS FROM THE FRONT
Have a shipment of new items coming in from Louco Por Bonecos. Should arrive Friday.
Click HERE to check out the PREVIEW pics!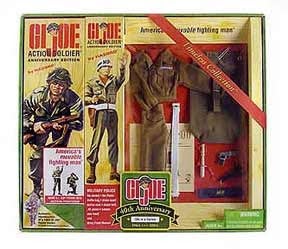 BLAST FROM THE PAST
40th Anniversary #5 Action Soldier/Military Police Set
Released in 2003. 40th Anniversary, #05 in the series, Caucasian Soldier with Military Police Window Box
This set includes: Figure in OD green fatigues, Tall brown boots, OD green cap, Dog tag with chain, Classic WWII Ike style brown jacket and trousers, Duffle bag, Red dress scarf, White belt, Billy club, MP armband, Pistol and holster, and Army Field Manual.
BUY NOW

WEEKLY SPECIAL
Magic Cube Toys Female Cut Tactical Uniform Sets
On Sale for $17.59 Each (Regularly $21.99 Each)
Click HERE for details.
Offer Expires: April 4th, 2018 at 6:00 pm (central). Cannot be combined with any other special or discounted pricing. Sorry – No Backorders or Rainchecks.
---
NEW PRODUCTS ANNOUNCED!
COO Model Pocket Empire Series Hospitaller Knight (1:12 Scale)
COO Model Pocket Empire Series Templar Knight (1:12 Scale)
COO Model Pocket Empire Series Teutonic Knight (1:12 Scale)
Phicen Toys Arhian the Pirate
Ace Toys Classic Mighty Super Hero: Green Hero
Flagset Toys 75th Ranger Recon Team
Mezco Toys One:12 Collective Ghostbusters Deluxe Set (1:12 Scale)
Mezco Toys One:12 Collective Iron Man (Stealth Armor) PX Exclusive (1:12 Scale)
DAM Toys WWII SS-Panzer-Division Sturmbannführer (1:12 Scale)
INCOMING!
Sentinel Toys Infini-T Force Gatchaman (1:10 Scale)
Beast Kingdom Batman Vs Superman Armored Batman (1:9 Scale)
Beast Kingdom Batman Vs Superman Batman
MotorMax Toys BMW K1200RS Motorcycle
MotorMax Toys Honda Gold Wing Motorcycle
Play Toy Male Muscular Body (with built in neck)
Mister Toys Jungle Battlemaster
Alert Line Waffen SS Machine Gunner Uniform Set (Battle of the Bulge)
Alert Line Soviet Navy Uniform Set
HotPlus Women's Athletic Wear
Xensation Toys Master One
Hot Toys Avengers Iron Man Mk VI
Hot Toys Star Wars: Grand Moff Tarkin and Darth Vader Deluxe Set
Sideshow Toys Marvel Comics Daredevil
Three Zero Captain America
Sideshow Toys Return of the Jedi Speeder Bike
Hot Toys The Empire Strikes Back Princess Leia (Hoth Outfit)
Three Zero Night Mission Captain America
---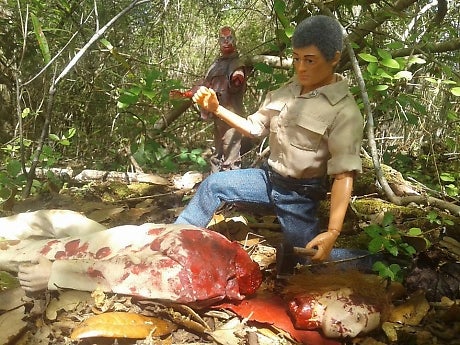 CUSTOM FIGURE OF THE WEEK
ZOMBIES! by John Wiesman
While I have many fine military examples, I prefer the zombie apocalypse to Apocalypse Now. Thanks so much for the speedy delivery of Geyper Man.
For larger picture, click HERE.
---