Something magical was lost from the Marvel collecting world when Bowen Designs closed down shop: an expansive line of reasonably-priced, medium-sized resin Marvel statues covering a huge range of characters. But Diamond Select Toys has been bringing the magic back with their Marvel Premier Collection statues line, which gets better and better with each release. And while I've been too lazy to review any up until now, the Marvel Premier Collection Moon Knight I ordered online finally arrived and gave me ample motivation to do so…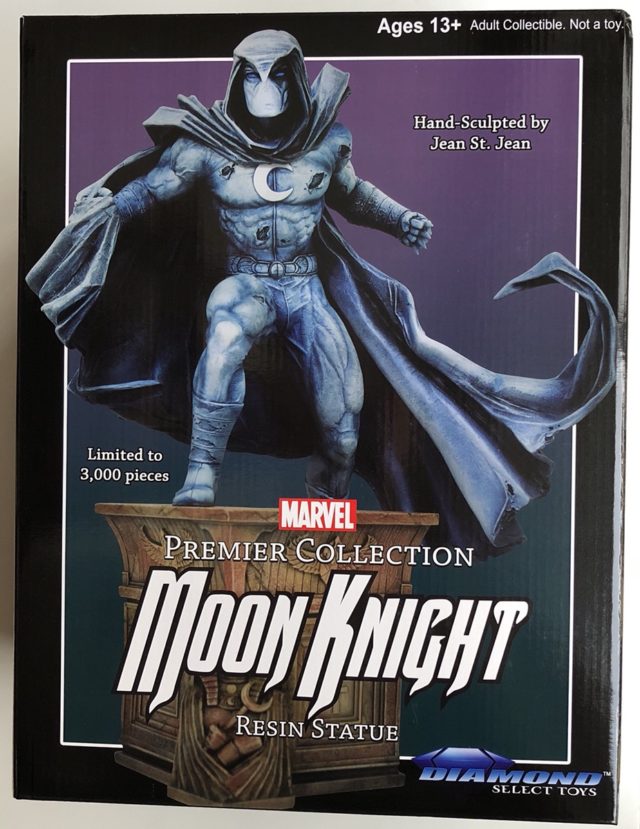 While the Marvel Gallery PVC statue line was love at first sight for me, I took a bit longer to warm up to the resin Marvel Premier Collection statues series. But when Diamond Select Toys started pumping out gorgeous pieces like Marvel Premier Collection Thanos, Psylocke and Wolverine, they got my attention in a big way.
And when the first B-List/C-List character for the line was announced—Moon Knight—I knew I'd be here writing a review soon enough. Let's get to it…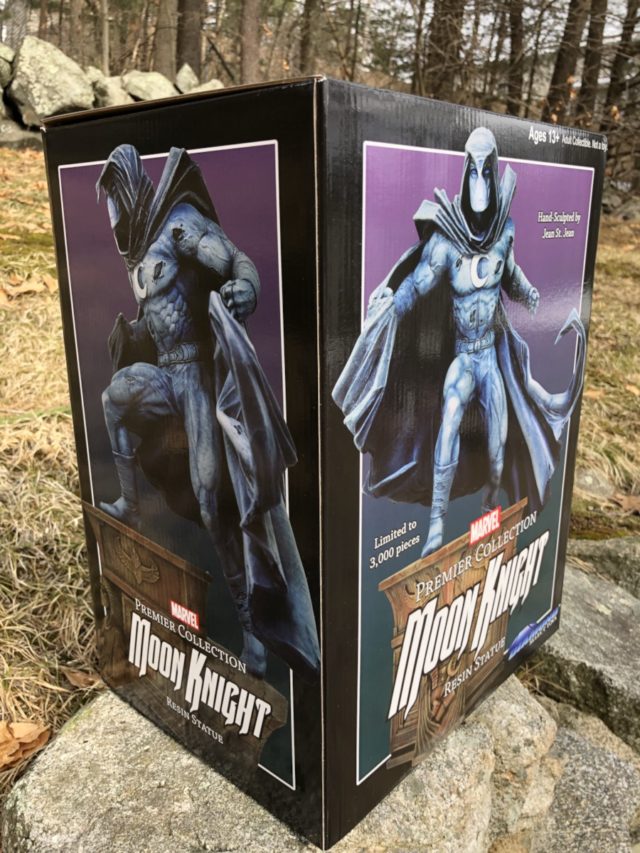 There's nothing really flash about the art box for the Diamond Select Moon Knight Statue, but I like the simplicity. The box style actually reminds me quite a bit of how Bowen Designs used to do them back in the day.
The back of the box gives a lengthy blurb on Moon Knight's backstory, which is something I always appreciate on packaging. Many collectors will genuinely buy this piece just because of how cool it looks for the price, and having the character history on the back will give them a greater appreciation for the statue.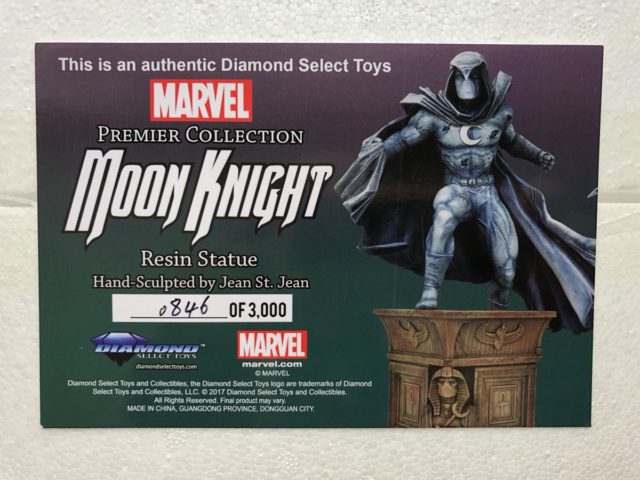 Inside the box, there's a numbered authenticity card with pretty graphics on it. I don't care about authenticity cards like this myself (mine go back in the box for all of eternity), but I know some folks do care about these—and this is a good-looking one for those collectors.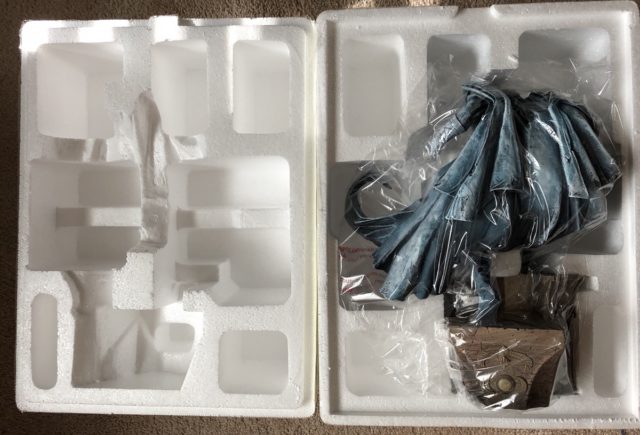 Upon busting open the styrofoam, you can see that the entire statue—figure and base—is one solid, connected piece. I imagine many collectors will be really surprised by this, as virtually every statue released these days is at least two pieces.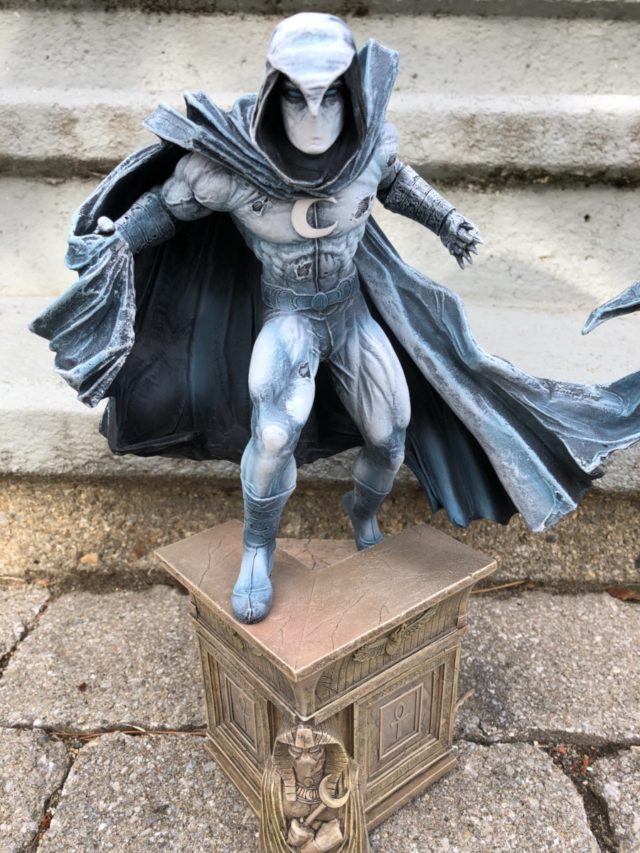 I've actually clumsily damaged a few statues over the years because of pegs not aligning with the hole on the base, so I don't have any issue with a statue being one piece like this. It feels nice and firm and looks great with no "gap" where the figure slots into the base.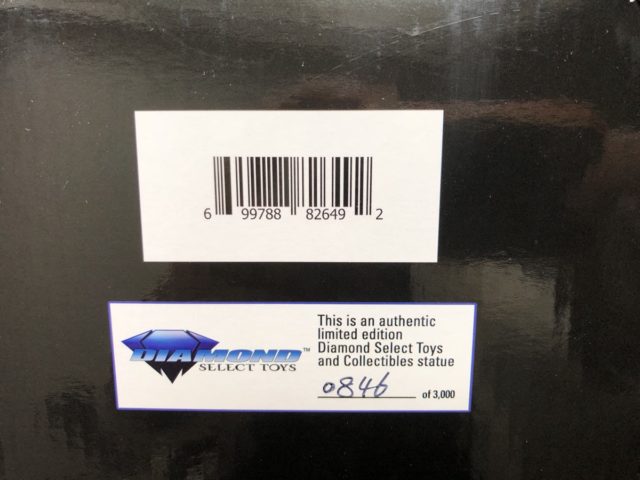 The bottom of the box and the bottom of the base both display the edition number of your particular statue.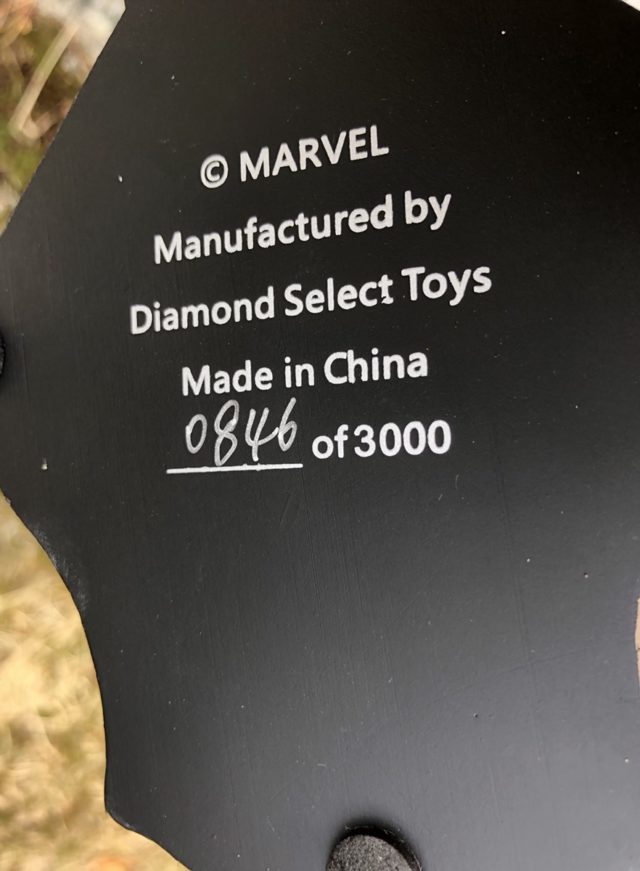 There's also little risers on the base bottom to keep it from getting scratched up. It's pretty standard, but how often are you going to be looking at the bottom of your statue's base once you set it up? If you're like me: never.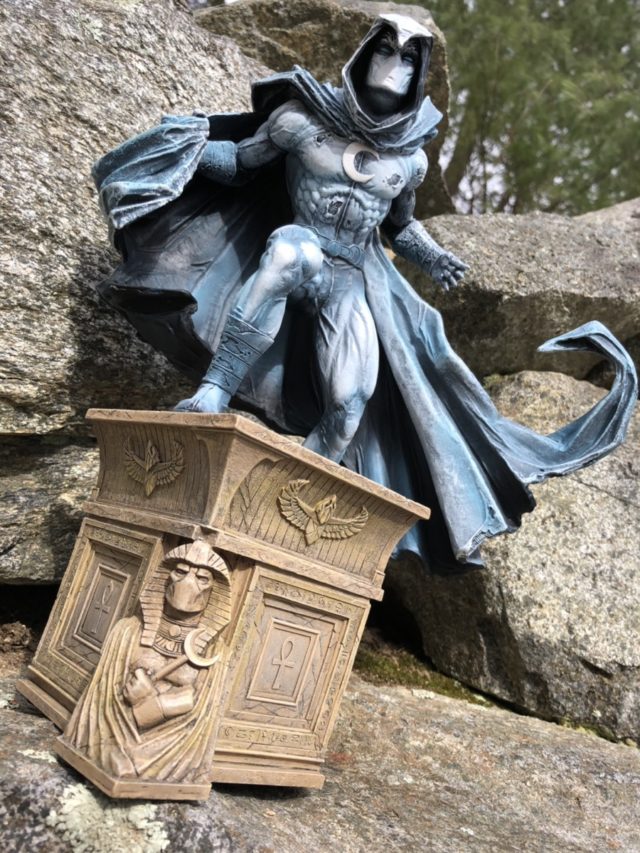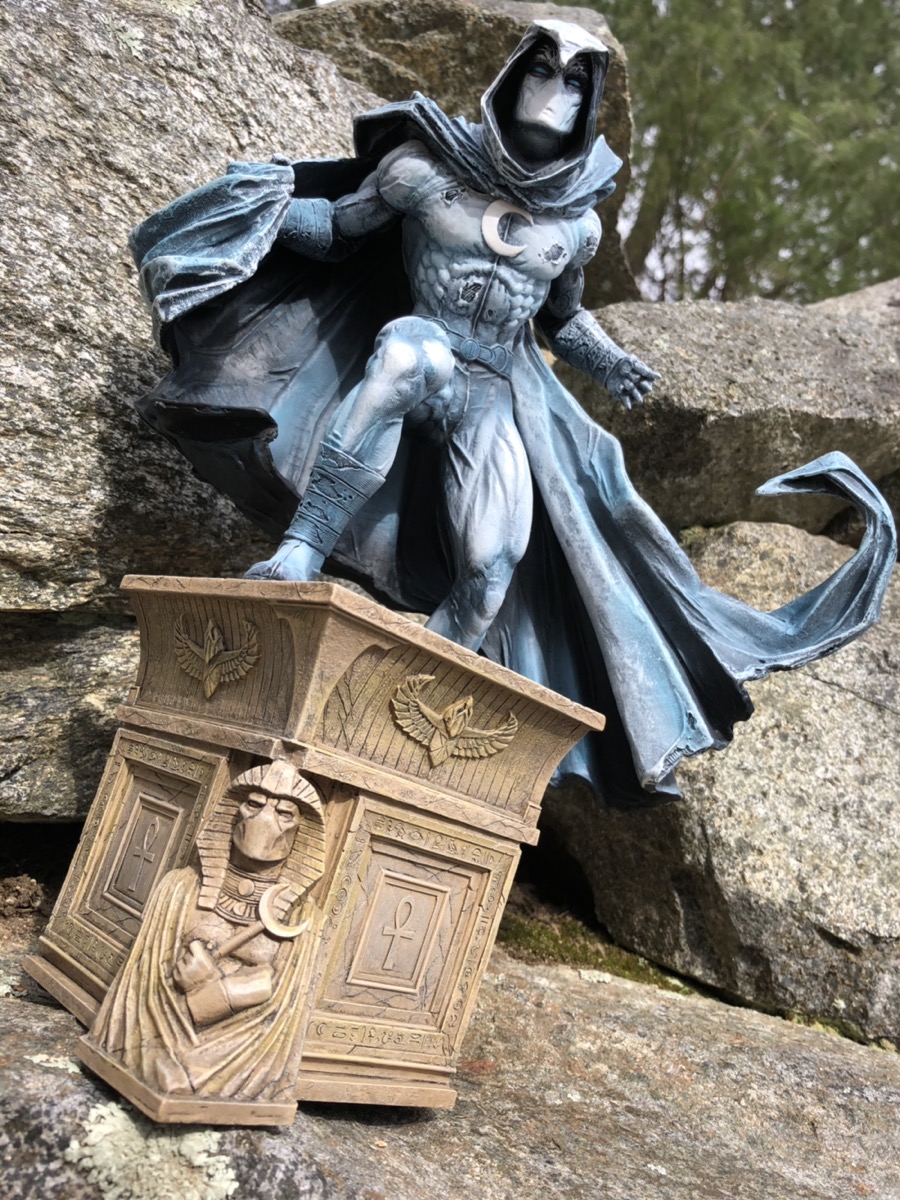 But now, let's get to the good stuff: the actual statue. And man, this is a good one. Whereas the Bowen Moon Knight Statue was about as classic and iconic as you can get, DST gives us a gritty, modern Moon Knight sculpted by Jean St. Jean.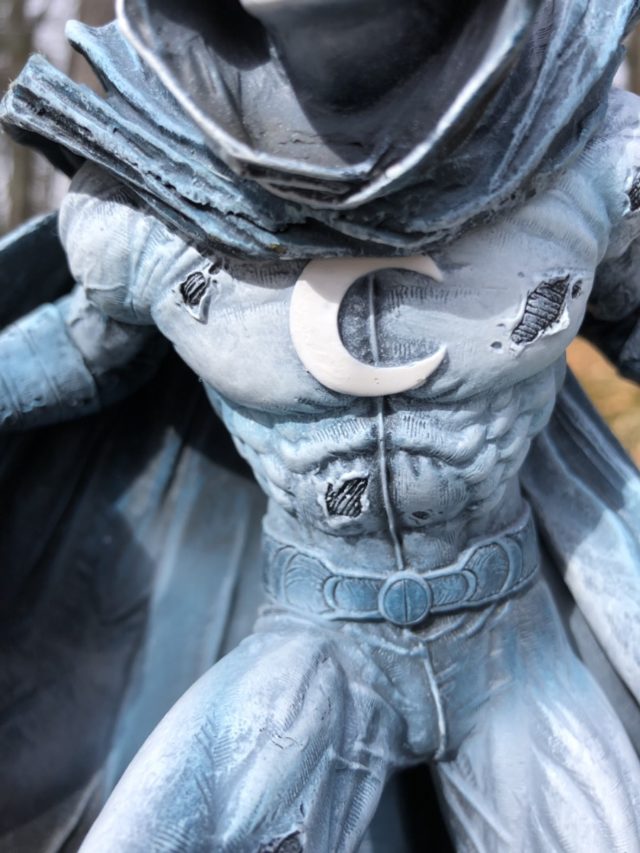 Moon Knight has become an especially dark, brutal character over the years, and I really dig the way that this statue has an intense, serious feel to it. Marc Spector is a street fighter, and as such, he's got a suitably tattered costume instead of a sparkling, pristine one.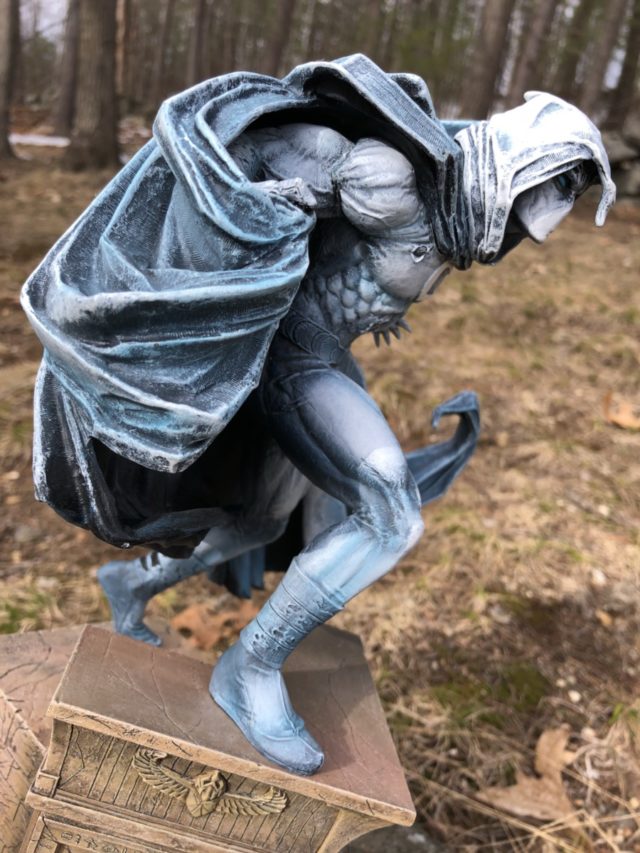 While some previous DST Marvel Premier Collection statues have had some paint application imperfections, that's not the case here. The paint deco on this Diamond Moon Knight Statue is absolutely perfect.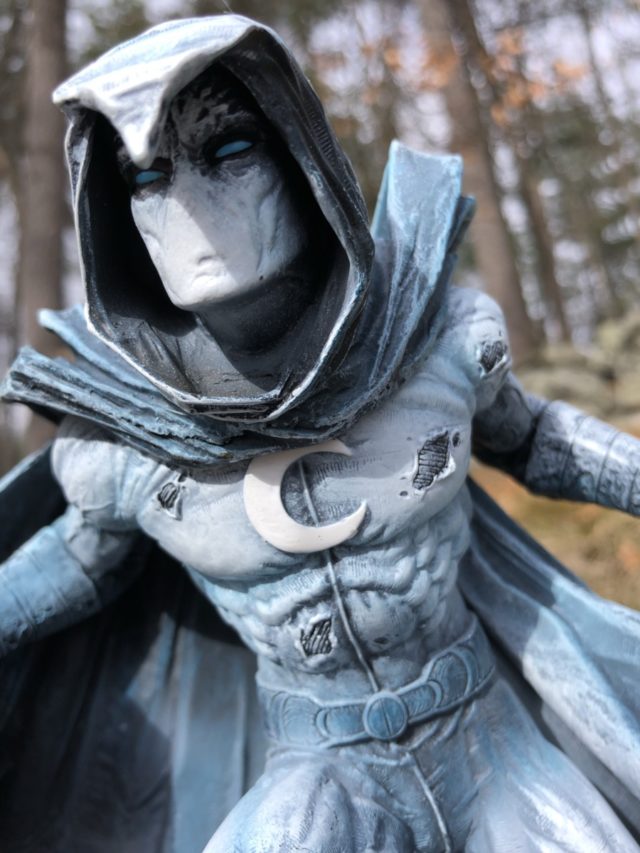 The blue wash really gives this piece a noir feel, and makes the sculpt pop way more than plain white paint ever could. The detailing, the wash… it's all perfection. The paint on this is amazing.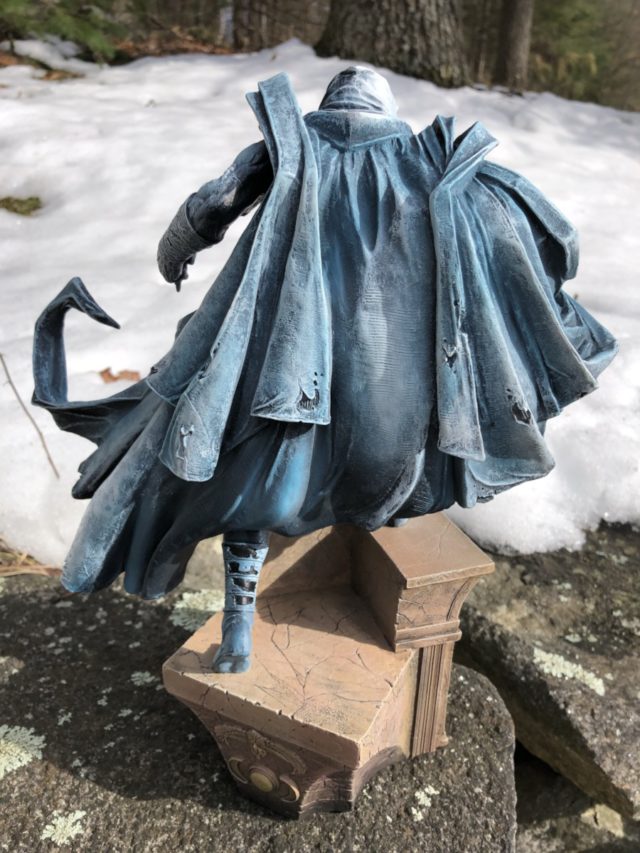 I also really love the dynamic, asymmetrical way that Moon Knight's cape is flowing on this statue. It has a really dark, gothic feel to it and is just gorgeous (as far as capes go).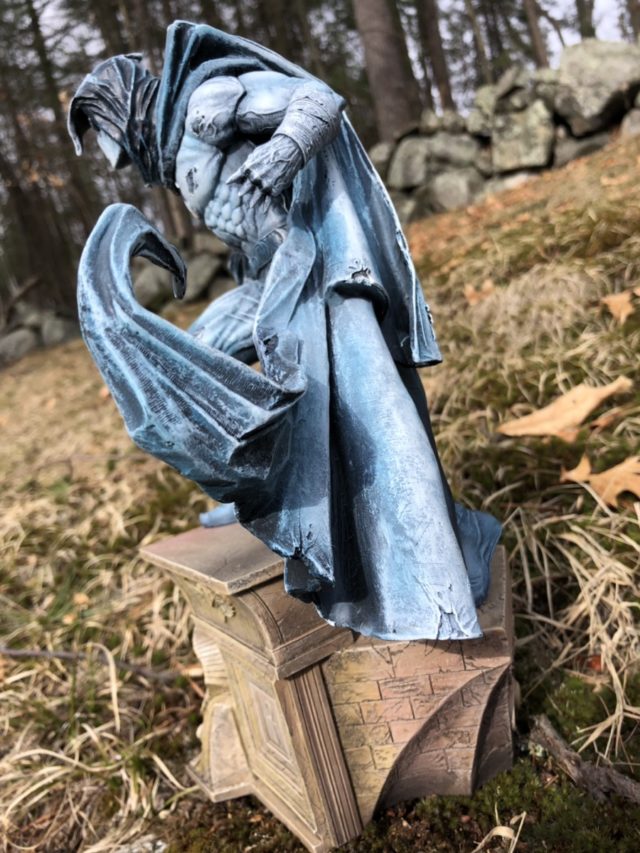 The spiked knuckles, veins on the hands, and tattered wraps on the forearms are all particularly  incredible details that I wanted to point out.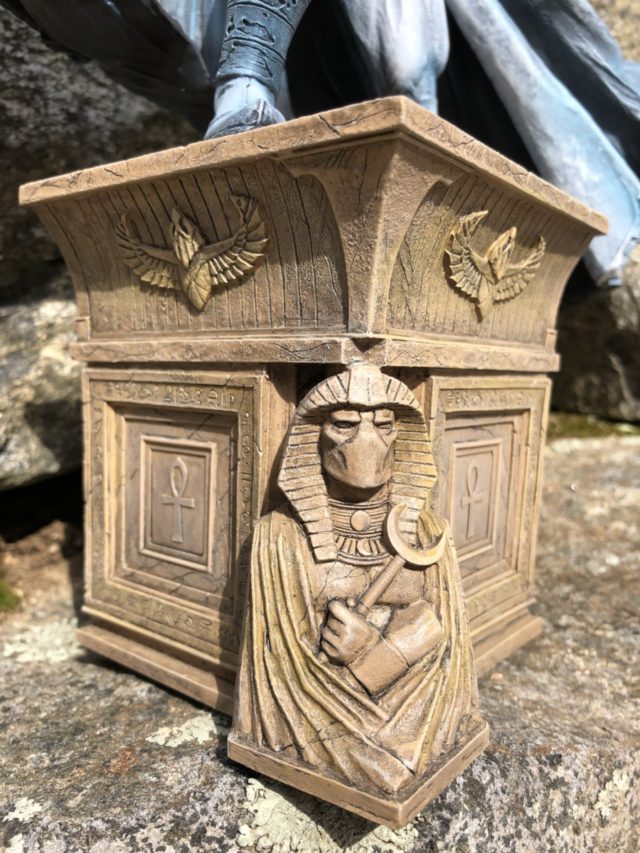 And speaking of incredible details: Dat base. The cracks and Egyptian writings, the figure on the front, the Ankh, the texture… all of it is out of this world impressive for a statue of this size.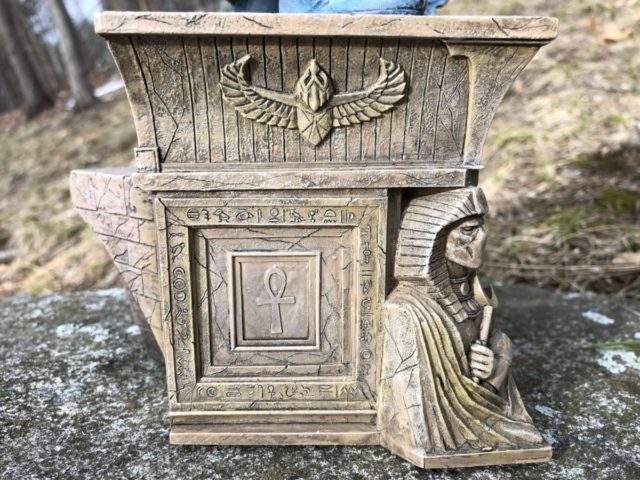 The small base on this 14″ statue is honestly more detailed and more breathtaking than the bases on the majority of the quarter-scale statues that I own. Beautiful stuff. (Be sure to enlarge the above image if you want to see the crazy detailing level on this base.)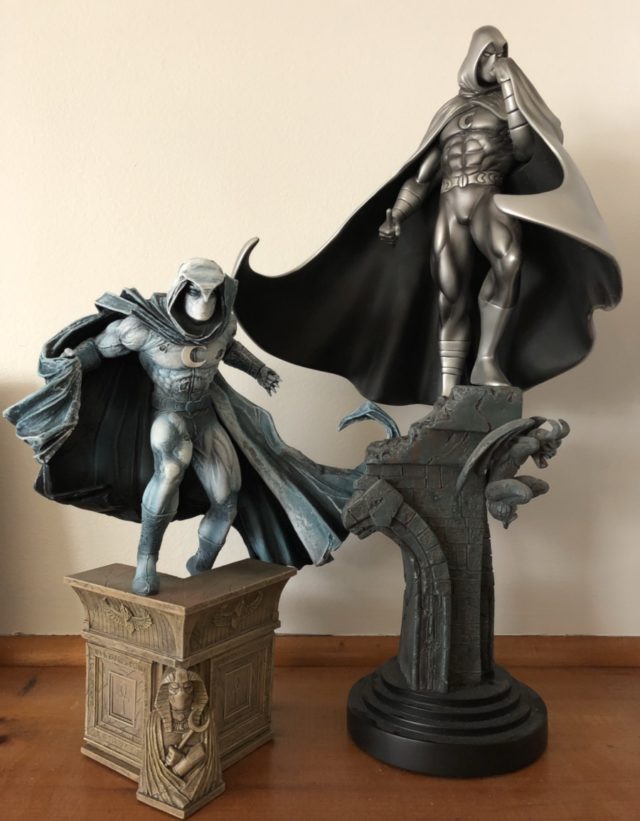 In a vacuum, I think this DST Moon Knight Marvel Premier Collection Statue is dang near perfect. But if there was one thing that I wish was just slightly different about the statue, it's that I wish it was a wee bit bigger.
As it is, I would say that it's ever-so-slightly too small and barely out of scale with my past Bowen Designs statues (although that can be compensated for by pushing it further to the front in a display so it looks a smidgen bigger). As a standalone piece or alongside other Marvel Premier Collection statues, however, this will fit in seamlessly.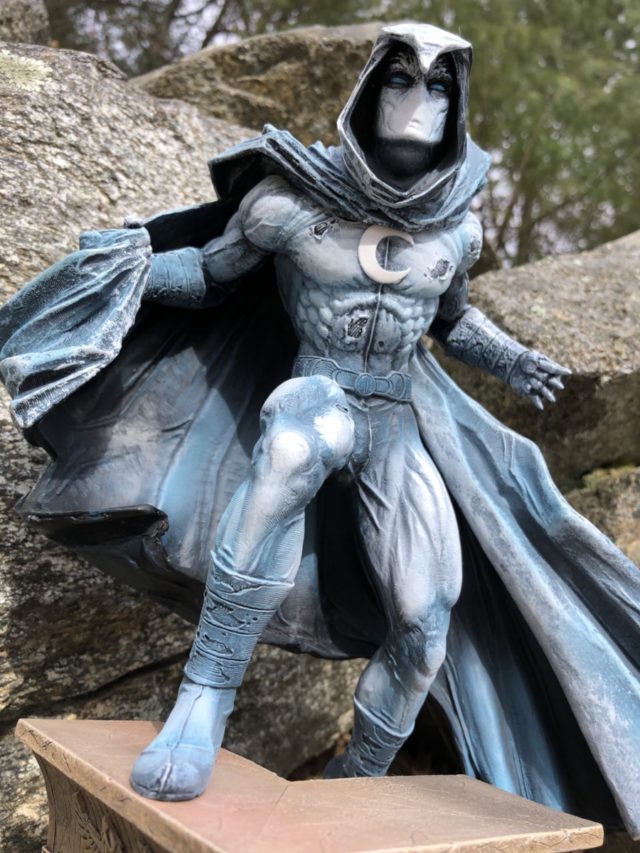 Overall: Anybody who reads this site regularly knows that I am very big on the modern Diamond Select Toys Marvel statues, both the resin Marvel Premier Collection ones and the Marvel Gallery PVCs. But as much as I've liked the other statues in those lines thus far, this Moon Knight is the best one yet as far as I'm concerned.
For the $135 shipped I paid for this resin Moon Knight statue, it's an absolutely outstanding value with a top-notch sculpt, paint deco perfection, and one of the most detailed bases in this size that I've ever seen. My only real nitpick is that the figure is just a tad smaller than the Bowen Designs Moon Knight, which was a mite smaller than 1/6 scale itself, so you may have a hard time finding a spot for this piece in your display. That said–I love this statue, and it's easily the most impressive piece of Moon Knight merch made in over a decade. Highly recommended.
GRADE: A
The post REVIEW: Marvel Premier Collection Moon Knight Statue (DST) appeared first on Marvel Toy News.