UpRoxx's review of Pacific Rim Uprising sums up my feelings for the film best: "Pacific Rim Uprising is a dumb movie that knows it's a dumb movie and just tries to show you a good time".
Here's the deal, I LOVED the first Pacific Rim. Was it perfect? No, I felt it could have used more action. So here we are with it's sequel – one that delivers more action -but in the process guts the series of any seriousness by essentially turning it into a kid's franchise. We can argue all day about whether a movie about giant robots fighting giant monsters was ever a film made for adults, but this is a site devoted to those that collect action figures and collectibles, so nerds win.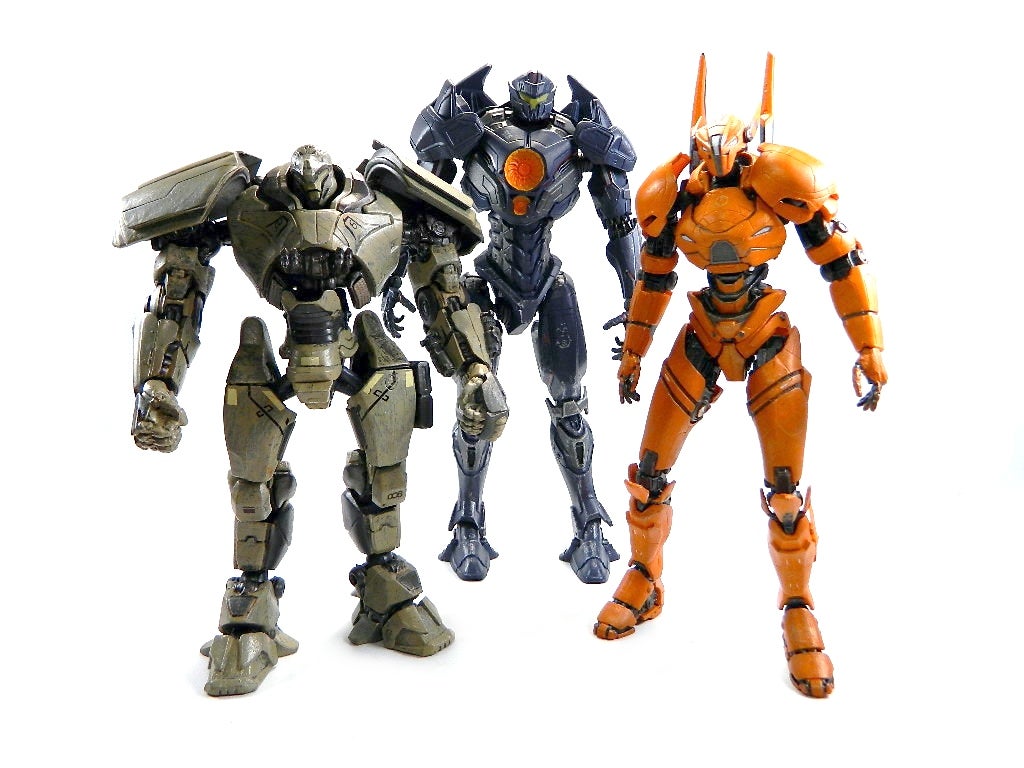 Child uprising aside, man, those action scenes were SWEET. As were the designs for the new Jaegers, the giant robotic battle mechs of the movie. That said, owning action figures was a must. Where NECA showered the first film with plenty of figure love, several toy companies have stepped up to the plate for Pacific Rim Uprising. While I can't vouch for Bandai Japan's toys, I can say that Diamond Select Toys' first assortment of Jaeger action figures came out awesome.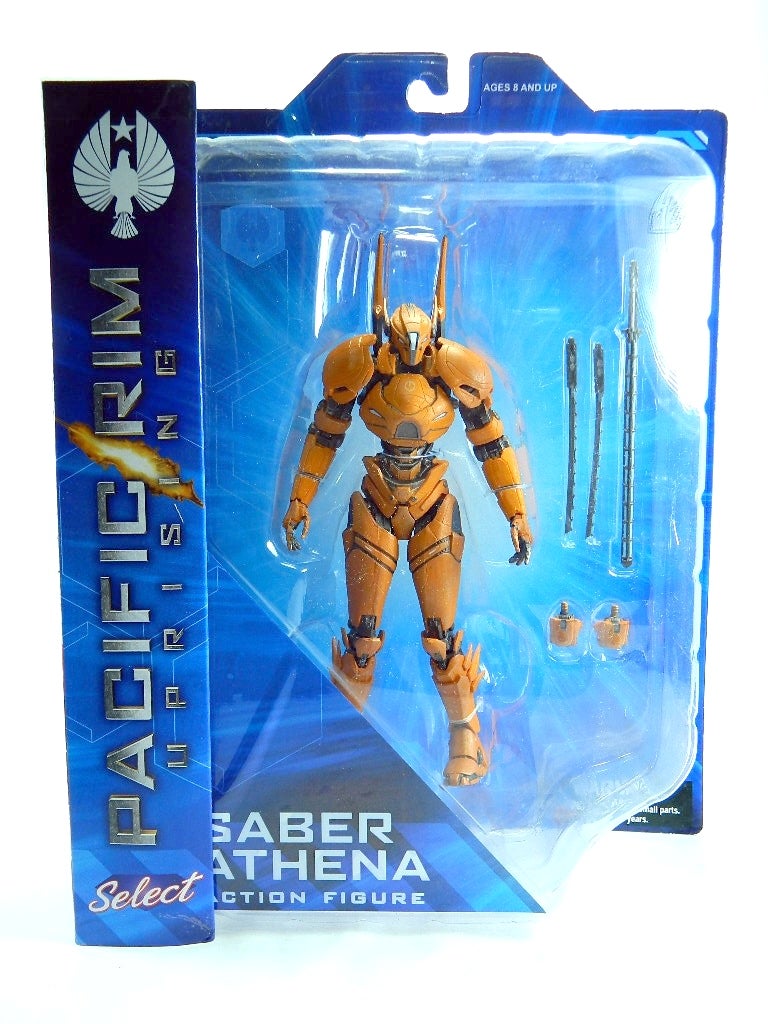 Hitting retail now priced at a SRP of $22.99 each, DST's first wave of 7-inch scale figures includes the Gypsy Avenger, Bracer Phoenix, and Saber Athena. Digitally sculpted by Bigshot Toyworks, these are available now as a complete set directly through Diamond HERE, through numerous online retailers, such as BigBadToyStore.com and ToyWiz.com, or at your local comic book and specialty store. Hard to get, these are not. Hooray for collectors!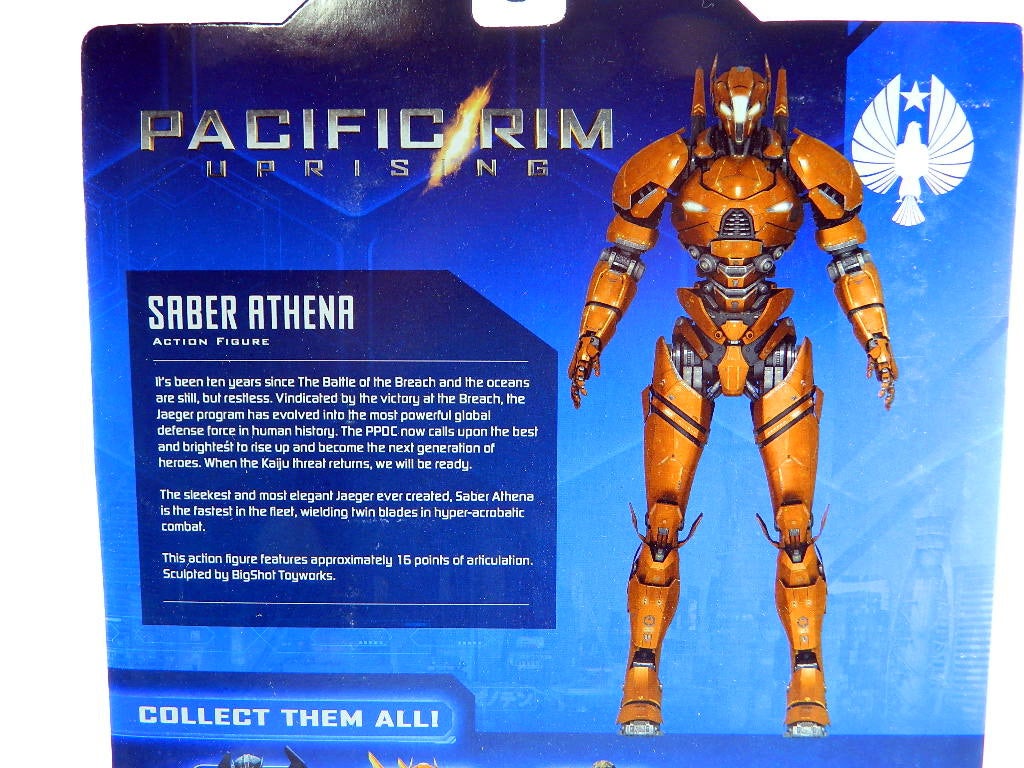 Packaging is DST's long running – love it or hate it – over-sized "Select" blister card. While they look nice and capture your attention in a store, I've always felt these packs were too big. It's simply overkill; so much wasted space. A tight open window box (or smaller clamshell) would more than suffice, saving on shipping and precious retail display. That said, the packaging IS attractive and informative. The bios on the back for each Jaeger is a nice personal touch and I dig the spine art (pictured top). They'd look cool lined up on a shelf if you were so inclined to keep these mint in pack (shame on you). The packs are NOT collector friendly, though, requiring you to rip off the clamshell and clip a few twisty ties. Have those wire snips (and a large trash bag) handy…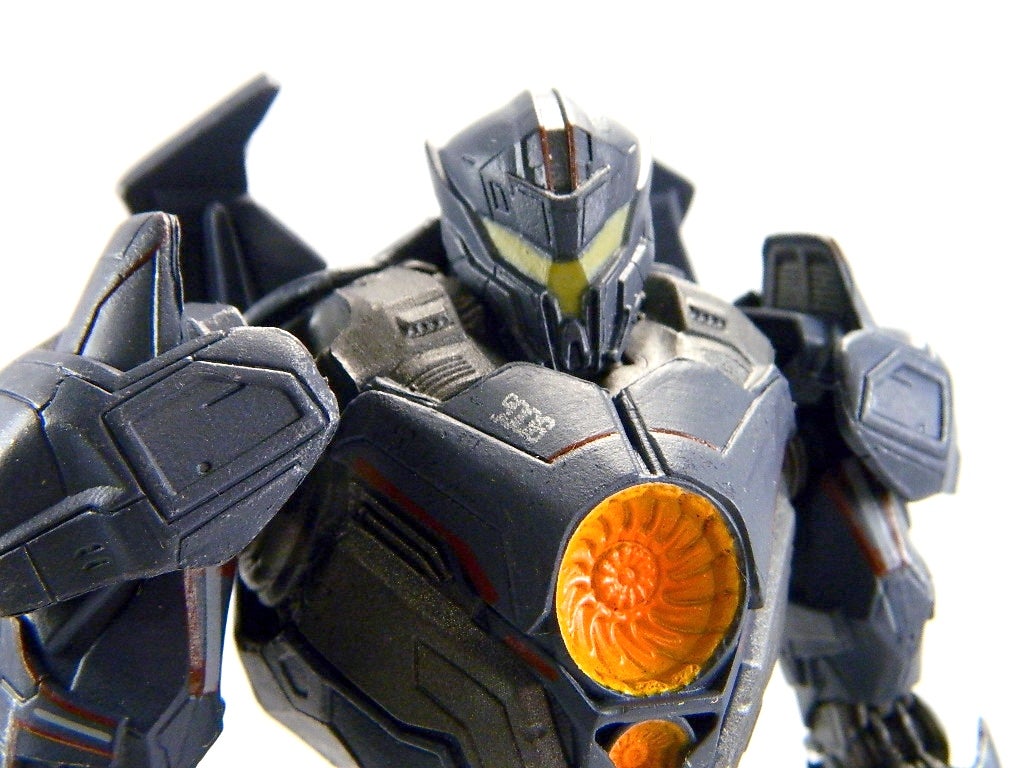 I'll be honest with you, the original Gypsy Danger never did much for me. The new and improved Gypsy AVENGER, however, is pretty chill. Where the original Danger came across looking rough and ready, the Avenger strikes me as more streamlined – a more defined "Super Robot" look.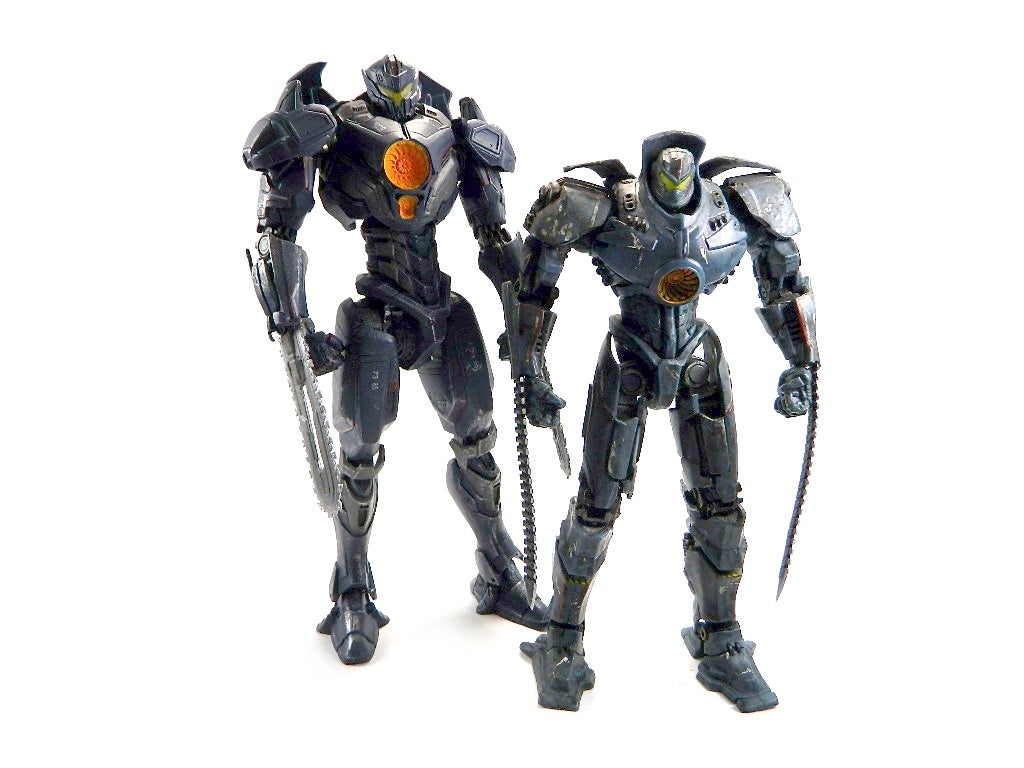 What's really nice about this figure is that packs the most bang for your buck out of the entire assortment with a TON of extra interchangeable hands. It's really insane what DST included with this figure for $22.99 – about the same price (cheaper?) than the older NECA figures.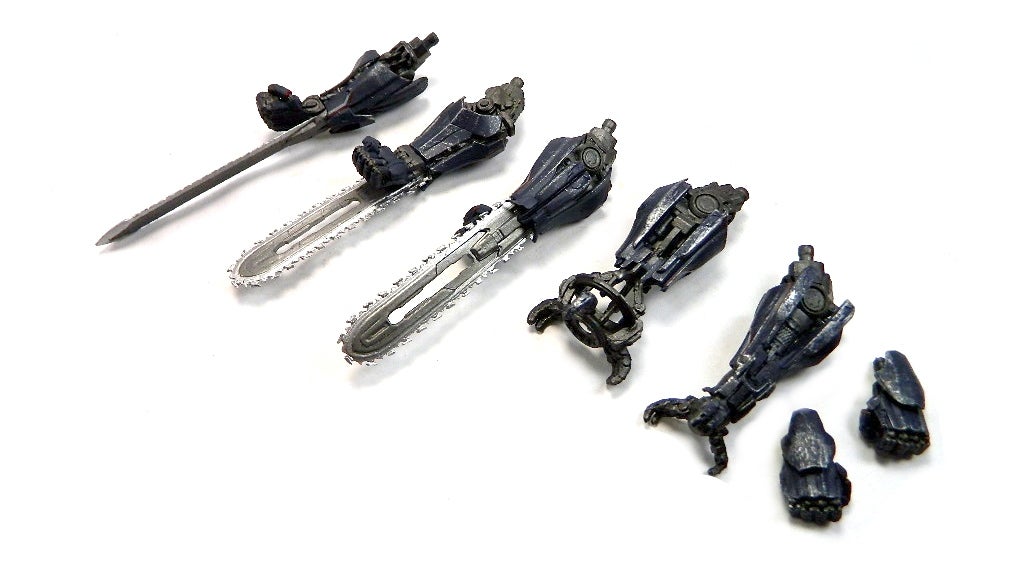 Packed in with the Gypsy Avenger are two fisted hands (to replace the open hands in pack), a gravity sling ARM, repulsor ARM, sword ARM, and two (2) CHAINSWORD ARMS! Yes, I know, the chainswords were used by the evil Obsidian Fury, not the Gypsy Avenger, a detail that obviously got lost in making these toys nearly a year before the film's release. But what an AWESOME mistake!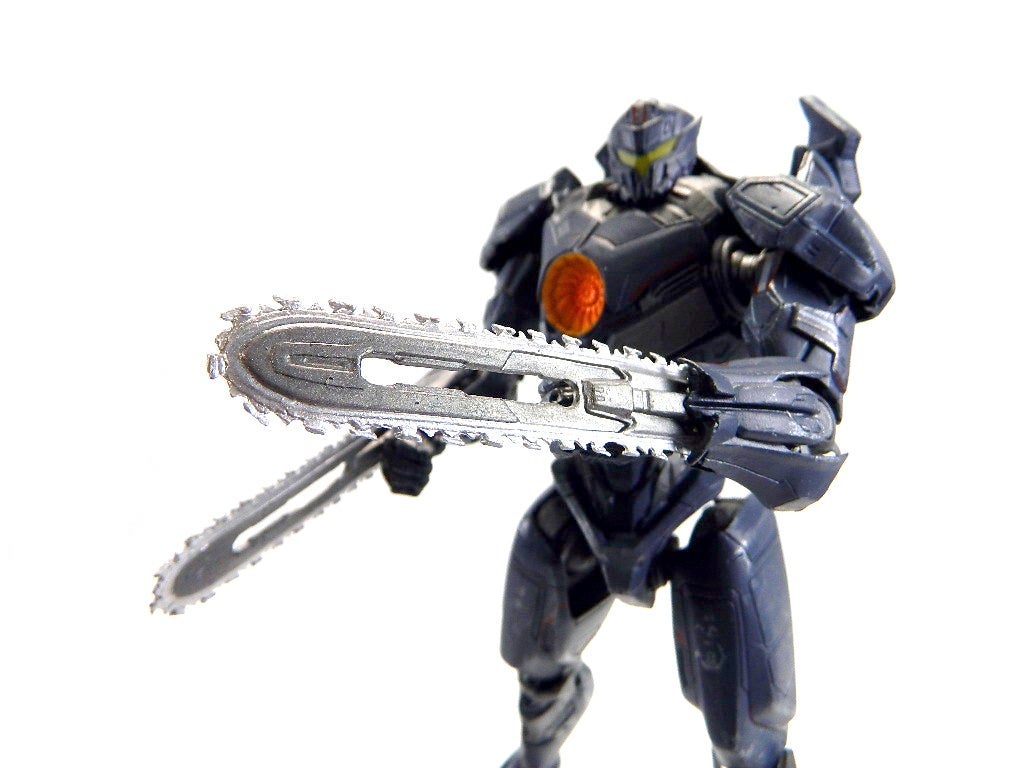 These two chainswords are what the Gypsy Avenger should have had in the movie. While I appreciate Diamond packing in all the other extra limbs (and other collectors will no doubt appreciate them more than I), the ONLY limbs I need on display are the two chainswords. Too cool. I should point out that the blades on these extras are a nice straight and rigid plastic – no warping at all – something that slightly irritated me with the original NECA Gypsy Danger's swords.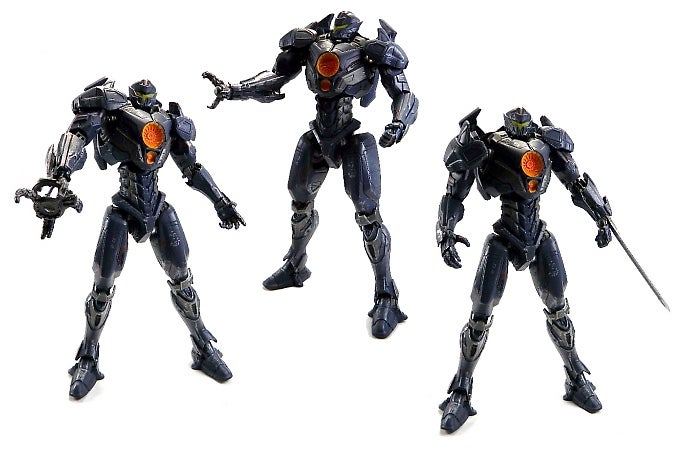 The Gypsy Avenger is also the tallest figure of the bunch, towering over the other Jaegers in the line. Was it this tall in the movie? I honestly don't recall, but it's size here doesn't really bother me.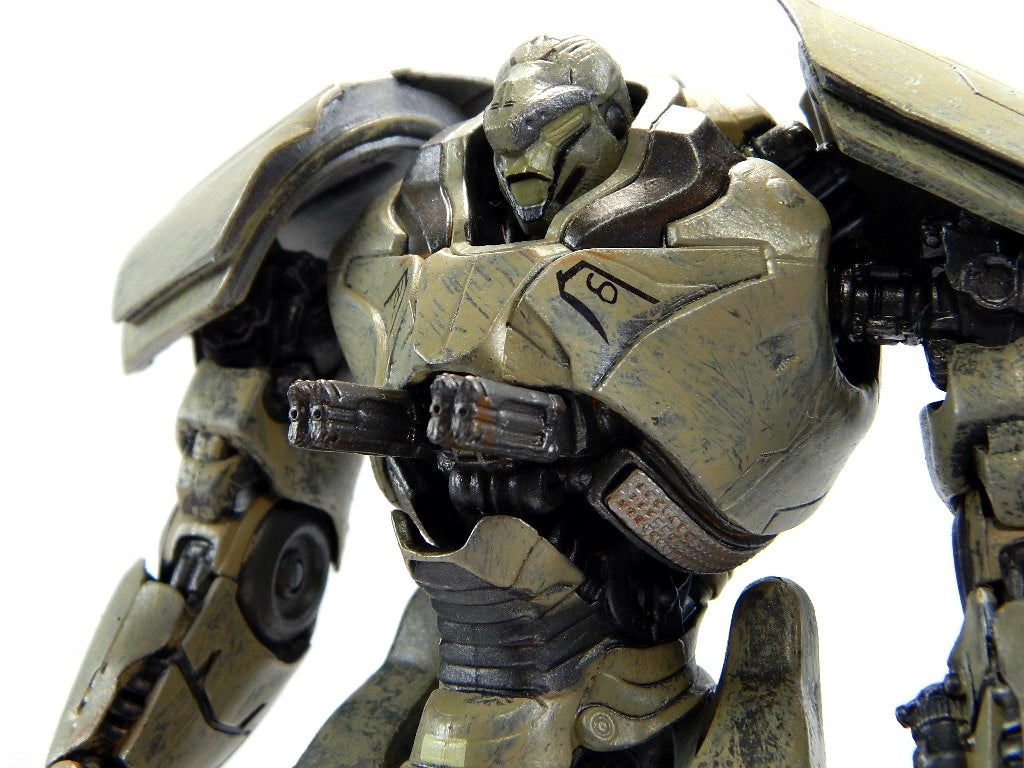 My absolute favorite Jaeger in this series is the Bracer Phoenix. A military mech if there ever was one, the Bracer Phoenix relies on brute strength and rapid firepower through its killer chest mounted machine guns. The latter is the real star of the show on this figure, and while they can't rotate to the back of the mech like in the movie, the guns look quite imposing fixed in front.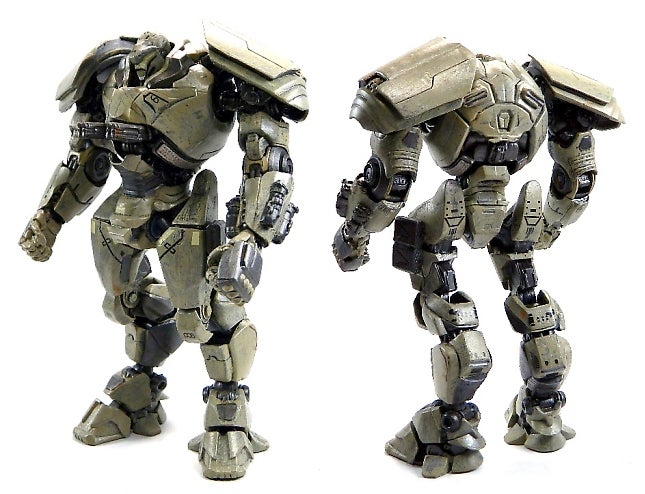 Some fans may be asking: where's his hand mace accessory? Here's the deal: THIS version of the Bracer Phoenix is BEFORE it gets retrofitted with the M-19 Morning Star weapon from the destroyed Titan Redeemer.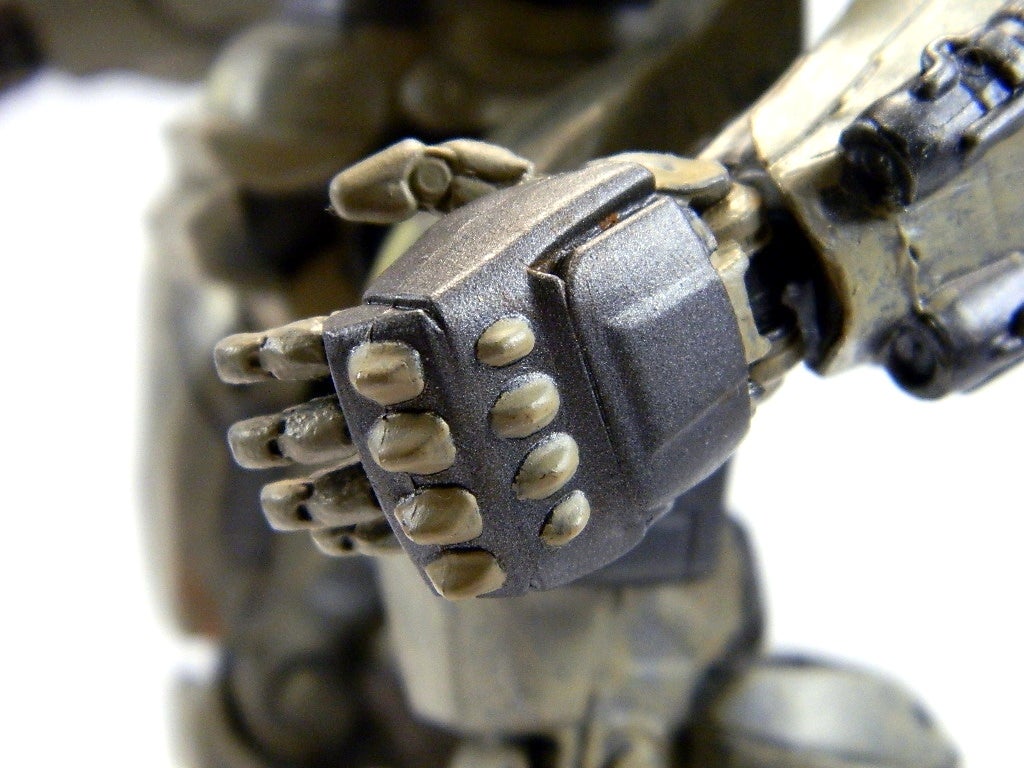 Titan Redeemer (with mace), will be part of DST's second series of Pacific Rim Uprising figures. Will you be able to swap the weapon? I'd imagine so, as the Bracer Phoenix does include two bonus fisted hands. If the upcoming Titan Redeemer has extra hands (as I am sure it does), then it's only a matter of swapping. A peg hole is a peg hole! But that's IF the mace is even removable. We shall know soon enough!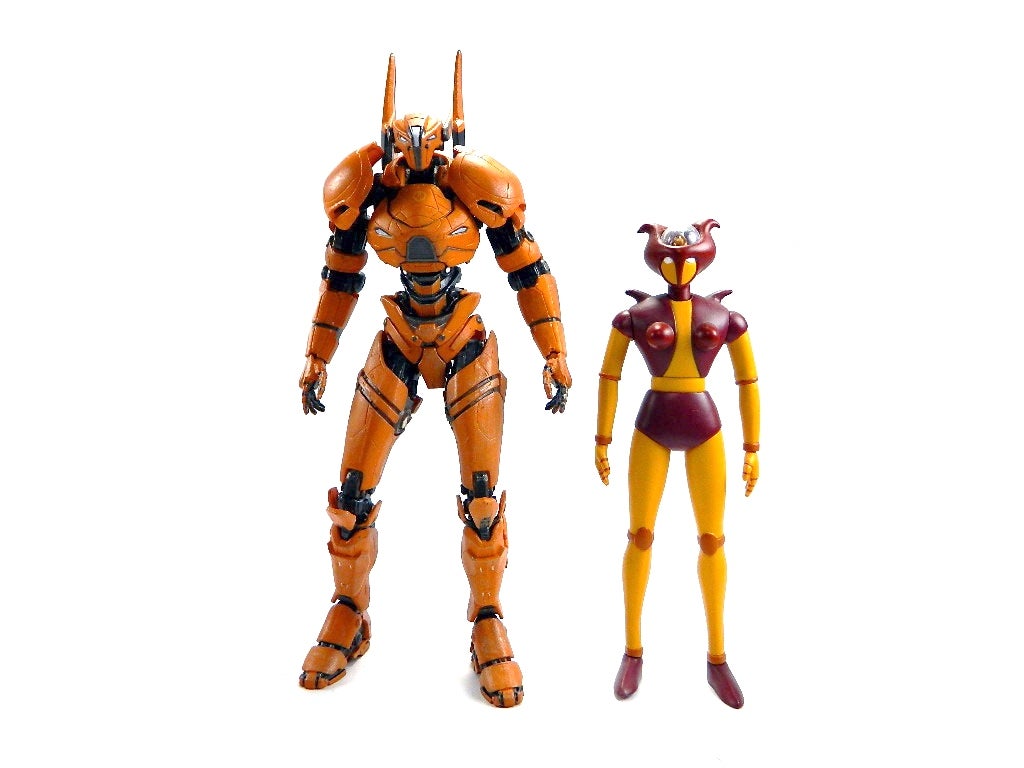 The final figure in this wave is the Saber Athena, a nod to Aphrodite A from Mazinger Z if ya ask me. Not only are they both female mechs, but their orange color scheme strikes me as more than a coincidence.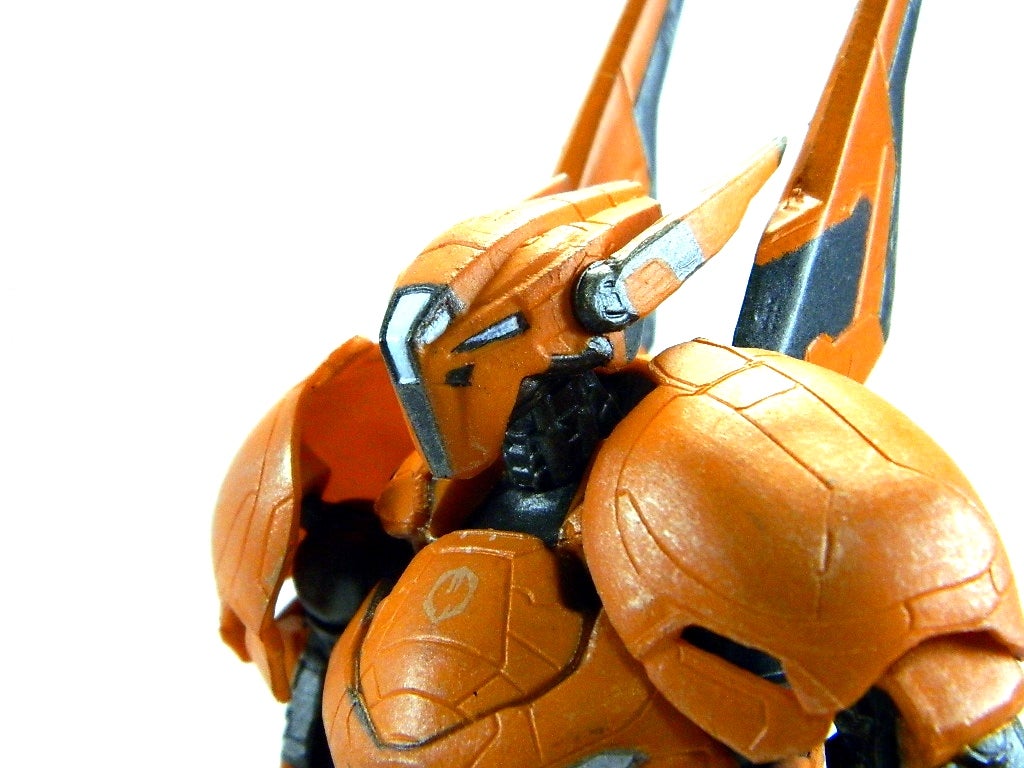 The martial arts mech of the movie, this figure is fun to play around with due to all the articulation DST put into it. Don't get me wrong, each of these Pacific Rim Uprising figures features a wide array of articulation, including ball-jointed shoulders, rotating shoulder pads (on ball joints), rotating waists, hinged elbows and double knees, along with ankle rockers (and even toes on the Bracer Phoenix).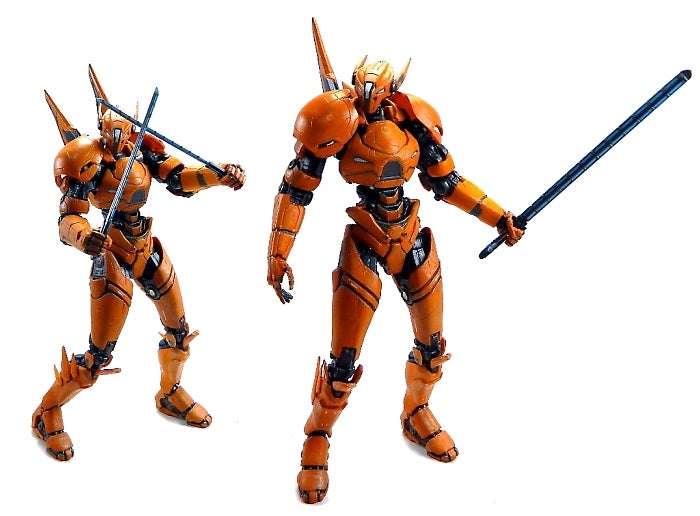 Like the other mechs in this series, Athena includes interchangeable hands: a pair of weapon-grasping hands. To go with these she comes with two (2) short swords, along with the two combined into one long sword. Unfortunately, the small swords are wayyyy to thin to be held firmly – they slide right through her hand holes unless you angle them awkwardly sideways.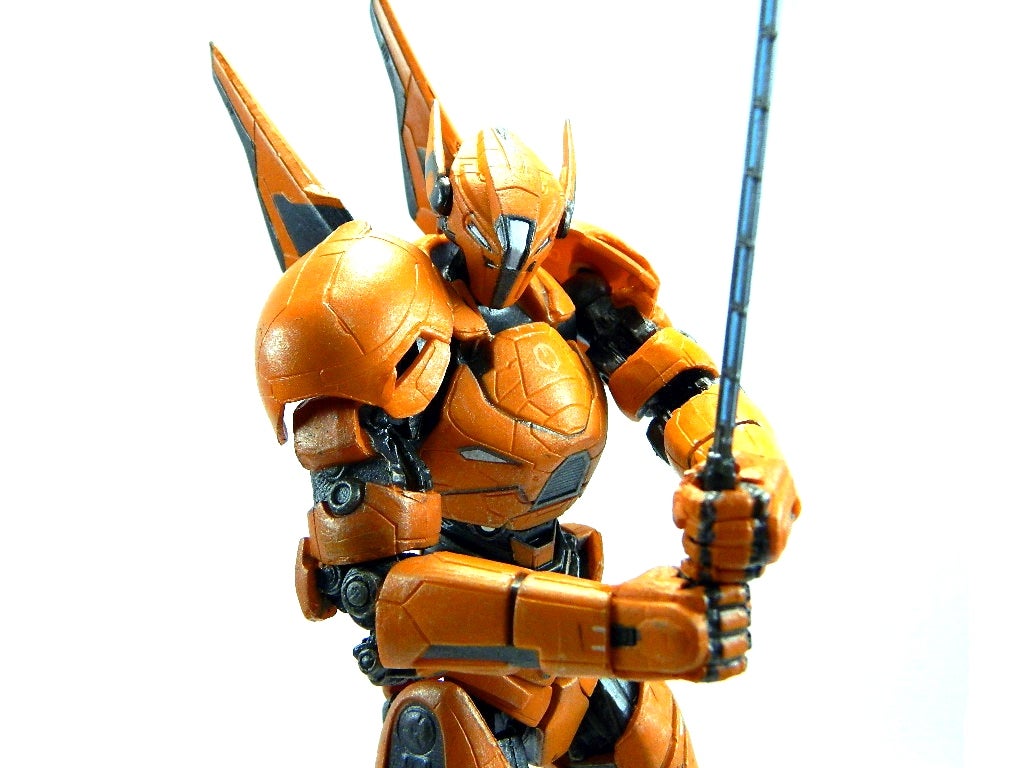 The full sword, however, works well having a hilt that prevents it from sliding through her grip. You can also get a good two-handed grasp on it, which looks very cool.
I own a good chunk of NECA's original Pacific Rim action figures and I am happy to report that Diamond Select's figures fit perfectly in. There's some size differences, of course, most notably with the new Gypsy Avenger, but it's all part of the variety of mech designs on display.
Pacific Rim Uprising might not have been the (more) serious film Guillermo del Toro first introduced, but there's no question it was FUN. If you want awesome replicas of the mechs from the movie, DST's action figures can't be beat.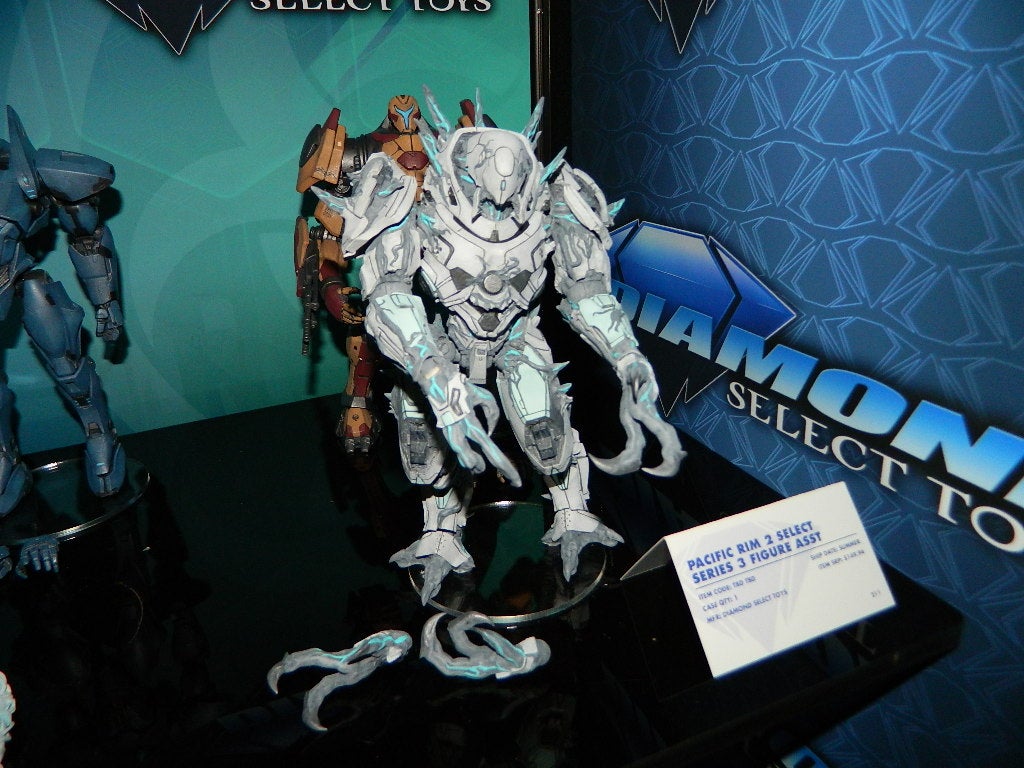 Hitting retail this summer will be wave 2: Obsidian Fury with his twin blades, Titan Redeemer with mace, and Guardian Bravo with whip. Toy Fair 2018 revealed yet a third wave to feature November Ajax, Valor Omega, and a Jaeger/Kaiju hybrid drone (awesome!).
Review and Photos by Jeff Saylor
Review Samples Courtesy of Diamond Select Toys
[See image gallery at www.figures.com]
---
Keep up with all the latest toy news by following Figures.com on Facebook and Twitter!
To buy action figures, take a look at Hobby Link Japan, BigBadToyStore.com, TheToySource.com, Toynk.com, BriansToys.com, ToyWiz.com, and EntertainmentEarth.com.