When the Guardians of the Galaxy Thanos Hot Toys MMS 280 figure went up for sale over three years ago, a huge amount of fans said they were going to hold out for the inevitable version with Infinity Gauntlet that would surely be coming… someday. Well, it's taken 39 months for it to happen, but that promised day…? It's here! The Infinity War Hot Toys Thanos sixth scale figure is now up for order—and it comes with not one or two, but three Infinity Gauntlets!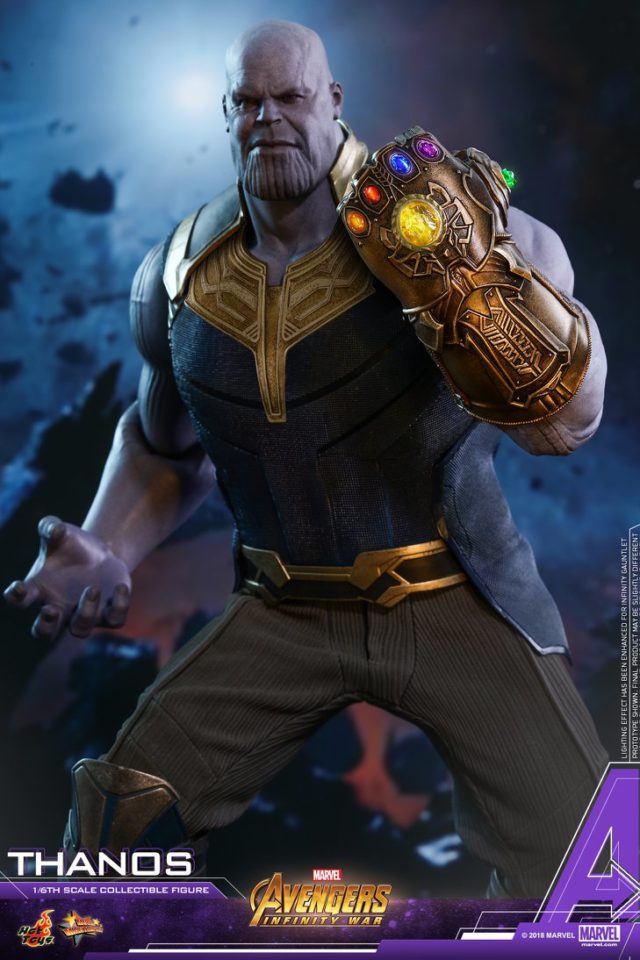 With Hot Toys Marvel figures costing a ton and taking up a hefty amount of real estate in a display space, a lot of collectors have decided to only collect one quintessential version of Hot Toys MCU movie figures.
And so, many collectors chose to pass on the Thanos sixth scale figure from the first Guardians of the Galaxy movie that went up for order in January 2015, instead choosing to wait for a version from Thanos' eventual Avengers 3 appearance.
Well, that time is now, and the Hot Toys Avengers Infinity War Thanos figure with Infinity Gauntlet has now been fully revealed! Let's take a look at the big guy…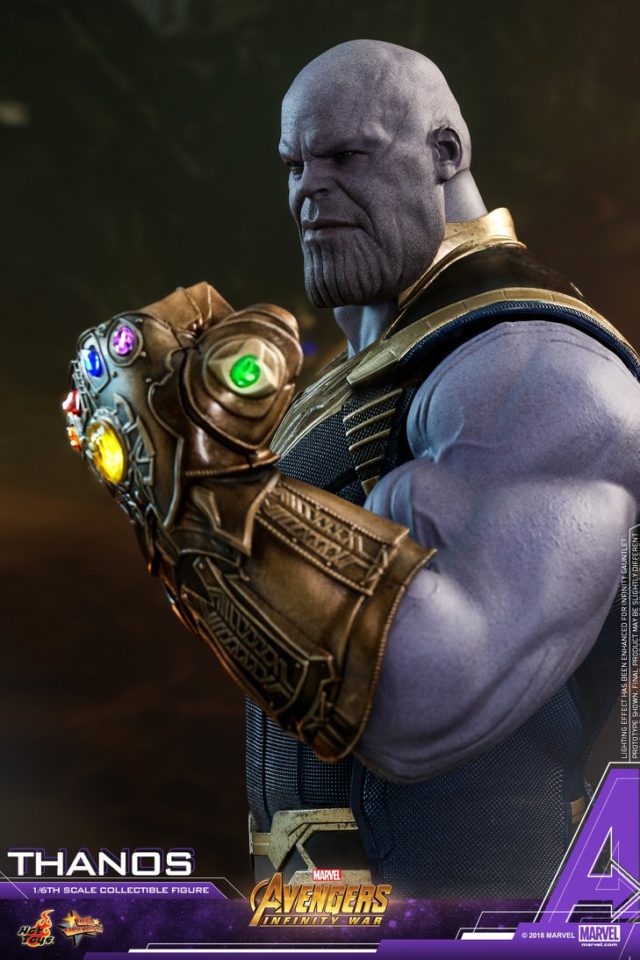 The first thing worth pointing out about this Thanos 1/6 figure is that Hot Toys clearly knew what fans were waiting for, because they've included three versions of the Infinity Gauntlet with this figure.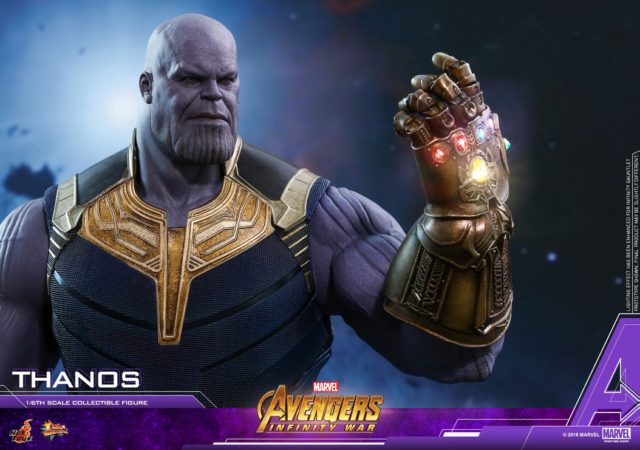 Rather than making collectors settle for having an LED light-up Infinity Gauntlet hand with articulated fingers or a fist, Hot Toys is giving us both (in addition to a non-articulated left arm in a power pose with the Infinity Gauntlet on it). Thanks, Hot Toys!!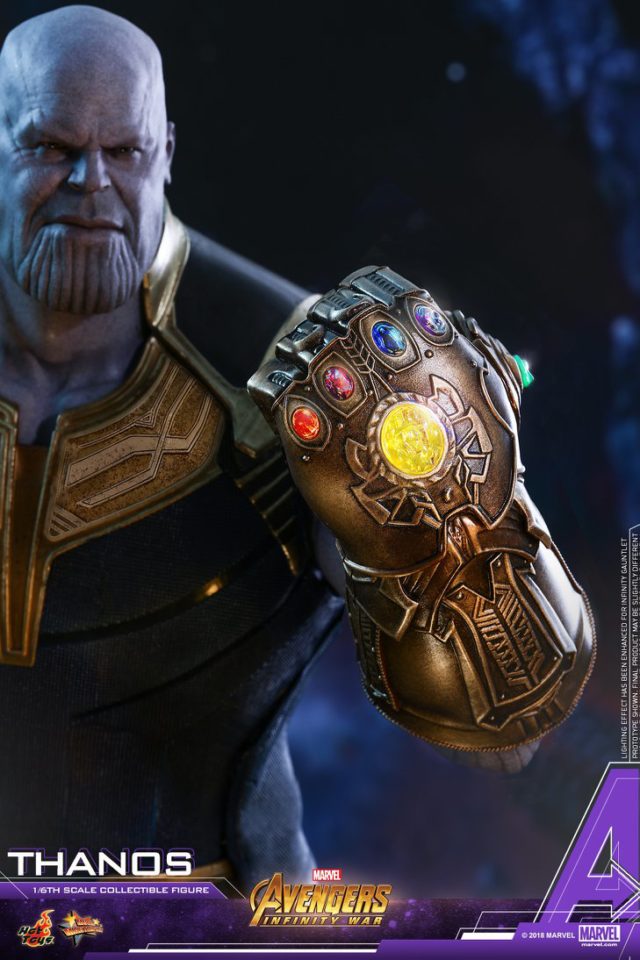 All of the versions of the Gauntlet look downright incredible, and it seems next-to-impossible that any other company's Thanos figure will be able to come with an Infinity Gauntlet that's even close to as fantastic-looking as this one. The paint, the weathering, the gems… this is like a life-size prop replica shrunken down. Spectacular.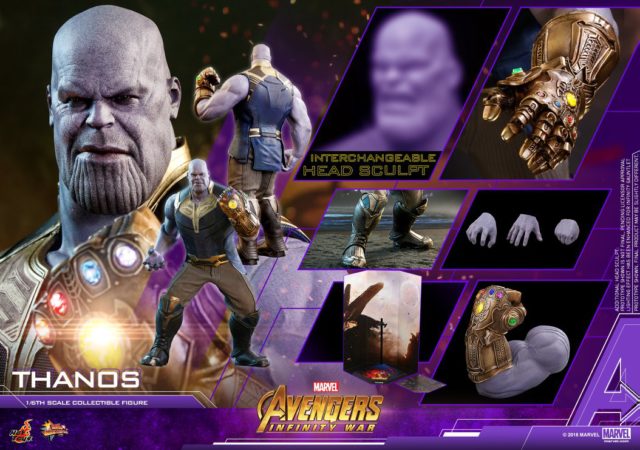 The Gauntlet isn't the only thing we're getting multiples of, though: there's also a second, teeth-bared Thanos head included. It's blurred out in the official photos for now until it gets final approval, but I'm glad to see a more fierce, battle-ready facial option for this figure is included.
There will also be three interchangeable hands, a display base and a cardboard backdrop included. This isn't a TON of accessories, but I'm okay with that, as the vital ones are all here and the small offering of extras keep the price on this guy down.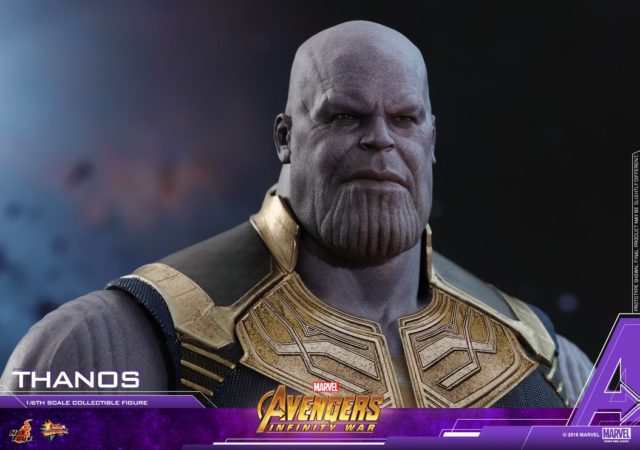 Likeness-wise, this is a home run for Hot Toys. The figure looks just like the character as seen in the trailers and promotional materials. A huge winner.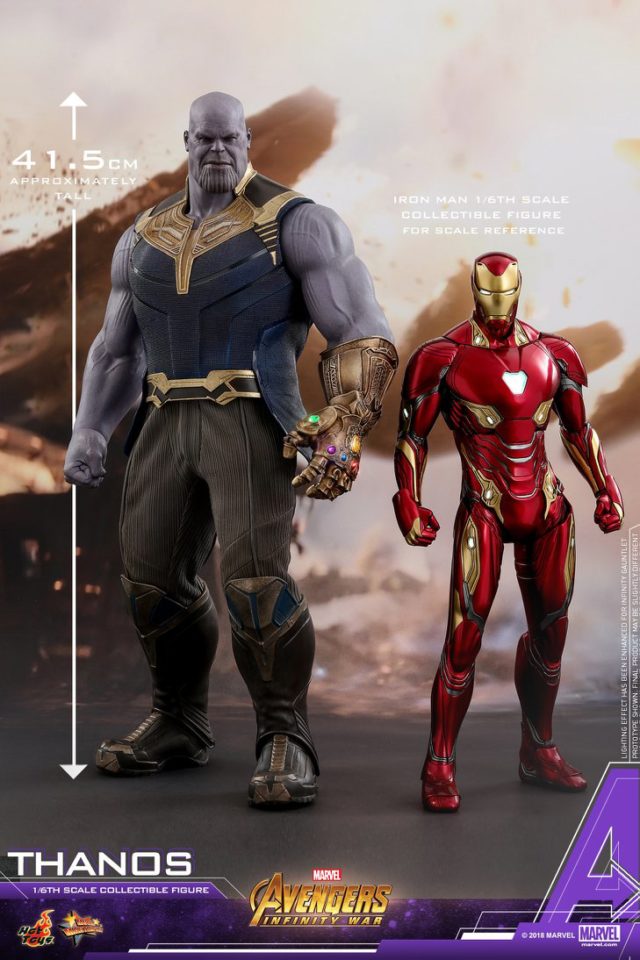 On the size front, the new Infinity War Thanos movie figure adds another 3 cm to the size of the GOTG version, as the newer version is 41.5 cm tall (over 16") compared to the 38 cm of the original. This Mad Titan towers over the standard figures like Iron Man in an intimidating way just the way he should.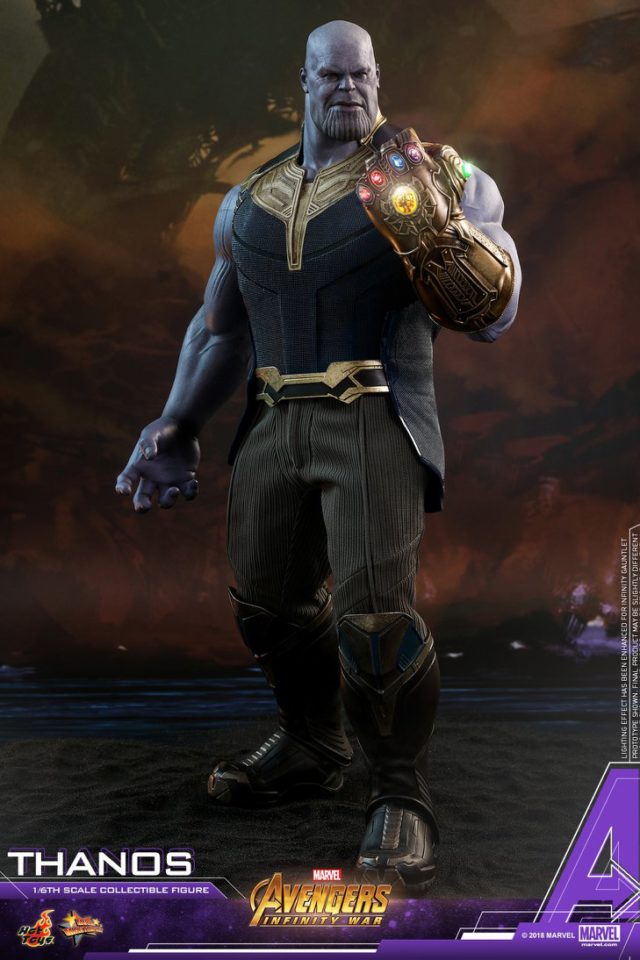 Perhaps the least exciting thing about this new 1:6. Thanos figure is his costume. Whereas the original release was in a more comic book-inspired costume, this Thanos is wearing a vest and pants that are unfamiliar to comic fans.
We've seen other figures and merchandise showing Thanos sporting armor and headgear that makes him look quite a bit more menacing, but no word at this time as to whether or not this armored Thanos costume will be done by Hot Toys as a Movie Masterpiece Series figure. With the limited number of villains HT releases, it could really go either way.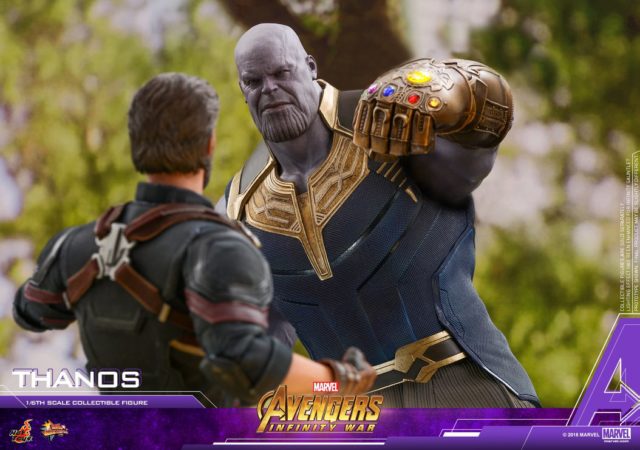 The MMS 479 Hot Toys Infinity War Thanos figure is now up for order, and is scheduled to be released in Q1 2019. With the sheer number of fans who have said they've been waiting years for a 1/6 Thanos figure with Infinity Gauntlet, this should be a huge hit for Hot Toys.
What do you think of this 16" Thanos figure, Marvel collectors? Was it worth waiting extra years for this version of 1:6 Thanos with Gauntlet, and will you be picking this sixth scale figure up yourself?
The post Infinity War Hot Toys Thanos with Infinity Gauntlet Up for Order! appeared first on Marvel Toy News.