Leave it to Hot Toys to keep Marvel collectors on their toes! Whereas we've all been anticipating an onslaught of Avengers Infinity War sixth scale figures this month, they threw us off earlier this month with their fashionably late Thor Ragnarok Loki figure pre-order. And today, they've got something wholly unexpected lined up: a repainted Hot Toys Life-Size Baby Groot figure goes up for order later today! What's different, and is this the Life Size Groot figure version to own…?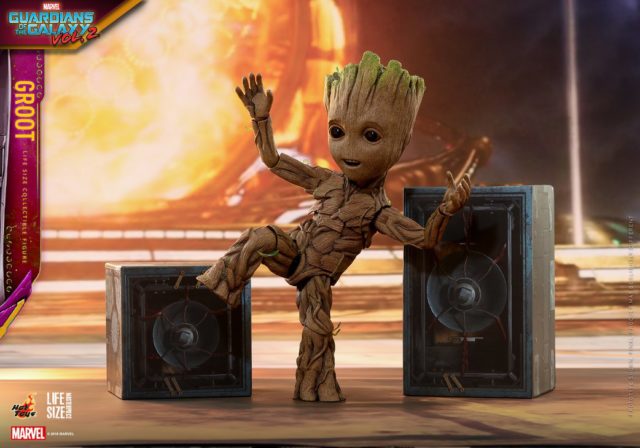 I don't know if you can ever have enough Dancing Groot figures, but I was definitely caught off-guard by Hot Toys' unveiling this week of a variant edition of their Life-Size Baby Groot figure that only launched a few months ago.
The first release of the Hot Toys Groot Life-Size Masterpiece figure got a glowing review from me, as I thought that the detailing on the figure was absolutely awesome and I appreciated that Hot Toys gave us a variety of display options for the figure. So how does this new version stack up…?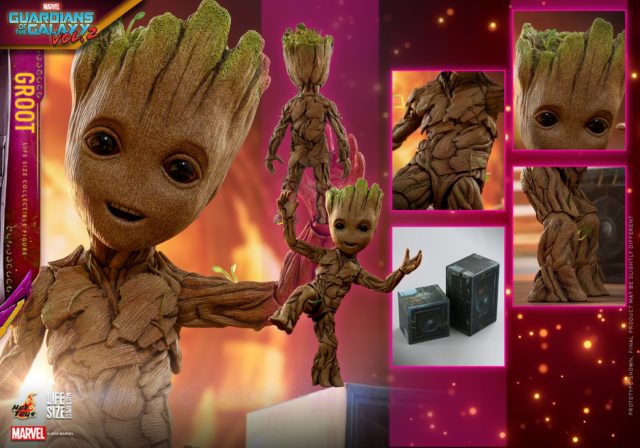 Well, on the accessories front, there's no question: the original release blows this one away. This time out, the Hot Toys Life-Size Groot figure comes with some paper speakers and… well, that's it. Gone are the soft goods Ravagers costume, the attack arms, and the alternate face plates. You'll get one face for this Baby Groot with some paper speakers and you'll like it, damn it. Ha.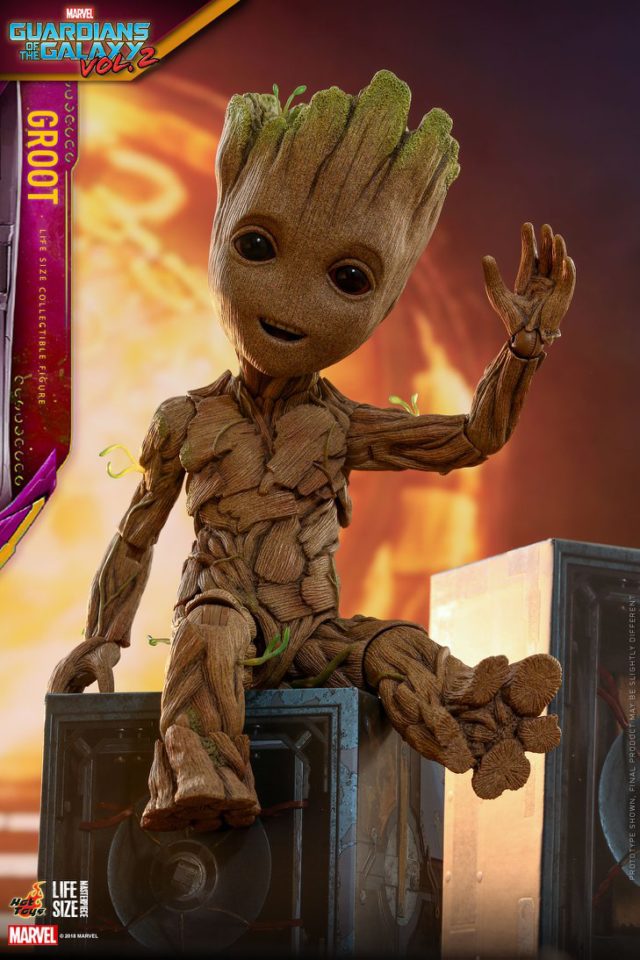 Honestly, this strikes me as being a "Lite" release so that Hot Toys can get one more use out of the tooling for this figure, and also sell it at a lower price-point since there's no true accessories (not made of paper) this time out.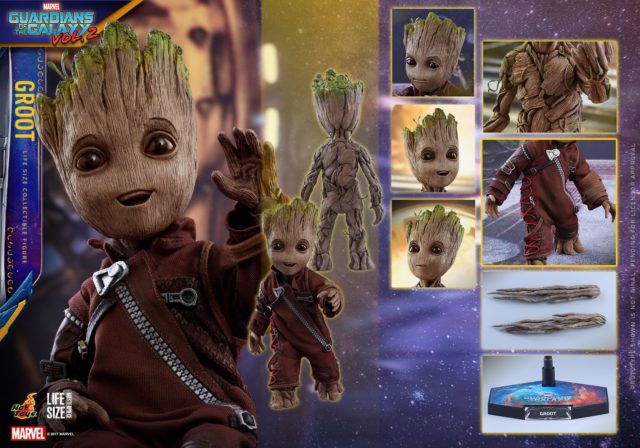 Since the original version of this figure with all of the accessories is still available online (shown above) Hot Toys must have (perhaps correctly) determined that they would have more success in the market with a cheaper version of this Life-Size Masterpiece.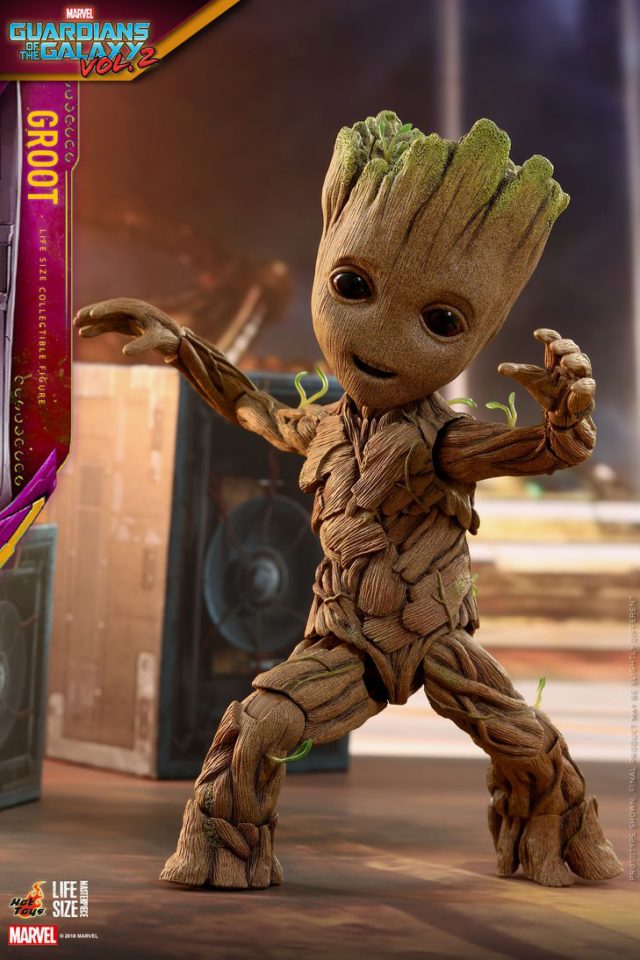 The base figure here is absolutely incredible, and Hot Toys has at least updated the paint apps on Groot's head (the moss looks a bit better on the repaint, in my opinion), so this isn't a full-on repack.It's hugely disappointing that Hot Toys didn't develop the much-requested "Angry Groot" face to pack-in with this figure, though.
I'm definitely somewhat irritated to see a remixed version of this figure three months after the previous one shipped out, but I love this particular toy so dang much that I have a weird desire to own a second one that I can display without the Ravagers costume now. Hmm.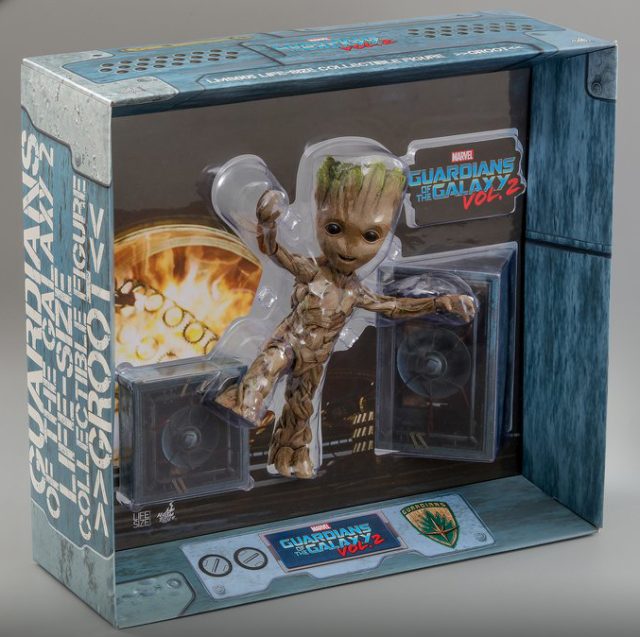 The Life Size Hot Toys Groot figure is expected to go up for order later today. Pricing and release information isn't available yet for this figure, but seeing as how there are no accessories and there's already an official photo posted of the packaging, I would expect to see this figure priced around $120-$140 and arriving in just a few months. This may very well be one of the fastest releases from Hot Toys that we've ever seen. Stay tuned and I'll update with more specific details once they're available.
What do you think of this surprising Hot Toys announcement, Marvel collectors? Are you interested in a slimmed-down edition of this Baby Groot life-size figure at a lower price-point, or do you see this as a straight-up money grab by Hot Toys? And for those collectors who have the original version of this figure: are you thinking of upgrading (downgrading?) to this new iteration?
The post Hot Toys Life-Size Groot Figure Version 2 Photos & Order Info! appeared first on Marvel Toy News.