It's becoming a bit of a tradition for the Disney Store to get comic-based Marvel Select exclusive figures related to major Marvel Cinematic Universe movies that are about to hit theaters. It happened with Planet Hulk, with the Winter Soldier, with Hulkbuster Iron Man, and even with a complete Guardians of the Galaxy lineup. And now—it's happening with Thanos: a Disney Store Exclusive Marvel Select Modern Thanos figure has begun appearing on ebay and in stores!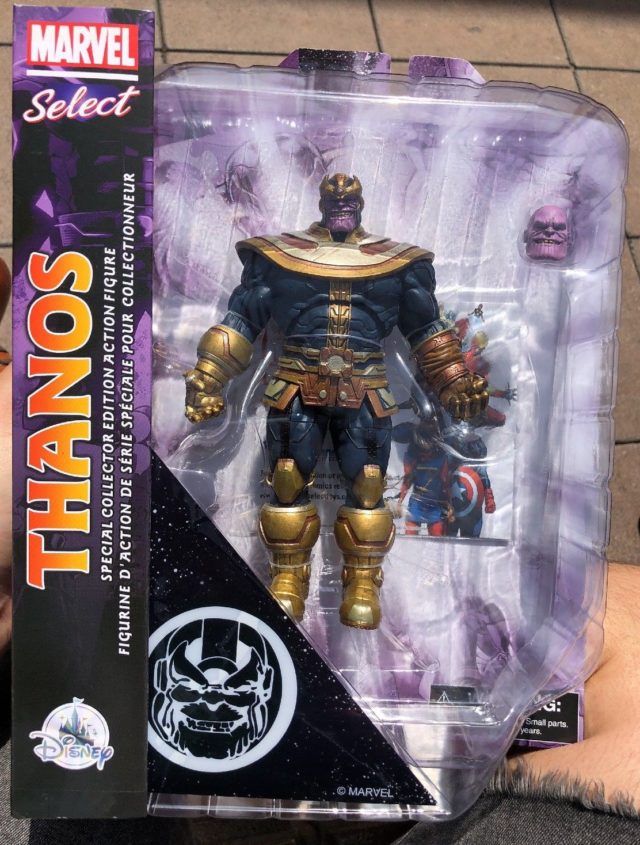 Diamond Select Toys is only able to release a handful of Select figures for each MCU movie that comes out, and that means that oftentimes there are characters that just don't get the Marvel Select movie figure treatment that they may deserve.
That said, thanks to their partnership with the Disney Store, DST is frequently able to give those characters some love as comic-based exclusives—and the latest character to get this treatment is a modern Thanos Select figure!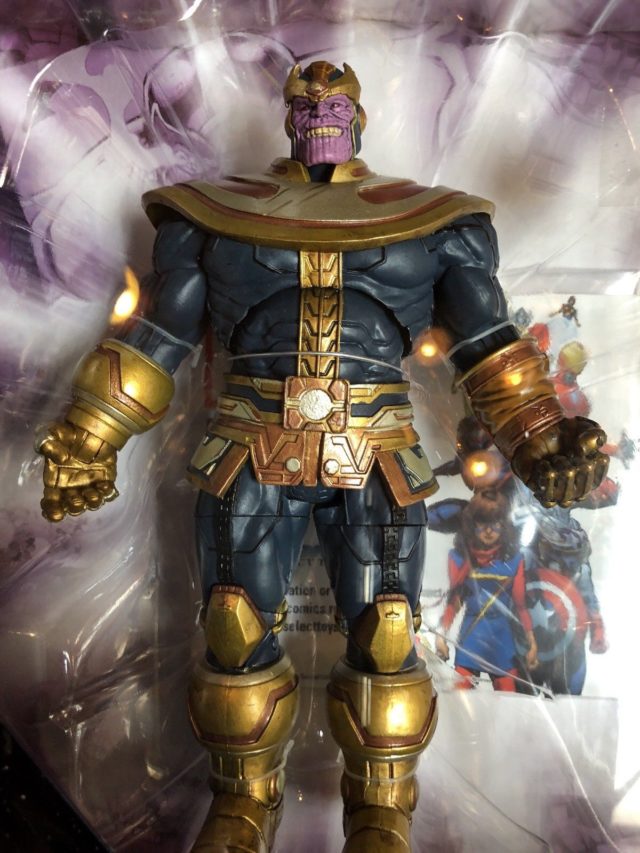 Without any warning whatsoever, the modern comics version of Thanos suddenly began appearing in Disney Stores in the UK yesterday. It hasn't gone up for sale online yet, but an eBay listing in California for the new Marvel Select Thanos figure indicates he may be hitting the United States sooner than later as well.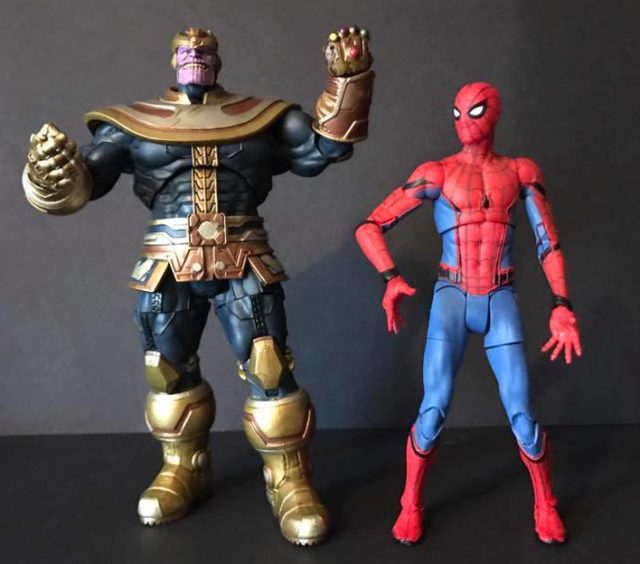 A huge thanks to Russell Dymott from the Marvel Select Community Facebook Group, who was nice enough to give me permission to run some of his photos of the 2018 DST Thanos Marvel Select Figure that he purchased in London, as well as sending me some of his impressions of the toy…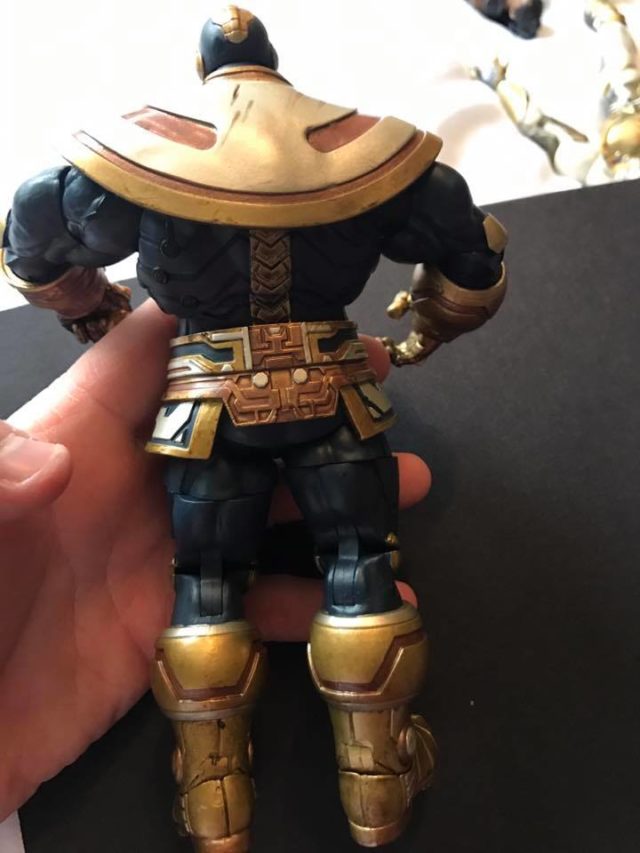 On the Paint Deco: "Paint is really nice , had good use of metallic gold , silver and bronze with I nice weathered look to it , he has battle marks around and on his chest plate to which works well"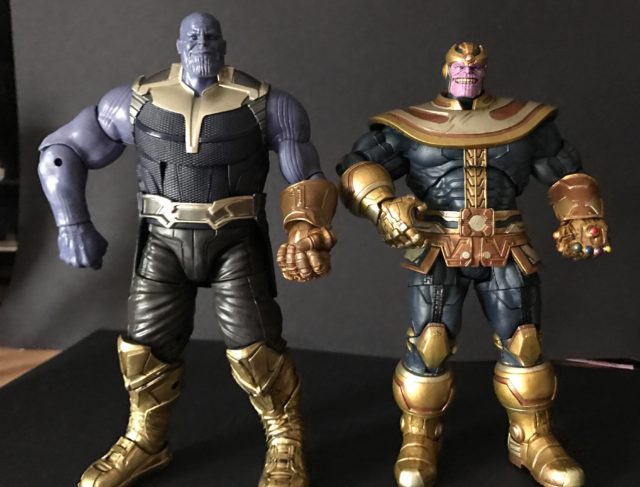 On Articulation: "For a select he does have good articulation: ankle pivot, boot rotation, double jointed knees , thigh cut (but his skirt does stop his legs from moving apart too far), upper body has fixed waist with ab swivel instead of crunch, bicep cut , single jointed elbows , arms don't go up very high as hindered by his chest plate coming over the top of the joints , both his glove and gauntlet rotate 360 but hands are fixed as they have the hinge but don't move because of the armor"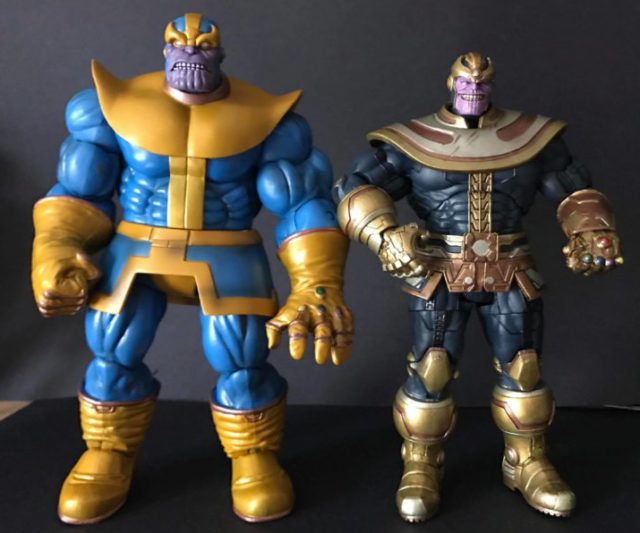 Size-wise, we can see that the Disney Store Marvel Select Thanos figure is noticeably smaller than both the previously-released Classic Thanos Select Figure and the 2018 Marvel Legends Thanos Build-A-Figure, but with much more elaborate sculpting and paint detailing.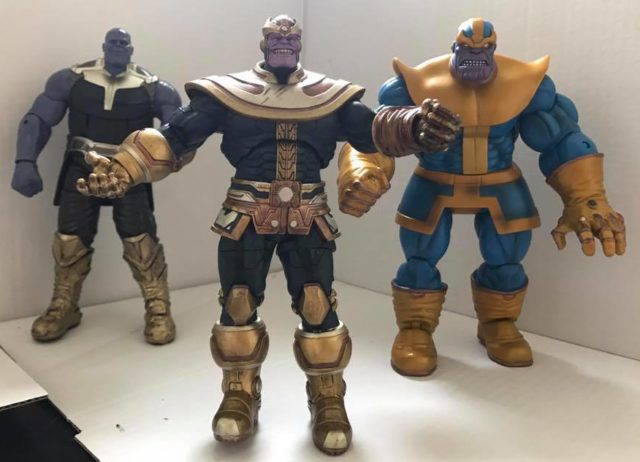 Thanos is only supposed to be 6'7" in the Marvel comic books, but I suspect that a lot of collectors are going to be thrown by him being so much smaller than the (perhaps oversized) original Thanos Marvel Select figure. It's hard to get a true read on Thanos' height, since it varies wildly depending upon the artist and storyline that's he appears.
Even so, I think that this is a gorgeous piece of work and an exclusive that is going to sell like wildfire for the Disney Stores once they get it into stock.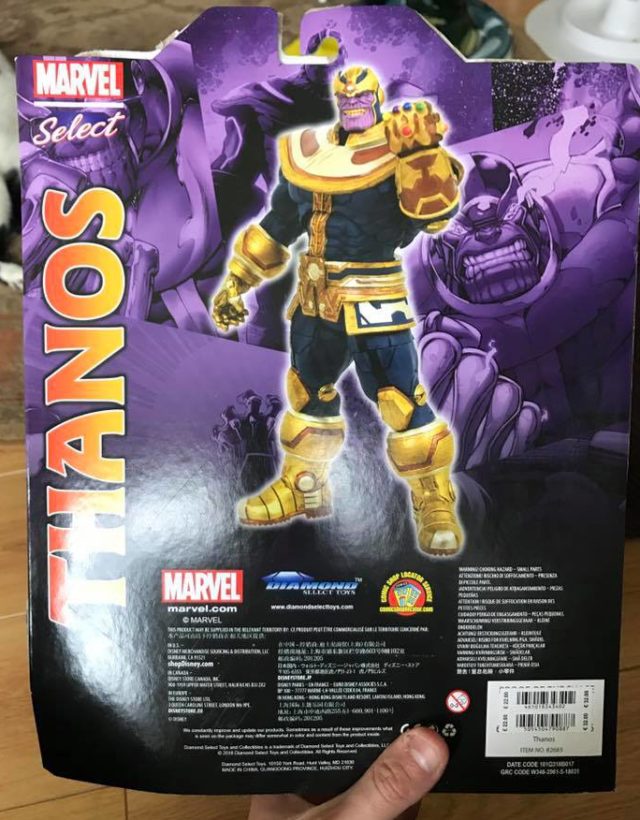 The Shop Disney website does sell the Disney Store exclusive Marvel Select figures, but hasn't added the new Thanos to the site just yet. I'll post an update to this article and also send out alerts via social media as soon as the exclusive is available. Keep your eyes peeled, as this is a surefire fast-seller.
How do you think this new Marvel Select Modern Thanos action figure compares to the Marvel Legends Build-A-Figure and the classic Select version? Are you planning to scoop this brand new figure up, or are you satisfied with another version of the Mad Titan that you already own?
The post Exclusive Marvel Select Modern Thanos Figure Released & Photos! appeared first on Marvel Toy News.